Bart Kwan is one of few Asians who is known for being successful in the comic industry at an international level. His fame broke out after the YouTube channel which he created with his close pal Joe Jo garnered up massive followings. The talented duo has been running the channel since 2007 and their success has been replicated over the years to 3 additional brands.
Bart Kwan is an Asian-American YouTube personality, actor, producer, and film director who is married to a Mexican American YouTube model, actress, and producer, Geovanna Antoinette. Together, they have a cute son. Read on to learn more…
Bart Kwan's Age and Ethnicity
Bart Kwan was born in Monterey Park, California, USA on the 18th November 1985. He was a young child of 6 when his parent's marriage ended but his both parents kept a healthy relationship and fully participated in his upbringing. He has a Taiwan and Cantonese ancestry and blood flowing through his vein but he holds the American nationality.
The famous YouTuber passion and love for comedy started way back in his early days as he developed an affinity for the cameras and screens early. He used to post fun and funny faces in the cameras as a young lad. This habit would later become part and parcel of his career. At the 5th grade, he enrolled in a music class where he learned how to play the drum sets. He passed through a couple of high schools before completing the level.
The skillful Vlogger was originally trained as medical personnel in the University of California, Los Angeles (UCLA) and he also enrolled in the United States Marine Corps, where he served for a few years before he abandoned all for his first love – comedy. He veered into the entertainment industry by first acquiring knowledge in acting and comedy, a decision that paid off for him as he was able to use the power of knowledge acquired in setting up his first body of work on JustKidding films together with Joe Jo in 2007.
His YouTube channel uses a satirical approach in revealing and addressing most of the observed and prevalent socio-cultural challenges and societal issues. Bart Kwan is responsible for directing the content of the videos released which has become quite a mega success as it has amassed a large following of about 350 million.
With the outstanding accolades and popular demands made by their loyal subscribers, as well as followers and fans, it led to the setting up and creation of three additional YouTube channels to serve the specific needs and tastes of the various people and they are the Just Kidding Party, Just Kidding Gamer, and Just Kidding News channels. These three channels have garnered a pool of followers as well.
He has also raised funds in the past to support the military officers and the 9/11 victims. In all, his passion has quite made him a millionaire and he is smiling to banks.
Net Worth
The wealth of this media personality, Bart Kwan has grown over the years with his various YouTube Channels – all of which have a large number of subscribers of about 600,000 and with views running into millions. He also has various advertising and endorsement deals which he enjoys. His net worth is well over $2 million, which is quite a handsome sum if you ask our opinion.
What To Know About His Parents
Nothing much is known about his parents except for the fact that they are Taiwanese and Cantonese by ethnicity and there are also no available records that show if the multi-talented star has any siblings. He has kept this aspect of his life quiet but he sure shares their pictures on his social media handle.
Wife
The star is married to one of his actresses and contributor on the Just Kidding YouTube channel, Geovanna Antoinette, who is a Mexican American. She was born on the 3rd of October, 1983 in California. She became a member of the Just Kidding brand in 2010 and she later was made a partner of the brand. They dated about five years before they sealed the deal by signing the marriage register.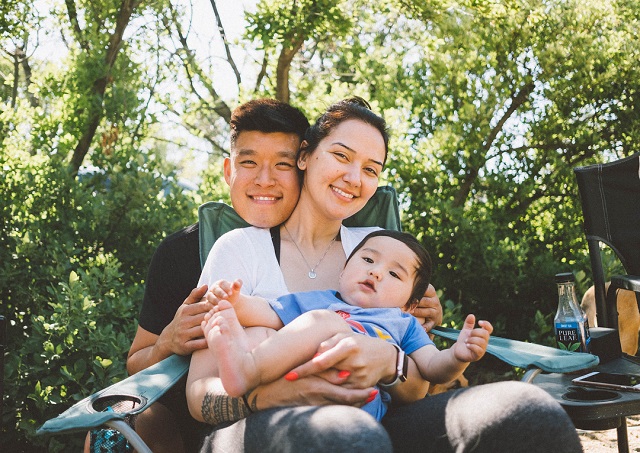 Geovanna Antoinette is an actress, YouTube model, and producer with the Just Kidding brand. She has made a guest appearance in Access Hollywood, Mashbox, among others. She acted in a couple of short films – The Monster and She Has A Boyfriend.
The duo tied the knot in 2015 and they both run a YouTube channel called Bart and Geo together where they show their couple goals and address issues relating to their everyday life. It has accumulated a massive following/subscription of over 600,000.
On the 1st September 2017, the couple welcomed their first child a son, Taika Octavius Kwan who they both gushed over on social media. The young Taika Octavius is growing very happily with his doting parents at his beck and call.
The family loves animals as they have three big dogs who are named Briggy, Fawn, and Meatloaf. They have uploaded videos of themselves at various exotic holiday destinations relaxing and catching their fun. They seem quite happy, we can only wish them all the best in their marital journey.
Height
The famous YouTuber is about 5 feet 8 inches (1.76 m) tall and he has an athletic build which he has developed by his regular dates  with the gym and workouts which he combines with martial arts. He has packed up biceps and muscles which he gladly flaunts on his Instagram page. His weight is estimated to be 83.9 kilograms (185 lb).