Bart Millard is an American singer and songwriter who is the frontman of the Christian rock band – MercyMe. Away from the band, Millard has done some solo work; he's released 2 solo albums including 2008's Hymned Again which earned him a Grammy nod for Best Southern, Country, or Bluegrass Gospel Album.
Before the fame and the awards, Millard was just an ordinary young boy enduring an abusive dad, however, that horrific experience would become a huge part of his mainstream success. After Millard's dad passed, his death inspired MercyMe's I Can Only Imagine which became the best-selling Christian single of all time. The song also inspired a movie of the same title which revealed much about Millard's abusive childhood. Released in 2018, it grossed $86 million to become the 5th highest-grossing music biopic.
Millard's Father Became Abusive After Being Involved In An Accident
Three years before Bart Millard was born, his father Arthur Wesley Millard Jr, once a loving husband and father, became a victim of an accident whose aftermath turned him into a monster in the eyes of his wife and sons. In Greenville, he worked with the Department of Transportation as a flag-waver on construction sites, while out on a site one-day, Arthur was accidentally struck by a diesel truck and though no bone in his body broke, the accident left him with a frontal lobe injury, his brain was irrevocably damaged. He would spend eight weeks in a coma before full recovery.
A recovery that should have caused prolonged celebration at home soon became a nightmare. Arthur's family began to notice his excessive outbursts and rage upon the slightest irritation. When Bart (born on the 1st of December 1972) was in the third grade, his mother had enough and left the home, leaving Bart and his brother Stephen (who is 5 years older) with their dad and both became the sole victims of Arthur's frequent outrage. Bart's mom Adele first remained in Greenville, Texas with new husband Lawrence to keep in touch with her sons before moving to San Antonio, Texas.
Most times, Stephen would protect his younger brother when his father attacked him with a whip but when he left for college, Bart was left alone defenseless from his father's beatings which only got worse.
A Call From School Led To The Worse Beating of Bart's Life
Bart Millard recalls that his father would whip him three to four times each week. After the beatings, Bart's dad would get contrite and remorseful but he never got better. This pattern continued for some years until the day that he gave Millard a beating that nearly killed him.
When school authorities discovered that Bart had forged his father's name on a notification that he (Bart) had made the honor roll, they thought it was sweet and called his dad to inform him about how much his son wants to make him proud and though he laughed it off on the phone with the school authorities, Bart's father was infuriated as he felt embarrassed. Bart returned home to meet the worse day of his life as his father gave him the worse beating ever.
Arthur first began beating his son with a razor strap before switching to a wooden paddle. Bart recalls how the beating was so brutal that he thought his father would kill him. His back was so sore he could not wear clothes nor attend school for two days. Bart was barely 10. As usual, Arthur became deeply remorseful and was brought to tears looking at his son's severely bruised back. It was the first time Bart ever saw his dad cry. This would trigger the beginning of the end to the beatings as it prompted him to send Bart to live with his mother in San Antonio.
In San Antonio, Bart kept in touch with his father and soon realized that he did not like staying with his mom largely because of her new husband who was abusive to her. Right after the 6th grade, Bart chose his abusive father over his mom and returned to Greensville. Back in Greensville, safe for occasional altercations, the beatings had stopped, but Bart gradually grew apart from his father who increasingly took little to no interest in what was going on in his son's life. Bart would leave home for several days and his dad did not care about his whereabouts.
Arthur's Cancer Diagnosis and Eventual Death and How It Inspired MercyMe's hit I Can Only Imagine
Bart Millard's distance from his dad continued for several years until he was diagnosed with pancreatic cancer in 1986 at age 44. Bart returned home to care for his father and as he got sicker, his behavior got better and so did their relationship.
Arthur's change in behavior was also as a result of his faith, in the years leading to his death, he became devoted to Christianity reading the Bible regularly and praying for his sons. He also reconciled with his divorced wife Adele. This change inspired Bart to become even more serious with his faith as he described his father as the godliest man he had known.
Arthur who was not originally supportive of his son's musical pursuits told him how proud of him he was. In a bid to support his music efforts, Arthur set Bart up to receive $600 for 10 years. Unfortunately on the 11th of November 1991, Arthur passed away with sons Bart and Stephen by his side.
At Arthur's funeral, Bart's grandmother whispered to him that she "Can Only Imagine" what Arthur could be seeing at the time. This phrase and idea stuck to Bart's mind almost like an obsession and he scribbled it anywhere he could. Then in 1998, Bart was inspired to write I Can Only Imagine, he spent just 10 minutes writing the entire song.
The song was originally planned to be released as part of MercyMe's 1999 independent album The Worship Project but was included in their major-label debut Almost There. Thanks to the single, the album was thrice certified platinum, propelling Bart Miller and MercyMe bandmates to mainstream success.
Millard Went From From A Local Church Youth Choir Leader To An International Star
Football was Bart Miller's first passion but an injury truncated his dreams of playing in the NFL. His music journey began when he was invited by the youth pastor of his local church to join the youth group worship band where he first became their tech guy before starting to sing and then rise to lead the choir. The choir would often be his escape when he returned to live with his dad.
Miller invited James Phillip Bryson to join the choir and soon the pair moved to Oklahoma and founded the band MercyMe in 1994. They also recruited other members including guitarist – Michael John, bassist – Nathan Cochran, and drummer – Robby Shaffer.
Between 1995 and 2000, MercyMe released six indie albums but they only enjoyed average success. Their breakthrough came with the release of I Can Only Imagine. Since that breakthrough, MercyMe has released several other successful albums including two Christmas albums.
Bart Millard two solo albums Hymned No 1 (2005) and Hymned Again (2008) were inspired by his desire to make hymns easily available for his kids as well as a promise he made to his grandma.
The release and success of the movie I Can Only Imagine in 2018 also had a positive effect on Millard's music career as he saw increased ticket and album sales. His wealth has been estimated at $5 million.
The MercyMe Frontman Has 5 Kids With His High School Sweetheart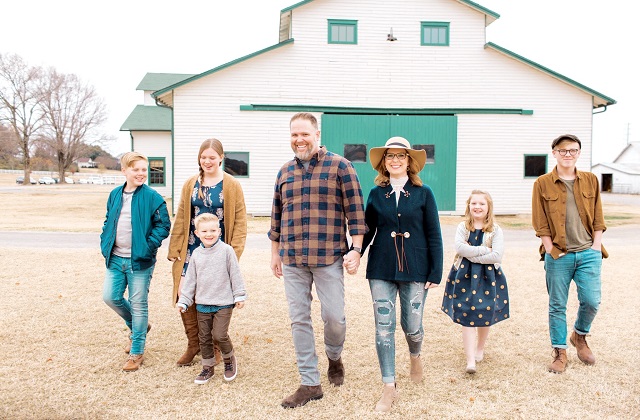 Bart Millard is married to his longtime sweetheart, Shannon Millard. The two first met in 1988 at his church youth group. They became friends and eventually started dating. The couple tied the knot in the year 1997. Millard and his wife have five kids together. They are sons; Miles, Sam and Charlie, and daughters; Gracie and Sophie.
Though not much is known publicly about Shannon's safe for her marriage to Bart, it is a proven fact that like her husband she is a staunch Christian and together with her husband has been involved in selfless services like sponsoring five kids from less-privileged backgrounds.