It is common knowledge that legendary Beatles singer, Paul McCartney, has produced some illustrious offsprings. We have the famous fashion designer Stella McCartney as well as the accomplished photographer and film producer, Mary McCartney. There is also the renowned potter and artist, Heather as well as the singer-songwriter, James McCartney. But, what about the youngest McCartney, Beatrice McCartney? Who exactly is she and how old is she? Where is she and what has she been up to? All these and more questions will be answered below.
Who Is Beatrice McCartney and How Old Is She Now?
Beatrice McCartney was born on the 28th of October 2003 in London, England. She primarily resides in London and attends a public school rather than some posh private school. This is as a result of her father's well-noted belief in the character-building that such institutions provide.
The young McCartney is said to have inherited her father's musical talents and once sang for him over the phone on his birthday. She is also an instrumentalist and is skilled in playing the saxophone. Despite this, McCartney is not looking to go into the music industry. She rather aspires to become a marine biologist and explore the exciting world of sea animals.
Apart from her education and future aspirations, not much else is known about Beatrice McCartney. She maintains a low profile and only makes occasional public appearances with her dad. One of such was in May 2017 when she and her dad watched the popular musical, Carousel.
Her Parents' Marriage and Divorce
Beatrice McCartney's dad is Sir Paul McCartney. He was born on the 18th of June 1942 in Liverpool, England. He attended schools such as Stockton Wood Road Primary School and Joseph Williams Junior School. Paul met his future bandmate, John Lennon, in 1957 and by 1960, the Beatles were founded. The group would go on to become the most influential band in pop music, winning numerous awards. Paul McCartney has also gone on to enjoy a successful solo career after the band disbanded in 1970.
McCartney's mom is an English model as well as activist, Heather Anne Mills. Mills was born on the 12th of January 1968 in Aldershot, Hampshire. She reportedly endured a tough childhood and left home to pursue a career in modeling. Heather Mills was knocked down by a police motorcycle in 1993. Her left leg was subsequently amputated below the knee but she continued modeling with a prosthesis. Additionally, she became an activist for people who had lost their limbs especially as a result of landmines. Mills has been able to donate prosthetic limbs to hundreds of people. She has also raised money to clear landmines in countries such as Croatia.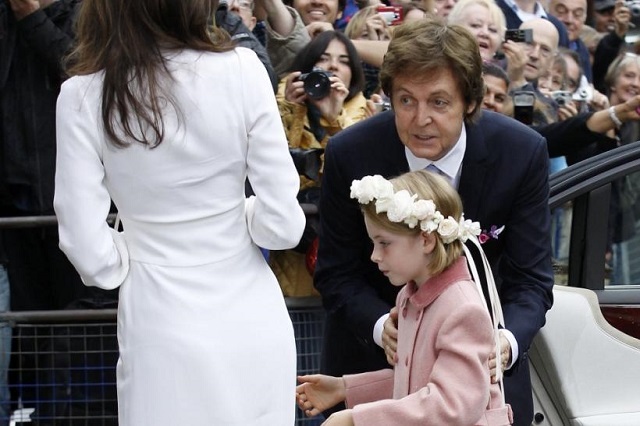 McCartney's parents first met during the Pride of Britain Awards in April 1999. They eventually started dating and got engaged in July 2001. The couple later tied the knot on the 11th of June 2002 in Ireland.
Paul McCartney and Mills split in May 2006, and what followed was an acrimonious divorce which gripped English audiences for two years. Mills complained that her ex was often drunk and high and that he was also abusive. She asked the court for a £125 million settlement while McCartney offered £15.8 million. The court later held that they could not trust Mill's testimony as she had previously described her husband in glowing terms.
They, therefore, awarded her a total of £24.3 million. In the midst of all the drama, Beatrice McCartney split her time between her parents. The trauma at some point got to her as she was pictured throwing a fit in East Hampton in 2006. Beatrice is however now well-adjusted and is leaving a good life.
See Also:  5 Things You Didn't Know About Isabella Jane Cruise – Tom Cruise's Daughter
Who Are Beatrice McCartney's Siblings?
Beatrice McCartney has a total of four older half-siblings courtesy of her father's first marriage to American photographer, Linda Louise. The first is Heather McCartney. Heather is a potter as well as an artist. She is also an award-winning photographer and is equally passionate about animal rights. The second half-sibling is Mary. Mary was born on the 28th of August 1969 and attended public schools, just like the rest of her siblings. She is now a renowned photographer and has taken photos of personalities such as Jude Law and former British PM, Tony Blair.
The third McCartney sibling is Stella McCartney. Stella is a famous fashion designer and has her own eponymous fashion brand. Her creations have been worn by many celebrities including Meghan Markle. Stella is renowned for her commitment to the use of eco-friendly materials and has received many awards. She is married to fellow brit, Alasdhair Willis, and they have four children together. Beatrice McCartney has one half-brother and his name is James. James is a musician and songwriter; he has at least one solo album to his credit. He has also contributed lyrics and instrumentals to some of his father's works.