Our glam today is the American songwriter, record producer, and artist, Bebe Rexha. No one beats her to handling the mic what with her coloratura soprano voice. Her musical styles are mind-blowing as she is an expert in handling PoP and R&B. She has bagged a lot of achievements and is also a Grammy Award winner. Recently, details about her personal life have gotten to the public. Do you want to find out more? See details about her life and everything you should know below.
Early Life
The renowned music goddess, songwriter and record producer was born and named Bleta "Bebe" Rexha on August 30, 1989. She was born in Brooklyn to Flamur Rehxa, her father and Bukurije Rexha, her mother. Flamur is originally an Albanian but moved to the United States at the age of 21 while her mother is an American but was born to an Albanian parent whose roots are linked to Gostivar. Bebe is an Albanian-American. Flamur, Bukurije alongside Babe Rexha relocated somewhere around Staten Island when she was six.
As she grew, she attended Tottenville High School and was very active in the various music groups of the school and also joined the school choir.
Bebe Rexha's interest in music started at a very tender age and she was naturally gifted with various kind of vocal textures but is an expert in singing coloratura soprano. Self-taught as an instrumentalist, she played the guitar and piano but took lessons in order to play the trumpet. She coined her stage name Bebe from an Albanian word Blete which means Bee.
For every successful artist, there are one or two persons in the industry that either influenced their life or serves as role models. For Babe, Cold play, the Cranberries, Lauryn Hill, Alanis Morissette, and Kanye West have influenced her musical career.
Career Achievements
In her world as a successful musically inclined person, she has worked with a few other artists and has also written songs for a few others like Selena Gomez and Nick Jonas. As a growing lad, she showed her prowess when she requested to perform her song at the National Academy of Recording Arts and Sciences yearly Grammy Day Event. She awed her audience and was rewarded with the Best Teen Songwriter award.
A few producers who were around during the show requested to sign her but she resolved to seal a contract with the talent scout Samantha Cox. Samantha guided her in the little way she could and later encouraged her that despite being endowed naturally as a songwriter that there was still need to enroll for songwriting classes, so Bebe decided to attend songwriting classes in New York.
Her career took shape upon her relocation to New York and there she met Pete Wentz, worked with him at a studio located in New York. At that time, Pete started a band called Black Cards that basically plays on live shows and they also recorded several singles and remixes. As gang progressed, Bebe led the group as the lead vocalist.
Subsequently, she became a solo artist and worked under the record label Warner Bros. Records. She grew in her career and began to write songs for a lot of artists including Selena Gomez's song, Like a Champion and Nikki Williams' song, Glowing. On and on she became proficient in her writing skills and wrote Eminem and Rihanna's song, The Monster which topped the on the US Billboard Hot 100 Charts and Billboards Hot R&B/ Hip-Hop Songs. That was not all, the song also won the Grammy Award for the Best Rap/Sung Performance at the 57th Grammy Award. Later in the same year, Bebe Rexha wrote and featured on Cash Cash's song, Take Me Home.
She knew it was a perfect time to release her own song and made her first debut in the song, I Can't Stop Drinking About You and later performed the song on NBC Today Show. The song topped as the number 22 spot on the Billboard Top Heatseekers chart.
Her songs; I'm Gonna Show You Crazy and Gone was released in December 2014 and her debut Ep, I Don't Wanna Grow Up was released the following year in the month of May. Nicki Minaj and Afrojack's song Hey Mama which topped the number 8 on the Billboard Hot 100 with over 1.1 million downloads were also written by her.
Through the following years, she has worked like the very best of her kind and recently produced a song titled I'm a Mess, released on June 15, 2018.
Net Worth
Being a very good songwriter and composer, you wouldn't expect less from an artist whose songs have been sold across the globe and a one time Grammy Award winner. She is currently worth $4 million.
Does She Have a Boyfriend?
The endowed American singer has tried everything in her capacity to avoid talks about her personal life but all her efforts came crashing as we know she is currently linked to a Dutch DJ Martin Garrix. Details of how they met have not popped up the records yet but we know that the two collaborated in the song In The Name of Love.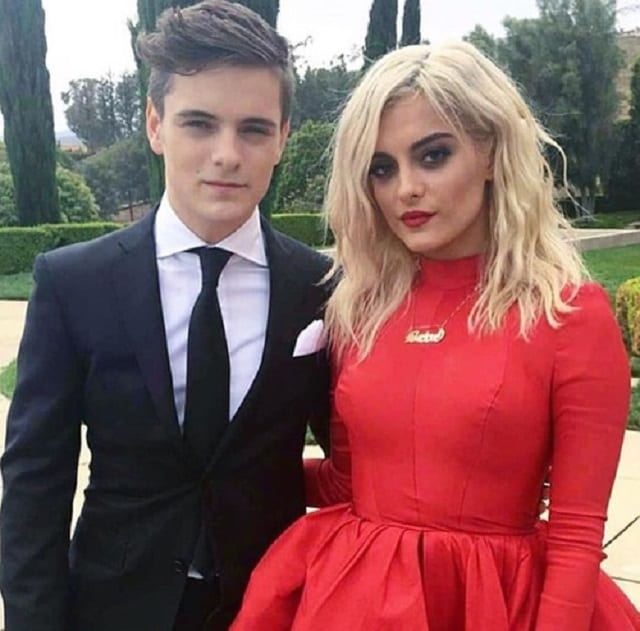 Bebe is quite older than Dutch as she is seven years older than he is. As of now, there are no confirmations about their relationship, however, the two has been seen together on different occasions.
Body Stats
Bebe Rexha is beautiful and has a perfect physique. She has a slim body build and stands at 5 feet 5 inches with a balanced weight of 63kg. Bebe always looks stunning in her blonde long hair and has a set of cute brown eyes. She measures 37-28-38 for her waist, bust and hips sizes respectively.