Anthony Robbins is a renowned name across the globe when it comes to inspirational/public speaking. Popularly known as Tony Robbins, he is not just a speaker but also a famous author, philanthropist and life coach. As is always the case, famous personalities often share their fame with people close to them; and that's exactly how Becky Robbins comes into the picture.
Although Becky's marriage to Tony did not last, the transformation it brought to her life did. Becky was actually wallowing in several self and inner struggles until she had an opportunity to sit under Tony's ministration. Listening to Anthony Robbins became Becky's first step to self liberation, and marrying him turned out to be a complete transformation of her life because after constantly feeding from his wealth of knowledge, Becky Robbins never remained the same. She found the courage, perseverance, direction and meaning she was long searching for in life. Tony mainly helped her to face and overcome her fears!
Making the story more interesting is the fact that Tony Robbins heartily accepted three grown-up kids from Becky's previous relationship at the young age of 24! But ironically, the union was Tony Robbin's greatest life mistake, and he knew it from day one as we've come to realize. Let's take a closer look at the life of Becky Robbins, Tony Robbin's ex-wife; from her biography and meeting Tony, to what led to their divorce; plus other interesting facts.
Becky Robbins – Bio
Born as Becky Jenkins in the United States of America, Tony's ex-wife is white American. Becky led a very private life and so very little information is available on her background and early years. Her exact date and place of birth are not publicly available. She however, comes from a learned family where education was highly valued.
Becky Robbins grew up with a passion for medicine following which she studied and qualified as a nurse. She however, later discovered that she does not really enjoy patient care but rather has her interests in biology and anatomy. Becky subsequently abandoned her nursing profession and ventured into business due to family responsibilities and financial constraints. Being a single mother, she stayed with her kids during the day and went on sales business in the evenings.
Robbins later became the Vice President of the Robbins Research International Inc, Anthony Robbins' business management consultant located in San Diego, California.
Family Life
At the young age of 18, Rebecca Jenkins tied the knot with a man whose identity she has never disclosed. The marriage produced three children – two boys and a girl. However, after a level of maturity over the years, Becky came to realize that she has not found what she is looking for both in a relationship and life in general. She therefore decided to leave the marriage behind and move on.
In her search for direction and focus in life, Becky found herself in Anthony Robbins' three-day "Unleashing the Power Within" seminar. In a bid to absorb every point of the teachings, she ccupied a seat in the front row. In her position, she caught the attention of Tony Robbins who was just 24 then. The two struck up a conversation after the event, became friends and subsequently started dating. They got married in 1982 with Tony adopting all of Becky's three children who were then aged 17, 11 and 5.
The first year of their marriage was full of fun and adventure, with Tony being Becky's backbone, encouraging her to take risks and face challenges. However, their union gradually began to be fraught with issues including infidelity on Tony's part who was experiencing a vacuum of deep fulfillment in his marriage. Two years into the marriage, he had a child, a son named Jairek Robbins through an extramarital affair with ex-girlfriend Liz Acosta. Their differences continued to widen until 2001 when they finally decided to officially part ways. The couple had endured the relationship despite the odds in order to raise their kids together and also because Tony was reluctant to betray his admirers. At the time they divorced, their last kid was 19 and out of college.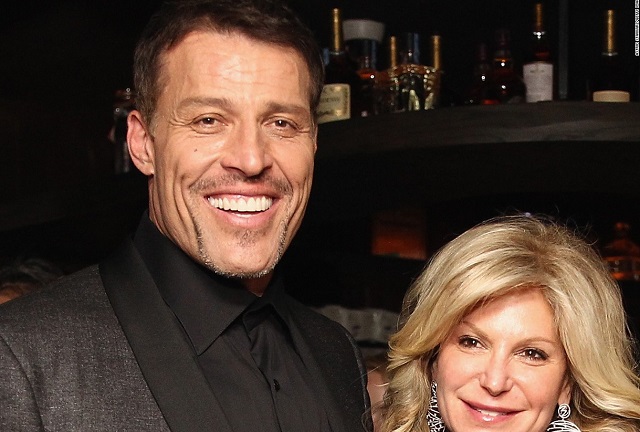 After the divorce was finalized, Tony went ahead and married Bonnie Humphrey now Sage Robbins whom he had already started dating few years ahead of their divorce completion. Sage herself abandoned her marriage with John Lynch to marry Tony. They remain married till date but have no kids together.
Facts About Tony Robbins' Ex-Wife
1. Tony Married Becky just to Please her
As earlier pointed out, Anthony Robbins knew quite well from the onset that his marriage to Rebecca Jenkins was not right. However, having built his life over the years to make others feel good and better about themselves, Tony decided to make the very costly sacrifice of going ahead to marry the wrong person.
Based on his explanations in interviews and other sources, it appeared that Tony inadvertently made a commitment to Becky and did not want to disappoint her. Worse still, he endure the unfulfilling marriage to Becky for 14 good years just to please his admirers who so much believe in him. According to him, divorcing Becky was the most difficult decision he has ever made in life.
2. Becky Maintained a Link with Tony Post-Divorce
Despite their separation, Becky Robbins continued to hold her position of Vice President at the Robbins Research. Not only that, the former couple remain friends.
Also See: Bob Harte Biography, 5 Interesting Facts You Need To Know
3. Her Height
Becky Robbins is not well endowed when it comes to height. She stands at 5 feet 2 inches tall as against her ex-husband, Tony who has an impressive height of 6 feet 7 inches.
4. She Remained Single after her Second Divorce
Becky Robbins has not married again after divorcing Tony Robbins. She has also not entered into any romantic relationship that is open to the public.
5. Where is She Now?
Presently, Becky Robbins is a an inspirational speaker, author, philanthropist, adventurer, and painter. Her major mission is to help young girls become great women by speaking to them on a variety of topics ranging from developing their self-esteem and confidence, to financial independence and general stability in life.
On the side of painting, Becky Robbins currently owns a studio in Del Mar, San Diego, California. Meanwhile, it's not clear how and when Becky trained in the arts.