Bellamy Young is a popular American actress as well as a singer and a producer. She has starred in over forty TV series including CSI: Miami, Grey's Anatomy, Private Practice, Law & Order, NCIS, Two and a Half Men, The Mentalist, ER, Scrubs, and The X-Files. Young's artistic talents are not restricted to the small screen as she has also featured in several movies. Some of them are Mission Impossible III, We Were Soldiers, The Night Stalker, and A Wrinkle in Time. 
Bellamy Young is however best known for her role as Mellie Grant in the ABC political thriller, Scandal. Young's expert interpretation of the riveting, tough-as-nails Mellie won her praises as well as the 2014 Critics Choice TV Award for Best Supporting Actress in a drama series. Get to know more about the talented actress here…
Age, Early Life, and Rise to Fame
Bellamy Young was born on the 19th of February 1971 in Asheville, North Carolina. She was given up for adoption at birth and spent six weeks in foster care before being adopted. Her adoptive mother's name is Jane Young while her adoptive father's name is not known. There is also no indication that she had other siblings. Her parents named her Amy Maria Young, and she grew up answering the first name Amy.
Young was artistically inclined as a child. She took tap dancing and ballet lessons and always performed whenever she got the chance, be it in church or in school. The actress was not just artistic but was also very intelligent. She completed her high school education at Asheville School in 1987 before proceeding to the prestigious Yale University. While at Yale, she studied English and theatre and graduated in 1991. Upon graduating from college, Young earnestly pursued an acting career. Between 1991 and 2000, she appeared in a few Broadway and off-Broadway shows with minor appearances in some TV shows.
Her first professional stage appearance came in 1994 in the musical, Merrily We Roll Along. Other stage productions include Faust (1995) and The Life (1997). The latter was her very first Broadway show. Bellamy Young moved to L.A. in 2000 in order to further her career. At the time, she still went by the name, Amy Young. However, when she went to register with the Screen Actors Guild, she found out that another actor had already taken the name. She, therefore, settled for Bellamy. Bellamy is a tribute to her stepfather, Bill, who cared for her after the demise of her first adoptive dad.
Since stepping foot in Hollywood in 2000, Bellamy Young has acquired an impressive credit comprising of numerous TV shows and movies. Young's artistic talents are not restricted to acting. She is also a talented singer; the actress released her first album on iTunes in May 2015. The album features 10 songs and is mostly covers of songs by other artists such as Pink, Fleetwood Mac, and Ryan Adams.
Husband or Boyfriend, Is Bellamy Young Married?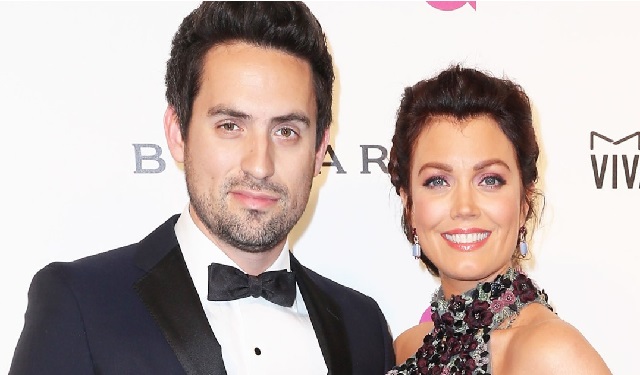 The Scandal star has never been married and when it comes to romantic relationships, she prefers to keep it private. She reportedly dated actor Joshua Leonard in 2000. The relationship lasted for two years before they broke up. Young is now in a relationship with Ed Weeks. Weeks (full name – Edward Charles Egerton Weeks) is an English actor, comedian, writer, and producer. He is most popular for his role as Dr. Jeremy Reed on the Hulu series, The Mindy Project. Young and her beau started dating in January 2016. They often attend red carpet events together. They also gush about each other on their respective Instagram accounts.
See Also: Who Is Kerry Washington? Husband (Nnamdi Asomugha), Her Kids, Net Worth
Height and Other Body Measurements
Bellamy Young is blessed with aristocratic good looks that are befitting of a first lady. She is 5 feet 7 inches tall (1.7 m) and her weight is listed as 59 kg (130 lb). Other measurements are bust – 36 inches (91 cm), waist – 26 inches (61 cm) and hips – 36 inches (91 cm). She has grey eyes and black hair.
Young is a big animal lover and owns several cats. Additionally, she supports several animal-oriented charities such as PETA and The Humane Society of the United States. In 2015, the North Carolina native took part in Celebrity Jeopardy and won $50,000 for a charity that provides blankets for animals.