A multi-talented man, Ben Shapiro is a man of controversial nature, an attribute that has made him an unusual public figure. An intellectual whose career path was clearly defined even before he became a man, the Jewish conservative commentator has always had his way with words. He became popular by sharing his critical and often controversial views on things. He also has a podcast which he hosts "The Ben Shapiro Show."
He was still only a young boy of 17 when he allegedly first caught the attention of the nation as a columnist, making him the youngest nationally syndicated columnist in the States. Many years later, he has continued to be at the top of his career, but not without the support of his family and wife.
Born into a Musically Inclined Family, Ben Shapiro had Strong Political Inclinations as a Child
Benjamin Aaron Shapiro was born in Los Angeles on the 15th of January, 1984. He is of mixed ethnicity as his family is Jewish immigrants to America. It is, therefore, no surprise that his religious inclination is Orthodox Judaism. Shapiro was a very smart lad as evidenced by his academic records at Walter Reed Middle School, Yeshiva University High School, and the University of California, Los Angeles where he bagged a degree in political science and also at Havard. He graduated summa cum laude from UCLA in the year 2004 and later on from Harvard Law School in 2007.
Ben Shapiro and his three sisters were born into an average family. Details regarding his mother, are not publicly known but we do know she once worked in Hollywood as a TV company executive. Ben's father, David Shapiro also worked in the entertainment industry as a composer. David and Ben presumably share a close relationship as he has been of great support in his son's career.
He was raised in a family that was very musical as apart from his father being a musician, he plays the violin while one of his sisters is an opera singer, his other sister used to play the cello, and the other used to play the piano. All the Shapiro kids got the love of music from their father who instilled it in them since they were little kids.
Shapiro also showed political inclinations from a young age. He began gaining public attention from his teenage years and during his undergrad years at UCLA. He was only 17 when he made history as the country's youngest nationally syndicated columnist. It was at this same age that he began writing his first bestseller book Brainwashed: How Universities Indoctrinate America's Youth which was published three years later. By age 21, he already had two bestseller books under his belt.
He Met His Wife Through His Sister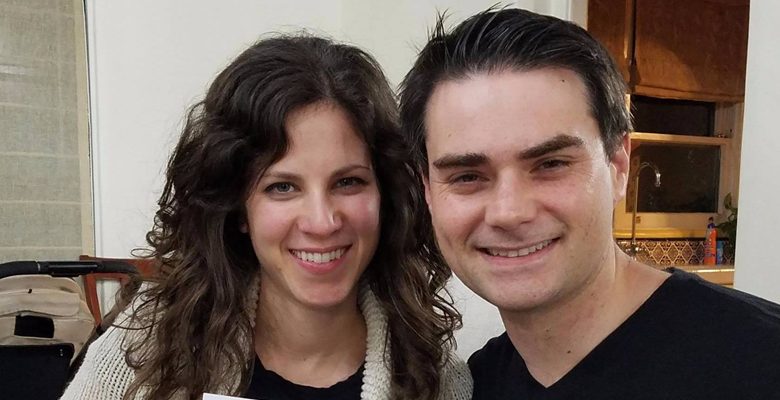 Ben Shapiro is happily married to his better half, Mor Toledano, a medical practitioner. She was born in 1988 in Herzliya, Israel, and was raised there before later relocating to the United States. Mor had her early education at Sha'arei Mishpat College in Israel and then proceeded to the States where she studied at the University of California, Los Angeles (UCLA). She obtained a degree of Science majoring in Behavioral Neuroscience & Medicine. She now practices as a medical doctor.
Ben and Mor were first introduced to each other by Ben's sister, Abigail Shapiro. They would date for a while before getting engaged in 2007. The couple got married in 2008 at a Jewish ceremony in Israel. At the time, Ben was 24 while his wife was 20. Apart from the fact that they are both Jewish, they have other things in common including their love for music; Mor was a member of an acapella musical group.
The love life of Ben and Mor before meeting each other is not known. What is known, however, is that Mor had never dated men who were non-Jewish.
More than a decade since they got married, Ben and Mor are now proud parents to three kids, a daughter born in 2014 and a son born in 2016. Their daughter Leeya Eliana suffered from a congenital heart condition known as Astral Septal Defect as a baby and successfully underwent open-heart surgery to correct it at a children's hospital in Los Angeles. In March 2020, the controversial conservative columnist took to his Instagram to announce an addition to his family with the birth of his third child, a daughter.
Unlike her outspoken husband, Mor who is an Israeli-Morrocan apparently prefers to maintain a low profile. She is also a UCLA graduate where she studied medicine. A physician with specialization in family medicine, Mor currently works at her alma mater. Ben and Mor Shapiro are dedicated partners and parents who love to spend time with their family. So far, the couple who reside in San Diego has been going strong and show no signs of discord.
Ben Shapiro is Controversial, same as His Sister
For anyone who has followed Ben Shapiro through his rise, it will be clear that he is a very controversial figure whose claim to be the youngest nationally syndicated columnist has been highly disputed. He also has controversial political views and once walked out of an interview with BBC host Andrew Neil after the two had differences during the interview.
That said, he is not the only member of his family that has posed that much of a controversial figure, but also his sister, Abigail Shapiro. Famous as Abby, she seems to have inherited her father's genes and also carved a niche for herself in the entertainment industry as a popular opera singer. She is also a YouTube star who enjoys a following of more than 55,500 subscribers on her channel where she is better known as Classically Abby. She has shown more than often that she is not afraid to share her views no matter how unpopular such might be.
Abby has drawn criticisms for her stance on almost everything from her comments on pop music which she believes is a sad direction that music has taken, to her conservative political views, stance on abortion, social justice, modesty, and much more. She has also been trolled online for many reasons, some of which are purely out of hate. She claimed she used to be a Taylor Swift fan before the pop singer became what she termed a "social justice warrior" or SJW, prompting fans of Swift to come down heavily on her.
Abigail is a married woman who walked down the aisle in 2018 with a man known as Jacob. The two got engaged only 5 months after they met and they soon got married. For now, they are still yet to have any kids.