A multi-talented man, Ben Shapiro is a man of controversial nature, an attribute that has made him an unusual public figure. An intellectual whose career path was clearly defined even before he became a man, the Jewish conservative commentator has always had his way with words. We can, therefore, safely say that Shapiro became popular by just being himself and sharing his candid opinions on critical issues. Find out interesting facts about the American columnist, conservative political commentator, attorney, author, and talk show host.
Ben Shapiro Bio (Religion)
Benjamin Aaron Shapiro was born in Los Angeles on the 15th of January, 1984. He is of mixed ethnicity as his family are Jewish immigrants to America. It is, therefore, no surprise that his religious inclination is Orthodox Judaism. Shapiro was a very smart lad as evidenced by his academic records at Walter Reed Middle School, Yeshiva University High School, the University of California, Los Angeles where he bagged a degree in political science and also at Havard. He graduated summa cum laude from UCLA in the year 2004 and also from Harvard Law School in 2007.
Shapiro also showed political inclinations from a young age. He began gaining public attention from his teenage years and during his undergrad years at UCLA. He was only 17 when he made history as the country's youngest nationally syndicated columnist. It was at this same age that he began writing his first bestseller book Brainwashed: How Universities Indoctrinate America's Youth which was published three years later. By age 21, he already had two bestseller books under his belt.
Net Worth – How He Made His Money
Ben Shapiro kicked off his career as a columnist for different dailies before he became popular as a bestselling author. He is a successful author with seven books under his belt. Notably are his first book – Brainwashed: How Universities Indoctrinate America's Youth (2004), Porn Generation: How Social Liberalism Is Corrupting Our Future (2005), Project President: Bad Hair and Botox on the Road to the White House (2008), Primetime Propaganda: The True Hollywood Story of How the Left Took Over Your TV (2011), Bullies: How the Left's Culture of Fear and Intimidation Silences Americans (2013), among others.
As a columnist, Shapiro was the editor-at-large at Breitbart News (from 2012 to 2016) and is the editor-in-chief/online podcast host of his own broadcast Daily Wire which was established in 2015. More so, Shapiro has been a fellow at the David Horowitz Freedom Center since 2011. As an attorney, Ben once worked at a legal firm – Goodwin Procter, before establishing his own independent legal consultancy service.
The attorney, author, editor and activist who always has his way with words has so far earned himself a modest financial portfolio from his numerous endeavors. Ben Shapiro reportedly earns about $1 million annually and his current net worth is estimated at $3 million, a figure which is expected to increase progressively given his dynamic talents.
His Family – Wife, Kids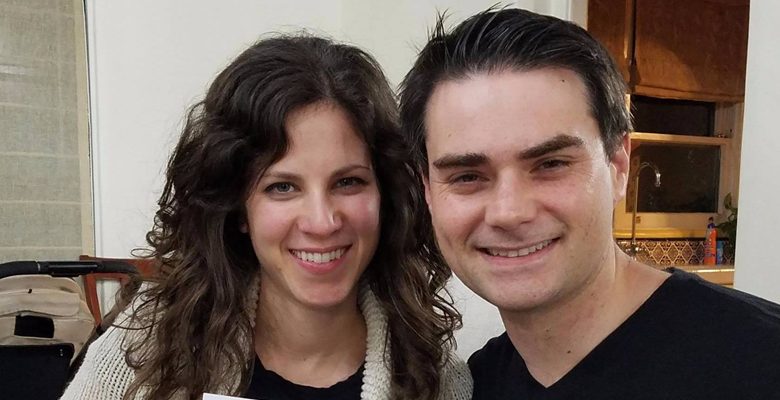 Ben Shapiro is happily married to his better half Mor Toledano. The couple who got engaged in 2007 tied the knot a year later. Ben and Mor are proud parents to two kids, a daughter born in 2014 and a son born in 2016. Their daughter Leeya Eliana suffered from a congenital heart condition as a baby and successfully underwent an open heart surgery to correct it.
Unlike her outspoken husband, Mor who is an Israeli-Morrocan apparently prefers to maintain a low profile. She is also a UCLA graduate where she studied medicine. A physician with specialization in family medicine, Mor currently works at her alma mater. Ben and Mor Shapiro are dedicated partners and parents who love to spend time with their family. So far, the couple who reside in San Diego has been going strong and show no signs of discord.
About His Father and Sister
Ben Shapiro and his three sisters were born into an average Jewish family. Details regarding his mother are not publicly known but we do know she was once worked in Hollywood as a TV company executive. Ben's father, David Shapiro also worked in the entertainment industry as a composer. David and Ben presumably share a close relationship as he has been of great support in his son's career.
See Also: Is Julian Assange Dead or Alive, What is His Net Worth, Where is He Now?
One of Ben's sisters, Abigail seems to have inherited her father's genes and also carved a niche for herself in the entertainment industry. Abigail is a popular opera singer who has at different times suffered public backlash due to her brother's controversial nature. Notably, in 2016, Abigail was severely trolled on various platforms by different people and groups who resented Ben and his opinions.