Many of the fans of Ben Zobrist and his wife, Julianna Zobrist, have been wondering what will become of Benjamin Zobrist's net worth after his divorce. Their fans were thrown for a loop when the news of their divorce broke in May 2019, bringing an end their thirteen-year-old marriage.
Although there is a non-disclosure policy attached to their divorce, this article will attempt to bring you some details about the Baseball player's net worth after his marriage crises and divorce. First, let quickly bring you to speed about the superstar below.
Who Is Ben Zobrist?
Benjamin Thomas Zobrist, popularly known as Ben Zobrist, is an American professional baseball player. He is a second baseman who mines his trade at the Major League Baseball (MLB) for the Chicago Cubs. He was born on May 26, 1981, in Eureka, Illinois in the United States of America to a pastor father, Tom Zobrist and Cynthia "Cindi" Zobrist.
As a son of a minister, Ben was raised a Christian and he grew up as a fan of St. Louis Cardinals. His journey as a baseball player began when he was eight years old when he and his friends reportedly built their own waffle ball field behind his house.
Ben Zobrist had his high school education at Eureka High School and graduated in 2001. He nearly gave up on baseball when he received no offer from professional scouts and college recruits after his high school education. Luckily, he heeded the advice of his high school coach who encouraged him to spend $50 to participate in an annual summer event held in Peoria, Illinois where seniors showcased their skills at the events attracting possible recruiters. The event turned out to be a remarkable one as he received an offer to play college baseball at Olivet Nazarene University, that was the beginning of a new chapter in his baseball career.
Since the end of his college career, Ben has played for four different franchises – the Tampa Bay Devil Rays/Ray from 2006 till 2014, the Oakland Athletics in 2015, the Kansas City Royals, also in 2015, and the Chicago Cubs, from 2016 till date.
Before assessing Ben Zobrisst's net worth after his divorce, it is best to be a little familiar with his wife, Julianna Joy Zobrist.
Julianna Zobrist is an American Christian-pop musician. She was born in Orlando, Florida in the United States on October 5, 1984, to Pastor Jeff and Cheryl Gilmore. She was born the fourth child in a family of six. She attended Iowa City High School before enrolling at Belmont University where she graduated with a bachelor's degree in commercial voice.
Julianna began her music career in 2008 with the recording of her first extended play (EP) titled The Tree, which was released on January 8, 2009. Her second EP titled Say It Now was released on April 17, 2012. Her first studio album dropped in 2016 and was titled Shatterproof.
Ben Zobrist's Net Worth After Divorce?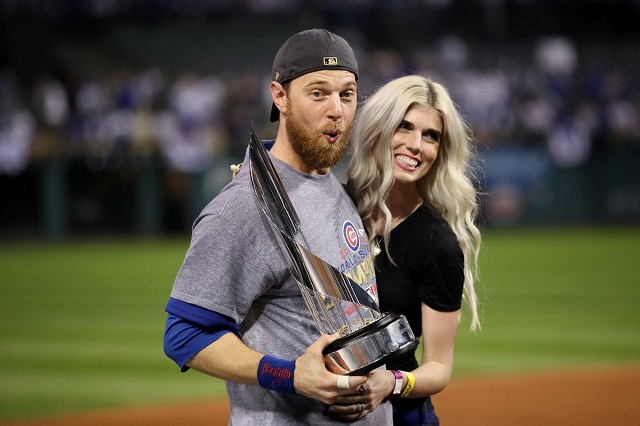 Ben Zobrist's net worth after his divorce was not as impacted as expected as his income kept rolling in from his profession as a baseball player. Like some celebrity's divorce agreement, Ben and Julianna's divorce has none disclosure policy attached to it. The clause makes it difficult to ascertain if Julianna got any form of financial settlement from Ben in the course of the divorce.
In the meantime, the father of three, Ben Zobrist, has a net worth of $31 million, his fortune has come from his MLB career which has spanned for over fourteen years with an annual salary estimated at $14 million. Julianna's worth, on the other hand is estimated to be $1 million.
Going by the reports of several sources, the duo reportedly met around the year 2000 through Juliana's sister's husband who happened to be Ben's teammate at Olivet Nazarene University in Illinois. Born into Christian homes and raised by God-fearing parents, the love birds had an instant connection.
Throughout their periods of courtship, they held conversations, talked about baseball, family, and God. They officially walked down the aisle in 2005 and have so far welcomed three children – a son and two daughters.
See Also: What Is Katie Holmes Net Worth After Divorce From Tom Cruise
Ben and Julianna were determined to build and uphold their marriage on a solid godly foundation; they even co-authored a book together titled Double Play: Faith and Family First which was released in 2014. The union was considered stable and unshakable that even when Ben got drafted as a professional player, the duo agreed not to stay more than six days away from each other. That was how much their marriage was valued until things began to fall apart after Benjamin accused his wife of infidelity, thus leading to both of them filing for divorce on the same day in different locations.
The 3-time All-Star further claimed that his wife of fourteen years conducted herself in manners he considered maritally inappropriate. Without much ado, they chose to bring their union to an end.