It is over a decade since Benjamin Watson joined the National Football League (NFL). He was selected by the New England Patriots during the 2004 draft but currently plies his trade for the New Orleans Saints as a tight end. Watson has continued to prove his worth season after season in the NFL and apart from football, the Super Bowl XXXIX winner has authored good books that will make him relevant even after his football career is over. Let's find out more.
Benjamin Watson's Age and Bio
Benjamin Watson was born in Norfolk, Virginia on December 18, 1980. Growing up, he attended Northwestern High School in Rock Hill, South Carolina where he excelled in football and track & field. He was also actively involved in the religious activities in high school and was a bona-fine member of the Fellowship of Christian Athletes.
As a junior, he was instrumental in his team's appearance in the State Championship; he did well also as a senior where he caught 31 passes for 515 yards. In track and field, the talented athlete made a personal-best times record of 22.37 seconds in 200 meters and 50.03 seconds in 400 meters.
After high school, Benjamin enrolled at Duke University where his exploits in football did not go unnoticed. Spending just one year at Duke, he caught 31 passes for 93 yards with 1 touchdown before transferring to the University of Georgia where he majored in Finance. In his three years in Georgia, he caught 65 passes in 852 yards with 6 touchdowns.
NFL Career
In the 2004 NFL Draft, Benjamin Watson was selected by the New England Patriots in the first round of the draft as the 32nd overall. He inked a $13.50 million, 6-year contract with the Patriots which had a signing bonus of $3.81 million. He kicked off his NFL career with a 27-24 victory against Indianapolis Colts where he caught 2 passes for 16 yards.
He became the team's starting tight end in the 2005 season and caught a season-high –four passes for 66 receiving yards in a 24-17 win match over the New Orleans Saints. He finished the season with 29 receptions in 441 receiving yards and 4 touchdowns in 15 games out of which he started 9. He also won the Super Bowl XXXIX that season.
His time at the franchise saw him play 71 games where he caught 167 passes for 2,102 yards and 20 touchdowns before committing to Cleveland Browns as a free agent on a 3-year contract worth $12 million which he signed on March 12, 2010. The deal came with a guarantee of $6.35 million.
Benjamin Watson was named as a starter for the team in the tight end position and he continued his exploits with the team till 2013 when he joined the New Orleans Saints. He signed a 3-year contract for $4.95 million with the Saints on March 2013 and he entered the training camp as a backup tight end. Though he found game time hard to come by, he finished that season playing 15 games out of which he started 7 with 19 receptions for 226 receiving yards and two touchdowns.
His career with the Saints came to an end in 2015 when he joined the Baltimore Ravens. He signed a 2-year deal worth $7 million with the Ravens on March 9, 2016, and competed for a starting berth with the likes of Dennis Pitta, Crockett Gilmore, and Maxx Williams. However, a torn Achilles during the team's third preseason game meant Watson would be sidelined for the rest of the season.
Upon his return in 2017, he was named the backup tight end to begin the regular season but still recorded a season-high 8 receptions for 91 yards in the week 2 of 2017 against Cleveland Browns. He spent 2 years with the Ravens, playing 16 games in which he started 12 with 61 receptions for 522 receiving yards and 4 touchdowns. In 2016, he was Bart Starr Award Finalist and NFL Walter Payton Man of the Year Award Finalist.
Benjamin Watson became a free agent after his contract with the Ravens expired and on March 28, 2018, he moved to New Orleans Saints for the second stint with the franchise.
Details About His Family
There is no quite reliable information about Benjamin's parents; maybe he kept that off the media for a reason, Benjamin has a younger brother named Asa Watson who is also a tight end baller, he got signed by the New England Patriots on May 10, 2014, but was let off before the start of the season.
Who is his wife Kirsten and do they have Children?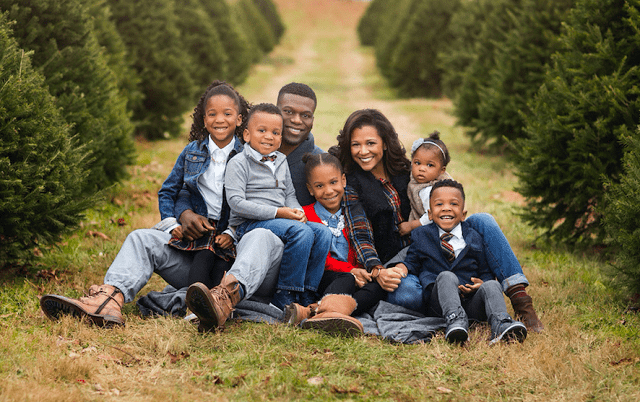 Benjamin Watson is a proud husband of Kirsten Vaughn Watson; she is an ardent believer in the gospel of God and has truly inculcated good Christian virtues to the life of her husband. She attended the University of Georgia where their path crossed for the first time. They became good friends before they tied the knot in 2005 at the end of Watson's NFL rookie season.
While at University, she was a college athlete and a committed member of Fellowship of Christian Athletes (FCA). They have 5 children together, 3 daughters and 2 sons namely; Grace Makayla and Naomi Love (twins), Judah, Isaiah, and Eden Moriah Watson.
Following his amazing touchdown celebration over the Los Angeles Rams on November 5th, 2018, Benjamin announced that they are expecting another set of twins that would grow the family from Watson Five to Watson Seven.
Height and Weight
There are no much footballers in the NFL who can boast of having Benjamin's height or his body structure. He has got the body and height needed for the job he does. Watson has a commanding height of 6 ft 4 in (1.93 m) with an amazing physique that gives him a weight of 114 kg.