Bessy Gatto is one of those lucky celebrities who did not work or struggle to acquire fame but just landed on it through a relationship with an already famous personality. In that vein, marrying popular American comic actor, Joe Gatto, shot Bessy to the limelight.
Joe Gatto is most popular for his role on TruTV's sitcom, Impractical Jokers. He is also a co-founder of the American comedy group, The Tenderloins – whose members are all 'Impractical Jokers'. In addition to being a comedian, the funnyman also plies his trade as a producer and screenwriter on several other productions. Being the only Impractical Joker who has built a family with a wife by his side, fans are curious to know the woman who stole the heart of this very funny Joe.
If you are looking for such details, you're at the right place as this article is all about Bessy Gatto, the wife of Joe Gatto – from her biography to very interesting facts about her.
Bessy Gatto's age and background
She was born in the United States of America on April 11th, 1982 but the exact place is not known. Bessy is a white American.
Most of the things that happened in Bessy's life before she met Joe have remained a mystery. This is because the beautiful lady is yet to share her story with the media. Moreover, Bessy was just an ordinary personality, obscured from the public eye until she became Gatto's wife. Whether she acquired some level of education, as well as a profession, remains unknown. No one actually knows where she was, or what she was doing before she met the famous improvisational comedian whose real name is Joseph Anthony Gatto.
Bessy married Joe Gatto in 2013, precisely on September 2nd. The wedding was a grande and colourful ceremony attended by famous celebrities. The solemnization was officiated by Joe Gatto's colleague and former member of The Tenderloins, Sal Vulcano.
What to Know About Her Family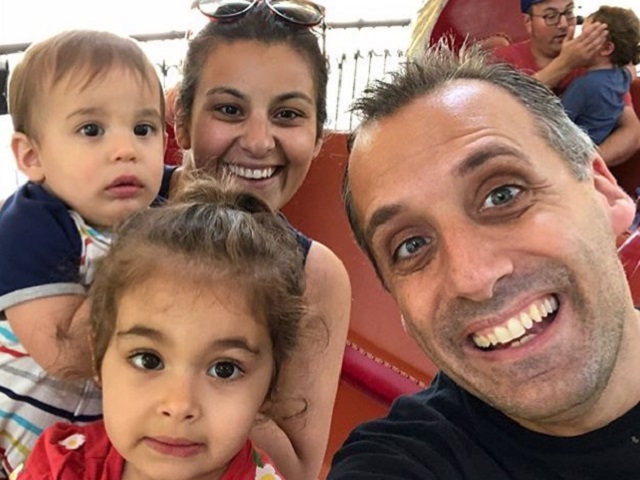 Just like all other personal matters, Bessy Gatto keeps the information about her family under wraps. We are yet to get acquainted with the identity of her parents, siblings and other family background information. Presently, the only available info on her birth family is the fact that her parents live in California. This was derived from a tweet she posted on December 16, 2017.
Meanwhile, Bessy Gatto is enjoying a blissful life with her own personal family – her husband and kids. She doesn't seem to be involved in any full-time job at the moment. She, therefore, occupies herself with the wifely and motherly duties of supporting her husband and raising their children respectively. Bessy is always at Joe Gatto's side during events, sometimes with their kids or pets dogs. She also often shares photos from their fun moments at home.
Bessy and Joe welcomed their first child and daughter, Milana on the 7th of May, 2015. Their second child and first son, Remington Joseph arrived barely two years later, precisely on the 1st of August, 2017. The couple's union has blossomed over the years, with no speculations about divorce, controversies or other common marital issues. The family of four lives together with their two pet dogs in Lynbrook, New York.
OtherFacts About Joe Gatto's Wife
1. Bessy Gatto is a vegan. She adopts the diet lifestyle to keep fit and healthy.
2. She is an animal lover and advocate. She keeps herself busy with organizing and attending fundraisers, workshops and enlightenment programs on animal rescue and protection, especially dog adoption. Her husband actively joins her in the vocation, with the two often spotted at events cuddling little cute puppies like their own babies!
3. Her husband, Joe Gatto is the only married cast member of Impractical Jokers. The show has been airing on TruTV since 2011. It is on its 8th season as at the time of writing this article.
4. Bessy Gatto is nothing less than a social media star. She has thousands of followers across major platforms with her Instagram account boasting over 80k followers. Her husband has over one million followers on the platform, also adding to her internet fame.
5. She is her husband's social media promoter. Bessy uses her various accounts, especially Instagram to spread publicity on Joe's works. She also runs an online shop called "Teespring" with Gatto.