Thanks to a career that spanned sixty years, Burt Reynolds remains one of the most iconic figures in Hollywood today; even though he's late. The Michigan-born actor first graced the screens in the first episode of the 1958 TV drama, Flight, little did he know it was the beginning of a journey that would lead him through 167 films and TV shows. By the end of his career in 2018, he had won twelve major awards with nominations for 10 other awards and recognition. Fitting 167 appearances into a list of 10 is much more than a shortlisting exercise, especially when every performance seems to be no less than the other. Nevertheless, we have managed to fish out those epoch-making appearances that have not been forgotten decades after they were released. This article features what we regard as the 10 best Burt Reynolds Movies and TV shows; with clear-cut reviews and summaries as a topping.
10 Best Burt Reynolds Movies and TV Show
1. Boogie Nights (1997)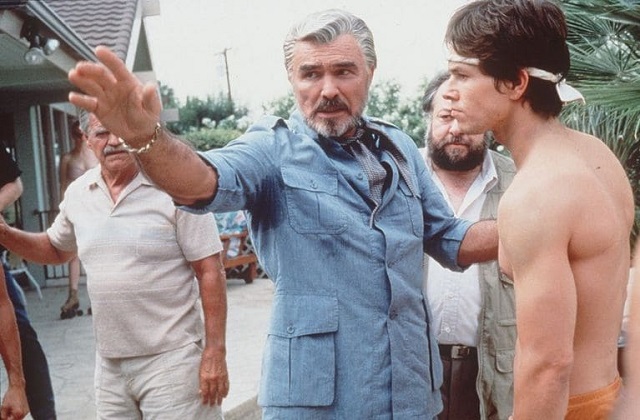 Production Budget: $15 million | Box Office: $43.1 billion | Running Time: 155 minutes
Boogie Nights is first on our list due to its insanely huge success. Of the 103 films Reynolds starred in, Boogie Nights is the only film that earned him an Oscar nomination. In the years after its release, Boogie Nights won Reynolds 9 different awards including the golden globe awards in 1998. The comedy-drama features Jack Horner, a porn movie director who discovers and picks a highschool dropout, Eddie Adams (Mark Wahlberg) and turns him into an adult film sensation. The film helped propel Reynolds to worldwide fame before a waiting audience at a time where the adult film industry was still gaining ground in the US. It features Julianne Moore, Don Cheadle, John C. Reilly, William H. Macy, and Heather Graham. 
2. Smokey and The Bandit (1977) 
Production Budget: 4.3 million | Box Office: $300 million | Running Time: 96 minutes
Bo "Bandit" Darville (Burt Reynolds) is a master bootlegger who got hired by the wealthy Texan duo, Big Enos Burdette and his son Little Enos, to deliver 400 cases of Coors beer to Georgia. While Bandit himself drives a Pontiac Trans Am to distract law enforcement, his partner in crime, Cledus "Snowman" Snow (Jerry Reed) drives the main truck carrying the precious cargo. However, the mission is threatened by an insufferable Texas county Sherriff, Buford T. Justice (Jackie Gleason). Smokey and the Bandit sits second on our list due to its incredible box office success and the positive reviews it received from critics in the years following its release. 
3. Sharky's Machine (1981) 
Production Budget: NA | Box Office: $35.6 million | Running Time: 122 minutes
This 1981 action-thriller follows the life of Burt Reynolds' character, Sgt Tom Sharky. Sharkey is a narcotics detective who is hunting a crime lord. However, he eventually falls for a top-notch call girl who has ties with the crime lord. The film received positive reviews on its release in 1981 and holds a rating of 86% on Rotten Tomatoes. It stars Vittorio Gassman, Brian Keith, Charles Durning, Earl Holliman, Bernie Casey, Henry Silva, Darryl Hickman, Richard Libertini, and Rachel Ward. 
4. Deliverance (1972)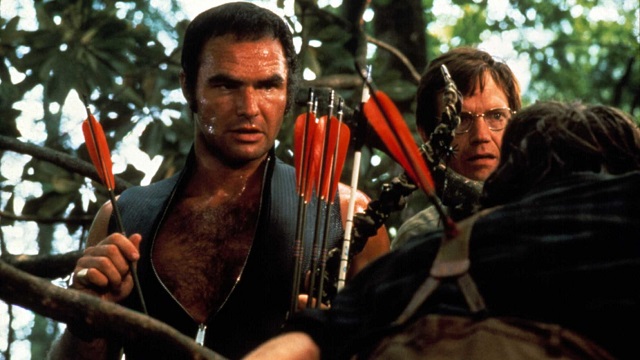 Production Budget: $ 2 million | Box Office: $46 million | Running Time: 110 minutes
When four young men from Atlanta (Lewis Medlock, Ed Gentry, Bobby Trippe, and Drew Ballinger) set out to canoe down a river in the remote northern Georgia wilderness for fun, they scarcely know what awaits them in the thick forests surrounding their dream destination. Deliverance is adapted from James Dickey's widely-read novel of the same title. It received positive reviews and was pegged at a whopping 92% on Tomatometer. The film features Burt Reynolds, Ned Beatty, Ronny Cox, and Jo Voight. Deliverance will always find a spot in any list of best Burt Reynolds movies.
5 Pups (1999)
Production Budget: NA | Box Office: NA | Running Time: 103 minutes
Pups is an American independent crime drama film that features a young Stevie (Van Hoy) who gets hold of a gun from his mother's closet and later decides to use the gun to rob a bank. When the police and FBI agent, Daniel Bender (Burt Reynolds) surround the building, they try to free the hostages without force at first. However, as the situation gets more frustrating, Bender makes another daring attempt; causing Stevie and his girlfriend, Rocky, to surrender and abandon the guns, hostages, and money in the bank. Their escape attempt gets botched as Stevie gets shot. The film received mainly positive reviews with 90% on Rotten Tomatoes. More so, the film was nominated for four different awards and won two, including the Yubari International Fantastic Film Festival, in the Grand Jury Prize- Feature category. 
6. The Longest Yard (1974)
Production Budget: $2.9 million | Box Office: $43 million | Running Time: 121 minutes
In this 1974 sports comedy film, Reynolds portrays the character Paul "Wrecking" Crew, a former NFL player who recruits a group of prisoners to play football against their guards. At the time, he was serving an 18-month prison term for point shaving. The film was an instant success and eventually got Reynolds nominated for Best Actor – Motion Picture Musical or Comedy, at the 1975 Golden Globe awards. 
 7. The Cannonball Run (1981)
Production Budget: $16-18 million | Box Office: $100 million | Running Time: 95 minutes
This comedy film became one of the highest-grossing films of 1981 and even inspired two sequels. Burt Reynolds stars in the lead role of JJ McClure, a racing driver, who participates in a cross-country road race from Connecticut to California with a $25 million prize to it. He stars alongside Jackie Chan and Roger Moore. 
Best Burt Reynolds TV Shows 
8. Evening Shade (1990 – 1994) 
Production Budget: NA | Box Office: NA | Running Time: 30 minutes (with commercials)
In what could pass for the most-watched TV series of the time, Burt Reynolds plays the role of a former pro football player for the Pittsburgh Steelers, Wood Newton, who quit sports owing to injury. Newton is now coach of the Evening Shade high-school football team. That would've been a relief for the player except that his team is known for never winning a game. The sitcom ran for four seasons and aired 98 episodes. It features Marilu Henner, Michael Jeter, Jay R. Ferguson, Hal Holbrook, Ossie Davis, Charles Durning, Elizabeth Ashley, and Ann Wedgeworth. 
9. Starting Over (1979) 
Production Budget: NA | Box Office: NA | Running Time: 105 minutes
Devastated by his wife's decision to leave him for her music career, Phil Potter (Burt Reynolds) leaves home and goes to stay with his relatives. After joining a support group consisting of other divorced men, Potter soon gets back to shape psychologically and falls in love with a gentle unassuming schoolteacher, Marilyn Holmberg (Jill Clayburgh). Around the same time, Potter's ex-wife, Jessica (Candice Bergen) wants them both to get back together. Phill Potter is caught in the middle. The series received positive reviews from critics and even landed a perfect score of 100% on Rotten Tomatoes. 
See also: 7 Kurt Russell Movies Ranked From Best To Worst
10. Dan August (1970-1971)
Production Budget: NA | Box Office: NA | Running Time: 45 minutes
Our tenth feature on Best Burt Reynolds Movies and TV shows is Dan August. In the 26 episodes that aired on ABC, this American crime drama series helped cement Reynolds' reputation as one of America's finest actors. In the series, he portrays the main character, police lieutenant Dan August, who investigates homicide cases in his (fictional) hometown of Santa Luisa, California. Although not an overnight success, the series got famous when reruns were aired on CBS in 1975. His performance on Dan August got him nominated for Best Actor in Television Series Drama for the 1971 golden globe awards.