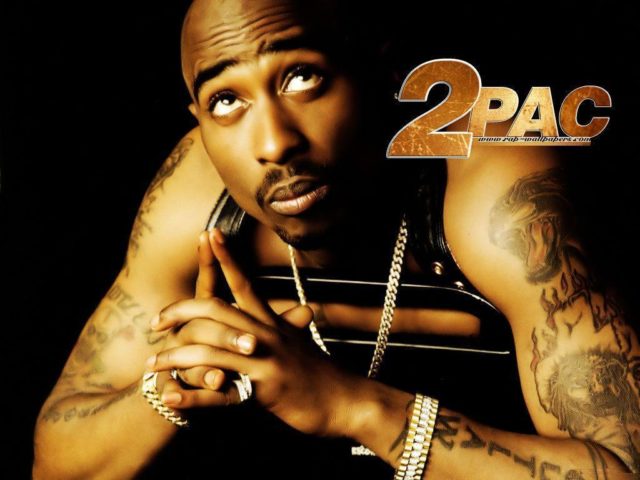 Tupac Amaru Shakur, popularly known by the stage name 2pac and briefly as Makaveli was born in New York City in 1971. He was an American rapper, an actor as well as a social activist. During his time, he was such a successful hip-hop legend with most of his lyrics filled with controversies, always talking about life in the ghetto and also using his lyrics to attack most of his gangsta enemies. He lived a violent life which led to him being shot and killed in Las Vegas Nevada in 1996. Despite the controversies surrounding his life and death, he will always be remembered for the inspirational and motivating quotes he used, most of them you will find in his lyrics. Here are some of the best Tupac quotes that might interest you.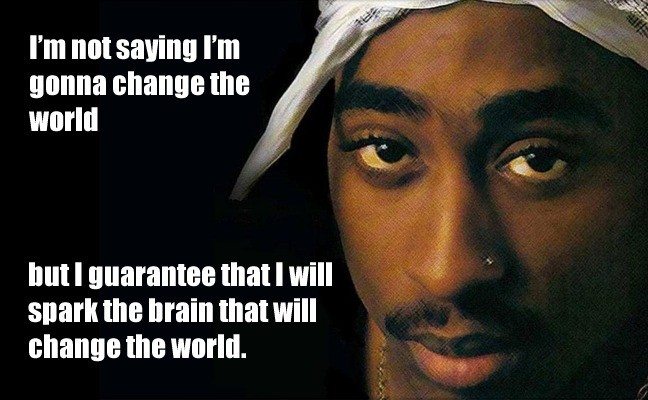 1. All I'm trying to do is survive and make good out of the dirty, nasty, unbelievable lifestyle that they gave me. Tupac Shakur
2. Don't change on me. Don't extort me unless you intend to do it forever. Tupac Shakur
3. I think I'm a natural-born leader. I know how to bow down to authority if it's authority that I respect. Tupac Shakur
4. It's a struggle for every young Black man. You know how it is, only God can judge us. Tupac Shakur
I don't see myself being special; I just see myself having more responsibilities than the next man. People look to me to do things for 5. them, to have answers. Tupac Shakur
6. If I win and get the money, then the Oakland Police department is going to buy a boys' home, me a house, my family a house, and a Stop Police Brutality Center. Tupac Shakur
7. I worked hard all my life as far as this music business. I dreamed of the day when I could go to New York and feel comfortable and they could come out here and be comfortable. Tupac Shakur
8. If you believe in God, believe in Death Row East. Tupac Shakur
9. With all my fans I got a family again. Tupac Shakur
10. I'm a reflection of the community. Tupac Shakur
11. I'll probably be punished for hard living. Tupac Shakur
12. When you do rap albums, you got to train yourself. You got to constantly be in character. Tupac Shakur
13. We were young and we were dumb, but we had a heart. — Tupac Shakur
14. Many dreams are what we had and plenty wishes. — Tupac Shakur
15. They got money for the war but can't feed the poor. — Tupac Shakur
16. There's gon' be some stuff you see that's gonna make it hard to smile in the future. But through whatever you see, through all the rain and the pain, you gotta keep your sense of humour, you gotta be able to smile through all this bullshit. — Tupac Shakur
17. Everybody's at war with different things. I'm at war with my own heart sometimes. — Tupac Shakur
18. Death is not the greatest loss in life. The greatest loss is what dies inside while still alive. Never surrender. — Tupac Shakur
19. That which does not kill me can only make me stronger. I don't see why everybody feel as though that they gotta tell me how to live my life. — Tupac Shakur
20."Whatever you see you gotta keep a sense of humour; you gotta be able to smile through all the bullshit." ― Tupac Shakur
21. Forgive but don't forget, girl keep your head up. And when he tells you "you ain't nothing", don't believe him. And if he can't learn to love you, you should leave him.
22. My mama always used to tell me: 'If you can't find somethin' to live for, you best find somethin' to die for.' Tupac Shakur
23. Reality is wrong. Dreams are for real. Tupac Shakur
24. It's the game of life. Do I win or do I lose? One day they're gonna shut the game down. I gotta have as much fun and go around the board as many times as I can before it's my turn to leave. Tupac Shakur
25. What I learned in jail is that I can't change. I can't live a different lifestyle – this is it. This is the life that they gave and this is the life that I made. Tupac Shakur
Interesting Tupac Quotes
26. I just spent 11 and a half months in a maximum-security jail, got shot five times, and was wrongly convicted of a crime I didn't commit. Tupac Shakur
27. The only time I have problems is when I sleep. Tupac Shakur
28. I just don't know how to deal with so many people giving me that much affection. I never had that in my life. Tupac Shakur
29. In my mind I'm a blind man doin' time. Tupac Shakur
30. Let the Lord judge the criminals. Tupac Shakur
31. Dre was one of my heroes in the music industry. If he's not down for his homeboys, I don't wanna be a part of him or around him. Tupac Shakur
32. I don't have to talk about whether or not I got raped in jail. Tupac Shakur
33. America wants its respect. Tupac Shakur
34. I never killed anybody, I never raped anybody, I never committed no crimes that weren't honorable. Tupac Shakur
35. Thug Life to me is dead. Tupac Shakur
36. I am society's child. This is how they made me and now I'm sayin' what's on my mind and they don't want that. This is what you made me, America. — Tupac Shakur
37. I feel like role models today are not meant to be put on a pedestal. But more like angels with broken wings. — Tupac Shakur
38. If God wanted me to be quiet he would've never showed me what he does. — Tupac Shakur
39. I believe that everything that you do bad comes back to you. So everything that I do that's bad, I'm going to suffer from it. But in my mind, I believe what I'm doing is right. So I feel like I'm going to heaven. — Tupac Shakur
40. I don't have no fear of death. My only fear is coming back reincarnated. Tupac Shakur
41 It seems like every time you come up something happens to bring you back down. Tupac Shakur
42. Is it a crime, to fight, for what is mine? Tupac Shakur
43. I'm 23 years old. I might just be my mother's child, but in all reality, I'm everybody's child. Nobody raised me; I was raised in this society. Tupac Shakur
44. I would rather have been shot straight-up in cold blood-but to be set up? By people who you trusted? That's bad. Tupac Shakur
45. The only thing that comes to a sleeping man is dreams. Tupac Shakur
46. Somebody help me, tell me where to go from here cause even Thugs cry, but do the Lord care? Tupac Shakur
47. We all gonna die, we bleed from similar veins. Tupac Shakur
48. There's nobody in the business strong enough to scare me. Tupac Shakur
49. "A coward dies a thousand times, a soldier dies but once." ― Tupac Shakur
Read Also: 100+ Funny Trivia Questions and Answers
50. "Fear is stronger than love" ― Tupac Shakur
Tupac Quotes About Love – Tupac Love Quotes
51. "I think I came to the conclusion I'm giving up on love and relationships."~ Unknown
52. "The most terrible poverty is loneliness, and the feeling of being unloved."~ Mother Teresa Of Calcutta
53. "Everything's a gamble, love most of all."~ Tess Gerritsen
54. "Get out of my head and fall into my arms instead."~ One Direction
55. "What did I do wrong was a question that remained unanswered for 2 years. I'll remember that moment forever. You never know what I was going to do as you said the last two words to me."~ Unknown
56. "One is never prepared for the loss of a loved one."~ Unknown
57. "Never look back. If Cinderella had went back to pick up her shoe, she wouldn't have become a princess."~ Unknown
58. "Some people are just bad news. Even if you love them, they aren't good for your life. Give them time to grow up."~ Unknown
59. "Love is a smoke made with the fume of sighs. Being purged, a fire sparkling in lovers' eyes. Being vexed, a sea nourished with lovers' tears. What is it else? A madness most discreet, a choking gall and a preserving sweet."~ William Shakespeare
60. "Its confusing when you can't determine if the signs are for you to give up or just a test to see how long you could hold on."~ Unknown
61. "You know you're falling hard when even the stupidest little love songs start to make sense."~ Unknown
62. "Nothing hurts more than watching the one you love, the one you want so bad, be in love with someone else and all you can do is sit there and watch and pretend everything's alright."~ Shannon Ataahua Murph
63. You know that when I hate you, it is because I love you to a point of passion that unhinges my soul."~ Julie de Lespinasse
64. "Another month. Another year. Another smile. Another tear. Another winter and another summer too. But there can never be another you."~ Unknown
65. "There are those rare moments in life when you are touched with so much love that you begin to realize how beautiful life really is.There are rare moments in life when you are touched with so much love that you begin to realize how beautiful life really is."~ Unknown
66. "Sometimes I forget that I'm not suppose to love you anymore."~ Unknown
67. "Baby, if you were words on a page, you'd be what they call fine print."~ Unknown
68. If God takes someone out of your life he did it for a reason, stop looking back trying to put them back in it."~ Unknown
69. "The secret to life. one can only see clearly with the heart. Anything that is essential is invisible to the eyes. How much time and effort you've spent on someone or something is what makes them so important."~ Michael Krol
70. "The loss of a loved one turns our life upside down. Our world as we knew it has changed and those changes require that we in turn adjust to a new normal."~ Unknown
71. "We are all a little weird and life's a little weird, and when we find someone whose weirdness is compatible with ours, we join up with them and fall in mutual weirdness and call it love."~ Anonymous
72. "Be great, make the best life for your family!"~ Soulja Boy
73. "I'm just one of those hopelessly romantic people so I don't think I'll ever run out of stories. I'm always looking for love. But I'm afraid now – by doing what I do – I've missed my chance to ever find it. That I'm destined to get burned again and again."~ Chris Carrabba
74. "The more you think about things, the weirder they seem. Take this milk. Why do we drink *cow* milk?? Who was the guy who first looked at a cow and said, I think I'll drink whatever comes out of these things when I squeeze 'em!?"~ Bill Watterson
75. "Every girl has three guys in her life: the one she loves, hates, and the one she can't live without. In the end, they're all the same guy."~ Unknown
76. "You've stirred emotions I've never experienced before, never. Not until you."~ Unknown
77. "If someone doesn't brighten your life, don't take off your sunglasses, just find sunshine somewhere else."~ Unknown
78. "I love everything about you, except the fact you're not with me."~ Unknown
79. "The incomparable stupidity of life teaches us to love our parents. divine philosophy teaches us to forgive them."~ Baron De La Brede Et De Montesquieu
80. "They've said I want to direct pictures. I couldn't direct traffic."~ Marilyn Monroe
81. "True love is hard to find, special one, one of a kind. I know because it appeared to me on a strange day when I met you."~ Unknown
82. "When the road gets dark – And you can no longer see – Just let my love throw a spark – And have a little faith in me."~ John Hiatt
83. "I love you more than any word can say … I love you more than every action I take … I'll be right here loving you till the end."~ Lauren
84. "He who tries to forget a woman, never loved her"~ Marjorie Kinnan Rawlings
85. "Until your heart stops beating, Bella. I'll be here, fighting. Don't forget that you have options."~ Jacob Black
86. "Sometimes I push you away, because I need you to pull me closer."~ Unknown
87. "It's funny how I can't remember what I had for dinner last night, but I always remember every last detail of what happens when I'm with you."~ Unknown
88. "People always tell me either A. you love him. B. you hate him. My usual answer? C. All of the above."~ Unknown
89. "Why is it that I finally convince my mind that I am over you, then I see you and my heart takes over and screws everything up? why do you have that power over me if we cannot be together?"~ Kristina
90. "I hate love, because I don't have love."~ Unknown
91. "Regret the times you've said 'i love you' without knowing what REALLY loving someone is like."~ Unknown
92. "When mistrust comes in, love goes out."~ Irish Sayings
93. "I'm not angry that you won't come back, I'm sad because I keep hoping you will."~ Unknown
94. "Always falling too deep in a relationship, always ending up being the one that's hurt the most."~ Unknown
95. "In relationships, arguments are simply a test to see if a couple is strong enough to overcome it, It's what defines true Love."~ Unknown
96. "The story of life is quicker than the wink of an eye, the story of love is hello and goodbye…until we meet again."~ Jimi Hendrix
97. "I'm done talking since you're not listening, continue to hang out with them nothing ass bitches, then!"~ Unknown
98. "If only you could delete feelings the same way you delete text messages."~ Unknown
99. "The innkeeper loves a drunkard, but not for a son-in-law."~ Jewish Proverb
100. "Immature love says: 'I love you because I need you.' Mature love says: 'I need you because I love you.'"~ Erich Fromm
101. "A good woman should know how to bring up the children, as a good mother always proves a good wife."~ Unknown
102. "Friends will keep you sane, Love could fill your heart, A lover can warm your bed, But lonely is the soul without a mate."~ David Pratt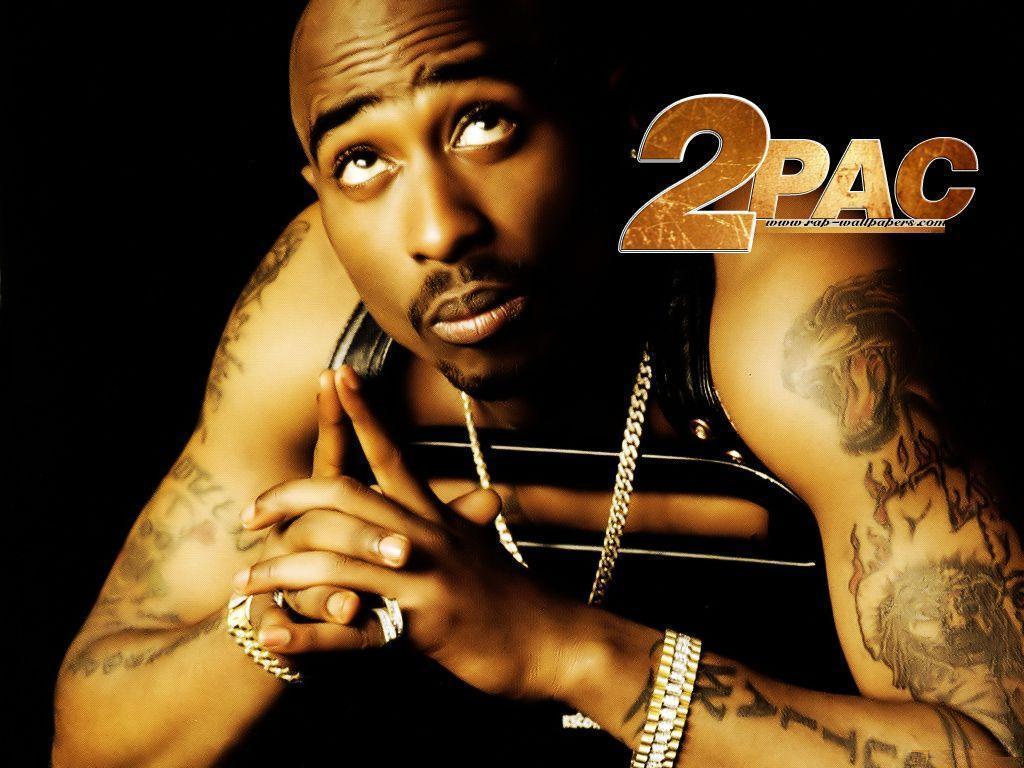 Best Tupac Quotes
103. The day you chose to leave me it rained constantly in truth I swore the rain to be the tears of cuspids eyes.
104. A woman brought you into this world, so you have no right to disrespect one.
105. I want to be better. You Grow. We all grow. We're made to grow.You either evolve or you disappear.
Editors Recommendation: 50 Stupid Yahoo Questions to ask someone
106. All I see is racist faces, misplaced hate makes disgrace for races we under, I wonder what it takes to make this one better place.
107. You know it's funny when it rains it pours. They got money for wars, but can't feed the poor.
108. We might fight amongst each other, but I promise you this; we'll burn this bitch down get us pissed
109. This fast life soon shatters; cause after all the lights and screams; nothing but my dreams matter
110. I wake up in the morning and ask myself; is life worth living should I blast myself?
111. Ain't a woman alive that can take my momma's place
112. Reality is wrong. Dreams are for real
113. During your life, never stop dreaming. No one can take away your dreams.
114. Unconditional love. Talking about the stuff that doesn't wear off, it doesn't fade. It'll last for all these crazy days, these crazy nights. Whether you wrong or you right, I'mma still love you, still feel you, still there for you. No matter what, you will always be in my heart with unconditional love
115. Though things change, the future's still inside of me.
116. What you won't do — do for love. You tried everything, but you don't get love
117. I want to take your misery; replace it with happiness, but I need your faith in me
118. Keep your mind on your riches, baby, keep your mind on your riches
119. Whatever it takes to switch places with the bustas on top
120. Why am I fighting to live, if I'm just living to fight. Why am I trying to see, when there ain't nothing in sight. Why am I trying to give, when no one gives me a try. Why am I dying to live, if I'm just living to die?
121. Got me starin' at the world through my rearview.
122. For every dark night, there's a brighter day.
123. I'd rather die like a man than live like a coward.
124. My only fear of death is coming back reincarnated
125. My mama always used to tell me: 'If you can't find somethin' to live for, you best find somethin' to die for.
126. The only thing that comes to a sleeping man is dreams
127. Instead of war on poverty, they got a war on drugs so the police can bother me.
128. But now that you're gone, I'm in the zone thinking I don't wanna die all alone
129. It's like if you plant something in the concrete and if it grows and the rose petal got all kinda scratches and marks, you ain't gonna say "damn, look at all the scratches and marks on the rose that grew from the concrete.." you gonna be like "DAMN! a ROSE grew from the CONCRETE
130. I know it seems hard sometimes but remember one thing. Through every dark night, there's a bright day after that. So no matter how hard it get, stick your chest out, keep ya head up, and handle it