Betty Kyallo (Born 15th March 1989) is a 34 year-old Kenyan media personality and entrepreneur who has worked with several television stations in the East African country. The Kajiado county-born star started her journey with KTN television before making a move to K24.
Betty later left the mainstream media to ply her trade on social media platforms and try her hands at a few business ventures. However, she soon returned to the mainstream media through KTN. She recently experienced a career-high when the internationally acclaimed movie-producing firm, Miramax Films, hired her services as a unit publicist. Honey TV on DSTV also gave her a job as a TV presenter.
Profile Summary of Betty Kyallo
Full Name: Betty Mutei Kyallo
Gender: Female
Date of Birth: 15th of March 1989
Betty Kyallo's Age: 34 Years Old
Place of Birth: Kajiado, Kenya
Nationality: Kenyan
Education: Olerai Primary, Uhuru Gardens Primary School, Kangundo Girls High, and Daystar University
Marital Status: Married
Betty Kyallo's Husband: Dennis Okari
Children: One Daughter (Ivanna)
Betty Kyallo's Parents: Julia Ngii and Wilfred Kyallo
Siblings: Two Sisters and One Brother (Mercy, Gloria, and Brian Kyallo)
Betty Kyallo's Net Worth: $5 Million
Twitter: BettyMKyallo
Instagram: bettymuteikyallo
Betty Kyallo Is Of Mixed Luyha and Akamba Ethnicity
Betty's given name at birth is Betty Mutei Kyallo and the media personality was born on the 15th of March 1989. Her place of birth is captured as Kajiado county, Kenya, and she spent a better part of her formative years shuttling between Kahawa West and Ongata Rongai in Kenya's capital territory of Nairobi.
The media personality's dad's identity has been revealed as Wilfred Kyallo while her mum is Julia Ngii, however, their respective professions are not known. It is common knowledge that they both come from different tribes of Luyha and Akamba; Julia hails from Western Kenya while Wilfred is a native of Kajiado County. The news anchor's parents didn't live together as man and wife for long as their marriage hit the rocks within a few years when Betty Kyallo was still a growing child.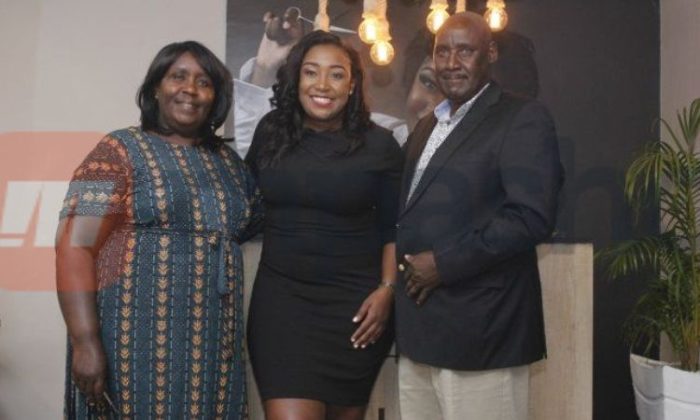 As a result of the divorce of her parents, she spent most of her childhood in Kenya's capital with her mum. Betty is not the only child born to Wilfred and Julia. She is the second in line, with two sisters and one brother. Mercy and Betty are said to be twins, Brian is the oldest, while Gloria is the youngest. However, their career paths have never been mentioned. All the Kyallo children lived with their mother in Nairobi but their father would come on occasional visits. Betty believes she got all her good qualities from mama and never misses an opportunity to say it loud.
In her autobiography, Betty Kyallo recognizes her single mother and siblings as her core family and she seems to hold them in high esteem. We have seen several snapshots of the news anchor and the members of her core family, including one with her absentee father.
Academic History Of The Media Personality
Right from childhood, Betty came across as a determined child who was sure of the path to take in life. She commenced her academic journey at Olerai Primary School before changing to Uhuru Gardens Primary School where she completed her elementary education. For her secondary school, she attended Kangundo Girls High. The Kajiado native's quest for further academic qualifications led her to gain admission into the mass communication department of Daystar University where she earned a Bachelor's degree. Needless to mention, the mass comm degree was what equipped her for the future.
Her Childhood Dreams Went From Becoming A Nun to Working As A News Anchor
Like every other child, Betty Kyallo had her share of childhood dreams. According to the bubbly news anchor, she initially wanted to become a woman of the cloth as seeing those nuns looking so angelic and peaceful in the church was a great lure. However, as the years rolled by, she discovered popular Kenyan television anchor Catherine Kasavuli who made her sit and rethink her plans of joining the nunnery. Soon, the young Betty started wishing she would one day present the news like Kasavuli whom she greatly idolized.
The appeal of the television was obviously stronger than the lure of the nunnery and Betty soon found herself wanting to present the news so much that she resorted to daily practice in front of the mirror. According to the media personality, she usually takes notes to read out in front of the mirror and she would be sure to read it out very loud to see how she was doing.
Needless to say, it was this strong desire to become a news presenter that informed her choice of studying mass communication at Daystar University. It goes without saying that earning a bachelor's degree in that discipline laid the foundation stone for her eventual success in the media.
Her Dreams Of Becoming A News Anchor Was Almost Killed By A Ghastly Automobile Accident
Betty Kyallo was still a high school student, filled with the dreams of studying mass communication and becoming a news anchor when her dreams were almost killed by a fatal motor accident. According to the Kenya national, it was a black day on the 6th of August 2005 when she collided with a Double M bus while crossing the road to Gill House from Railway Station. Betty was then a form three student going to meet with one of her friends for lunch.
Betty narrated how she slumped to the ground on her left side as the bus hit and dragged her under. She was a total mess as half of her side was badly injured. A clinical examination later revealed that her jaw and elbow were broken. The girl's collar bone and four ribs got fractured, deflating her lungs. Her face did not go free as half of it was grazed; the grazing was a major one as little or no skin was left at the left side of her face. Betty's jaws became unstable and speaking was a herculean task. She ended up being hospitalized for a couple of months.
On their own part, Betty Kyallo's family was really scared for their daughter and sister, most especially, they wanted to protect her from the trauma of seeing a glimpse of her grazed face. Thus, they did all in their power to keep all mirrors at bay. However, while she was going for an X-ray the young Betty saw her reflection which instantly led her into instant depression. Kyallo said she immediately came to the realization that all her dreams of becoming a news anchor may never come to fruition with her face in that condition.
Her Recovery Was Nothing Short Of a Miracle
It took a total of eight surgeries before they could declare Kyallo fit enough to be discharged. This happened in October 2005, and needless to say, the Betty that came home from the hospital was a completely changed person. Being a free-spirited person with so many friends, the news anchor suddenly became a loner as she undertook the rough journey to recovery. After learning how to walk again, Betty equally had to get used to living with her scarred face. Recommendations from her physicians were a grafting surgery (surgical removal of the skin from the thigh and adding to the face). However, her mother kicked against Betty going under the knife for the ninth time as the little girl has already done eight surgeries. Her recuperation months were spent visiting legal practitioners who were following up on the case.
Betty Kyallo recalled how people used to stare at her funny-looking face whenever she came into town. This led her into a trauma that she dealt with through counseling. When she eventually went back to school in November, the already traumatized girl was grateful for the understanding and support from both teacher and students. Even the school management stuck its neck out for the recuperating student, providing all that was needed to make life manageable for her in school. All this show of support accelerated her healing process and soon, she accepted the reality of her situation and moved on with her life.
Betty who was initially worried about her future learned to leave everything in the hands of the almighty. Going forward, she took absolute control of her life and gave self-pity the back seat, and interestingly, after she let go, Betty began noticing some signs of a real miracle. During the yuletide season of 2005, she observed that small patches of skin already started returning to her face. That December, she didn't think much of it as the new patches were still very small. However, by March 2006, completely new skin covered the grazed part of her face.
Her only reminder of the ghastly accident to date is the scars on her neck alongside the bad memories. Even the physicians who took charge of her case still find it difficult to believe that a miracle of such magnitude is still possible. Betty, on her own part, became confident about her dreams once more and from what is obvious, she achieved it and more.
Her Career in The Media Started With KTN
Right from her formative years, Betty Kyallo always knew she would follow a career path in journalism, thus, it was not happenstance that took her to the mass communication department of Daystar University. As the emerging news anchor was completing her studies, she went to do her internship with Standard group station, KTN television.
After she completed her internship with KTN, Betty was retained by the popular television station where she was given ample opportunity to create a niche for herself in the media. Through hard work and dedication, the youngster grew rose the ranks, presenting a good number of programs. Notable among the TV shows she handled at KTN is Auto World – a Sunday segment that tackled all issues concerning automobiles. Betty also became KTN's anchor for Prime-Time News.
Before long, the news anchor started growing a fanbase as she won millions of hearts from her style of presenting. Betty was greatly admired for the way she would effortlessly interact with people in different languages – she has competence in English, can flow well in Kiswahili, and even cope in Sheng. Betty did remarkable well at KTN and before she left the television station, she attained the rank of senior news anchor.
Betty Kyallo Spent a Couple of Years at K24
When the news of her resignation hit the airwaves, fans couldn't help but wonder why their favorite media personality chose to exit from KTN. It soon came fore that she was lured out of the television station with a more robust pay package by K24. It would appear that Betty chose a bad time to leave KTN because they just lost one of their crime reporters named Dennis Onsaringo to Taita Taveta county where he went to resume duties as the director of communications. It was not only Dennis that left KTN at that time as another journalist, Karen Karimi, also put in her resignation to go be with her pilot boyfriend who lives and works in the Middle East.
After exiting from KTN in July 2019, Betty Kyallo arrived at K24 around the same period and started off as one of the media outlet's weekend anchors. During her stay with K24, Betty anchored a couple of programs, the Weekend With Betty Kyallo and Upclose With Betty Kyallo.
Betty barely spent a couple of years at K24 before she took the conscious decision to resign. The media house received her resignation letter on the 20th of May 2020 and she left, not to join another station, but to do her own thing.
The TV Host Went From Mainstream Media To Social Media
With K24 well behind her, the media personality joined millions of young people who are creating a niche for themselves on social media. She soon launched a YouTube channel known as Betty Kyallo Lately. The channel is dedicated to documentations of the presenter's daily life, especially the part that she wants to share with the public.
A veteran in television presenting, it didn't take Kyallo long to build a huge fanbase, and within a very short while, she crossed the 100k subscriber milestone that led YouTube Management to bestow her with a Silver Plaque. Betty's presence is not only felt on YouTube but she has equally established contact with her millions of fans on Facebook, Twitter, and the picture-sharing platform, Instagram.
She Made Her TV Comeback in February 2021
When Kyallo went from the mainstream media to social media, fans believed that they were never going to see her on TV again but she proved them wrong. The lure of the television has always been too strong for the media personality to resist and staying away for too long proved impossible as Betty soon launched her comeback.
In February 2021, it was announced that the popular presenter was set to come back to KTN where she will be collaborating with Kenyan comedian Eric Omondi to co-host a gaming show called The Big Quiz Show. Fans who missed watching Betty on the screen are grateful she is back, and besides, working with a comedian of Eric Omondi's caliber is sure to push her career forward.
Betty Kyallo Has a Good Business Head On Her Shoulders
While Betty Kyallo was still a full staff of the KTN television station in 2018, she let fans in on her plans to launch a new business which attracted mixed reactions and different reviews from the public. Taking to social media, the celeb presenter announced the opening date of her beauty parlor named Flair By Betty which was set to be unveiled in Kenyan's capital city. According to Betty, Flair By Betty would be offering a range of beauty products and services such as beautiful hairdos, fresh barber cuts, fixing of nails, and related services.
The beauty salon, which is located along Lenana Road, precisely at the FCB Mihrab house in the Kilimani area of the country, is said to be a modern and cozy spot with professional staff whose job it is to ensure that customers are satisfied. According to Betty Kyallo, her salon is a blend of affordability and quality services, and also, part of her target for establishing the beauty spot was to provide people with a workplace. The salon seems to be doing remarkably well. At the 2018 Pwani Fashion Week, it bagged an award for the Best Luxurious Beauty Parlor.
Perhaps, the reason why Betty chooses to float a beauty parlor is that she was associated with one in the past. She had something with the Susan Kaittany owned Posh Palace located in the same vicinity as her salon. However, Susan and Betty who were previously good friends and business partners got into a big quarrel that was well-publicized.
From what is obvious, Flair By Betty is not the media personality's only business venture. In 2021, she launched a cloth line known as AfterShave and BK Closet.
Betty Recently Landed Two New Jobs
A while after Betty Kyallo established her business and her new career path on social media, the former KTN news anchor landed two plum jobs with totally irresistible packages.
1. She First Scored a Job with Miramax Films
Miramax Films is a Los Angeles, California-based movie production company famous for the production and distribution of movies and TV shows. The internationally acclaimed firm offered Betty Kyallo the position of a publicist. They appointed her the official unit publicist for their globally acclaimed film entitled Half Chance; The Great Gamble.
On Monday the 20th of September 2021, Betty signed the deal with Miramax Films and took to Instagram to share her good news with fans. She expressed her joy and excitement at the opportunity of working with a crew of young Kenyan creatives.
Narrating what the job of a unit publicist entails, Betty said her responsibilities include:
Coordinating collaborations between the various units of the movie production – the crew, cast, and media during shooting.
Creating public interest in the movie to generate sales.
The media personality will work hand in hand with team members to boost publicity for the movie and coordinate press strategies for when the shooting starts. This guarantees the specific release of press coverages that may be helpful to the movie without risking publicity by the time the movie drops. Betty Kyallo's background in the media is sure to come to play in her new role, she is expected to network with former colleagues to get the ball rolling in the right direction.
2. The Second Job Came From Honey TV On DStv
Barely one week after she celebrated her brand-new plum job position with Miramax Films, the media personality and businesswoman scored yet another lucrative job. This time, it is a television hosting gig on DStv channel 173 – HONEY TV. The show she is set to be hosting is an exciting lifestyle show that Betty wasted no time in introducing to fans through social media. The show, which will center on family life, will be featuring wives alongside their mothers-in-law.
On her Instagram, the talented presenter was not just in high spirit, but she was totally over the moon while breaking the good news to fans. Betty is obviously overjoyed to return to the screen again and this time, she is going to be engaged with something fun as well as family-oriented. "A crazy, energetic, family fun show," Betty tagged it, promising that viewers are bound to enjoy this Mom Vs Wife show.
Betty's Diverse Career Interests Has Earned Her Some Prestigious Awards
As soon as she gained prominence, Betty Kyallo started earning prestigious awards from all angles.
In 2017, she earned the title of Media Personality of the Year by SOMA
In 2018, Kenyans on Twitter voted her The Journalist of the Year.
Also in 2018, OLX Social Media Awards bestowed the female YouTuber with the prestigious Media Personality Award.
When Avance Media released its rankings in February 2019, Betty Kayallo was voted the Media's Most Influential Person.
At ADIA (Inaugural Africa Digital Influencer Awards) of 2020, she was crowned the TV/Online Influencer of the Year.
Avance Media collaborated with Africa Youth Awards to name Betty among the Most Influential Young Africans in 2020.
Before the end of 2020, she bagged another award as Twitter's Top 200 Most Influential African Women.