The entertainment industry will remain indebted to personalities like Betty White who brought something extra to the table and kept the world entertained for donkey years. The comedienne, actress, and writer graced the big screens in the early '50s as a show host and has been a delight since then. She is the queen of sitcoms, game shows, and other genres of entertainment.
White who was the first woman to produce her own sitcom earned the prestigious 'Mayor of Hollywood' title and also has a star in the Hollywood Walk of Fame. There is so much to learn from the life of the TV queen who stayed true to her dreams despite the discouraging hurdles of life.
Who Is Betty White & What Is Her Age?
First things first, she was born Betty, as opposed to reports that she shortened her birth name said to be Elizabeth. The talented TV personality was born on January 12, 1922, in Oak Park, Illinois, to her parents; Christine Tess and Horace Logan White.
Betty White would have given up on her ambitions but for her determination. First, she was discouraged from becoming a forest ranger because she was a woman. Then while she sought a career in entertainment, she got turned down by movie studios because she was not photogenic. Despite all this, Betty remained adamant and she resorted to seeking jobs at radio studios where being photogenic was not necessary. She succeeded and was such a delight at the audio faculty where she gave her best and did almost anything because she found it fun.
She made an entry into TV in 1939, when she sang songs from The Merry Widow. She then went on to appear in plays The Great Gildersleeve, Blondie and This is Your FBI before starting her own radio show The Betty White Show. She started to gain relevance in the Television industry when in 1949 she appeared as co-host with Al Jarvis on 'Hollywood on Television', which was the latter's live show. Betty White continued to host the show for four years after Jarvis left. For her remarkable performance on the show including singing during the broadcast, she was nominated for the first time as 'Best Actress on Television' at the Emmys.
She was rising fast to relevance and soon started her own production company "Bandy Productions" in 1952. The company's first creation was Life With Elizabeth, a comedy production where she played the title role. In 1954, Betty hosted the Betty White Show on NBC. White made her debut on the big screen when she appeared on feature film Advise & Consent in 1962.
In 1973, she co-hosted on the game show Password with Allen Ludden. She went on to appear in several shows like 'The Golden Girls', 'The Mary Tyler Moore Show', and others. White made her return to film in 1999 when she played a supportive role in the film Lake Placid. She also made appearances in other movies like Dennis the Menace Strikes Again, and Hard Rain. She appeared as a guest on the TV show 'Hot Cleveland' in 2010.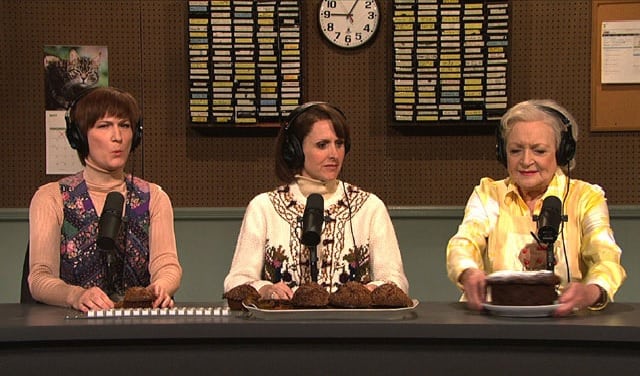 Also in 2010, a campaign for the endearing TV icon started on Facebook with calls urging her to host Saturday Night Live (SNL). It happened that Betty and the NBC crew were eventually convinced by the growing "Betty White to Host SNL" campaigners; to make her the host on May 8 that year. She has continued to appear in numerous shows on TV.
What Is Her Net Worth?
The famous and talented Betty White sits on an estimated net worth of $45 million. White was regarded as one of the richest 95-year-olds alive in 2017, following the confirmation of her net worth on her 95th birthday. The TV icon has her impeccable talent as well as her determination to thank for her enviable net worth. She enjoys a comfortable life with her family.
Who Are Her Children & Husband?
Just like her career, Betty White has had quite a dynamic personal life that would never escape the curious media as well as the public. White who married three times was first married to US Army pilot, Dick Barker. The marriage, however, lasted for just a year and the entertainer went on to settle with Lane Allen in 1947. The two got married that year and divorced only 2 years later, in 1949.
See Also: Who are Clint Eastwood's Children – Sons, Daughters, Wife, Net Worth, Is He Dead?
White waited for 2 decades before settling again. She married again in 1963 to TV personality, Allen Ludden with whom she hosted the game show, Password. The couple had no children, but Betty is stepmother to Ludden's three children from his first marriage. The couple made several appearances together in some shows like 'The Odd Couple'. Betty was bereaved in 1981 when she lost her beloved husband to stomach cancer.
Is She Dead?
There have been death reports about Betty White by some unknown sources in past. Considering her age, such hoaxes are expected. White was rumoured dead in 2017. This was motivated by tweets that the TV guru passed away after her 95th birthday. But the entertainer responded following the growing pandemonium on Twitter, by posting a photo of her healthy self.