Cape Town, one of the major cities of South Africa, is quite known to be a paradise for shopaholics. Its streets are replete with several shopping malls, stores, boutiques, etc., where you can find anything ranging from household items to designer clothes and pieces of jewelry; they have something for everyone. Shopping malls are now so popular that new investors, entrepreneurs, and retailers in South Africa tend to latch onto this existing business opportunity to pitch their tent in this ever-increasing niche.
Another interesting factor that makes shopping malls the best place to shop is evident during festive seasons, because several attractive discounts, events for children, and many other eye-catching events are organized by these malls to invite new customers and strengthen the bond with the old ones.
The Biggest Shopping Malls In Cape Town
Whenever you are in Cape Town, shopping should definitely be on your itinerary and if you are a local, a little walk would provide you the thrill of observing new shops around you. Below is a list of the 10 biggest malls in Cape Town and a little exposition of what they offer to guide you on your shopping spree:
1. Canal Walk
Location: Century Boulevard, Century City, Cape Town, South Africa
Year It Opened: 2000
Size: 141,000 square meters
Number of Stores: Over 400
Best For: High-street clothing, food court
Opening Hours: 9 am – 9 pm
Canal Walk is undoubtedly known for its gigantic size because it is currently on the list of the biggest malls in Africa, this makes its available services far-reaching. With over 400 stores which comprise several restaurants, cinemas, up to 7,000 parking bays, multiple home stores, electronics stores, interior decorating stores, a game arcade, and even book stores – you can be sure to find as many items that you desire at the Canal Walk.
Needless to add that the mall also has a large luxurious section where you can find several luxury items, different pieces of jewelry, expensive watches, and so on, which makes it the perfect place for that beautiful Christmas, birthday, or anniversary shopping. You can also hold special events and holiday entertainment at this popular shopping mall.
It would also interest you to know that like its name, Canal Walk was built around a canal,  and according to the developers, 'Cape Venetian architecture' was the technique used to erect the masterpiece. Besides being a shopping mall, this place also serves as a site for tourists as the Table Mountains and the renowned Robben Island can be seen clearly from there.
2. Tyger Valley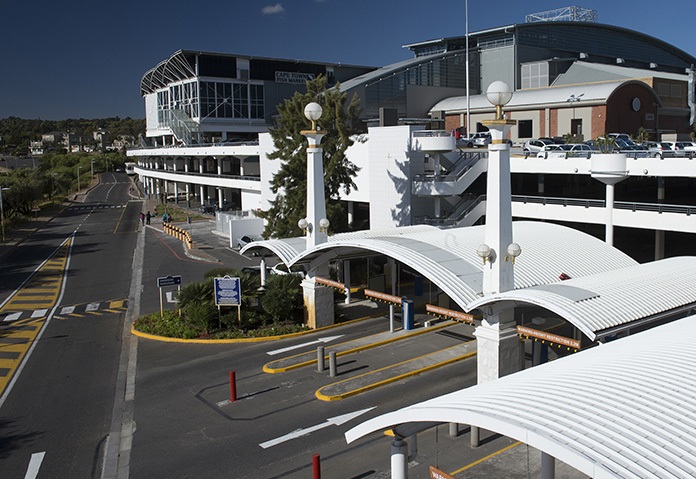 Location: Bellville, Cape Town, South Africa
Year It Opened: 1985
Size: 90.382 square meters
Number of Stores: 275
Best For: Entertainment Services
Opening Hours: 9 am – 7 pm Mondays – Saturdays;
9 am – 5 pm Sundays & Public Holidays
Tyger Valley is another notable shopping mall in Cape Town. It is owned by the development company Pareto and it seats in a radius that's almost 10km between both Canal walk and Cape Gate shopping centers. It consists of an updated number of 275 stores, 4 floors, a banking hall, 6,000 parking bays, medical and dental facilities, Ster-kinekor complex, and 10 cinemas. More so, the mall has a bowling arena, pool, a games arcade, a bar, and a state-of-the-art food court. Tyger Valley is simply a beautiful combination of an entertainment arena with food stores, banking facilities, and retail stores all in one place which makes it the largest shopping center in the suburb.
However, Tyger Valley has not always been this spectacular as it has undergone several renovations and refurbishments, one of which was in 2012. Its interior was given a new look, a more modern design geared at delivering clean lines, and a fresher outlay. They installed new ceilings, shopfronts, tiling, balustrades, and put in a larger restaurant deck at the top level. The mall was generally upgraded or regenerated and the electrical, fire, and mechanical infrastructure – some of which had lasted for more than 30 years were replaced with new ones.
3. V&A Waterfront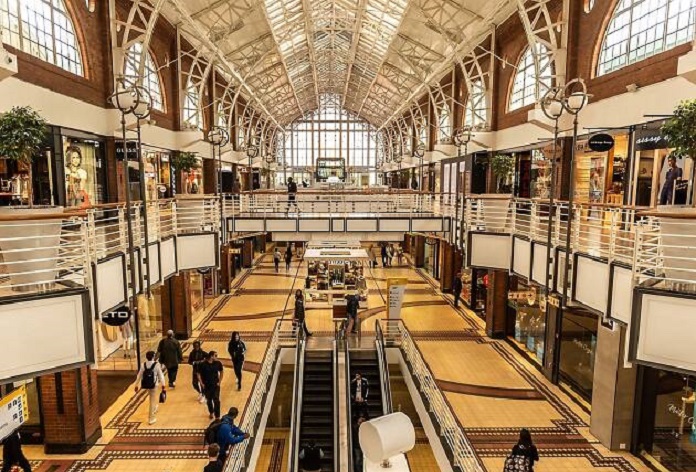 Location: Cape Town, Western Cape
Year It Opened: 1860
Size: 1,230,000 square meters
Number of Stores: 450 stores
Best For: Aquarium and waterfront boating adventures
Opening Hours: 9:30 am – 6 pm on Mondays – Saturdays;
10 am – 5 pm Sundays & Public Holidays
V&A Waterfront or sometimes addressed as Victoria Wharf is located in an area that provides an incredible view of Table Mountain. It is the ideal family get-away destination, with 2 ocean aquariums, a Ferris wheel, boat trips, sunset cruises, over 80 amazing restaurants, and several shops for your shopping spree. These stores have quite a large variety of things to choose from to give as gifts, souvenirs, or even curio to take home. At V&A Waterfront, you can find anything from audio equipment to fashion, to craft, entertainment centers, etc.
This place has also had its fair share of face-lifting and this was completed in 2017. More so, it would interest you to know that the waterfront is home to several hotels which are built along its axis and it is also a working harbor where fishing boats bring in several boats loaded with fish from the sea.
4. N1 City Mall
Location: Louwtjie Rothman Road, Goodwood, Cape Town
Year It Opened: 1990
Size: 64,000 square meters
Number of Stores: over 140 stores
Best For: It has a Wonderland Arcade Area, and the Let Go Bowling Ten Pin Bowling Alley
Opening hours: 9 am – 7 pm on Mondays to Fridays;
9 am – 5 pm on Saturdays, Sundays, and Public Holidays
Though less extensive in terms of the variety of shops, N1 can be said to be similar to Canal Walk. It has everything from food to clothing to games, stores and so on. It is the most convenient regional shopping center in the heart of the northern suburbs as it has more than 2, 000 parking bays, browsing pleasure, a bowling area, diners, pool, cinema, and several choice stores which will be fun for the whole family to explore.
It was also gathered that in 2005, the shopping mall was extended by an additional 8,500 square meters, and the parking lot was refurbished so as to cater to the needs of their increasing customers. The extension brought in more store owners and the food court was given a new look and they began to offer exquisite food services in a stylish and clean environment with the latest sporting entertainment aired on big screens. All the refurbishments were completed in 2006 and N1 City mall's new look made it get a spot on the list of the largest shopping malls in South Africa.
5. Blue Route Mall
Location: Tokai Road, Cape Town, South Africa
Year It Opened: 1970
Size: 56,143 Square meters
Number of Stores: Over 120
Best For: Shopping Convenience and an IMAX theatre
Opening hours: 9 am – 6 am on Monday to Saturday;
9 am – 5 pm on Sundays and Public Holidays
This mall happens to be one of the oldest in the City. It prides itself in its dedication to offering world-class services and being able to evolve, grow and change, with the needs of its customers. With over 120 stores, underground and open vehicle parking bays, coffee shops, cinemas, and an IMAX theater, the mall is perfectly situated just between Claremont and Cape Town. It would take just 10 minutes to drive down from Claremont and 20 from Cape Town for you to experience its wonderful shopping convenience, quality service, and its multitude of choices – clothing, Jewelries, gifts, groceries, health, home decorations, toy, and a long list of other items can be gotten from Blue Route Mall. More so, if you would like to fill your stomach after or before filling your eyes, its various restaurants will do just that and do it to your delight.
In 2010, in a bid to give the place a facelift, renovation plans were made and it spanned over 30 months. The retail space was enlarged by an additional 8,000 sq.m, the upper and lower parking decks were demolished to give way for the new shops. The Ster-Kinekor complex was added and CCTVs were installed to improve security. Generally, the new look paid attention to space and the entrance of light into the mall. Special preference was also given to the food court, as restaurants were placed around the mall to provide complementary services. The new building also provided better convenience, as it has escalators, lifts with several staircases connecting the two floors. There were also new toilet facilities, including several infant–changing rooms, and paraplegic toilets on both floors.
6. Garden Shopping Center
Location: Mill Street, Oranjezicht, Cape Town
Year It Opened: N/A
Size: N/A
Number of Stores: Over 50
Best For: High–street boutique-style items
Opening Hours: Opening/Trading hours vary for the different stores here but the Mall trades at: 9 am – 6 pm on weekdays; 9 am – 5 pm on Saturdays; 9 am – 2 pm on Sundays & Public Holidays
Garden Shopping Center is like the main shopping mall for the locals. It is located at the center of the city, which makes it easily accessible for a quick stop to get your daily groceries. The mall generally provides several services ranging from Internet Cafes to Pharmacies, hair salons, carwash, groceries, boutiques, flight bookings, Forex, banks, and so on. They even thrill their guests with free wi-fi.
Other stores you can see at this mall include boutiques that deal in clothing for men, women, kiddies, and so on. Garden City Mall also provides customers with ample parking space, 5 eateries, a popular internet café, coffee shops, a North Indian restaurant, a dedicated place for Tobacco, Cappuccino, and cigarettes.
7. Cavendish Square
Location: Claremont, Cape Town
Year It Opened: 1972
Size: 68,306 square metres
Number of Stores: Over 180
Best For: Elite Merchandise
Opening Hours: 9 am – 5 pm on Mondays to Saturdays;
10 am – 5 pm on Sundays
Cavendish Square remains one of the best shopping centers in the city of Cape Town, with 8 cinemas, 2 Ster Kinekor cinemas, 5 Forex banks, close to 200 stores, an undercover parking on-site, and plenty of coffee shops that are all in a safe environment that attracts over a 1.2 million visitors every month. It is an award-winning shopping center with several eateries, from fast-food joints to world-class restaurants with Italian specialties.
The mall is home to several elite and upmarket boutiques and it also provides you with franchise outlets like Body & soul therapy, Cape Union Mart, Sunglass hut, and the likes. They also pride themselves in their well-to-do restaurants like Primi Piatti, Col Cacchio, Limnos Bakers, etc. In all, it is identified worldwide as a Premier Fashion destination.
8. Bayside Mall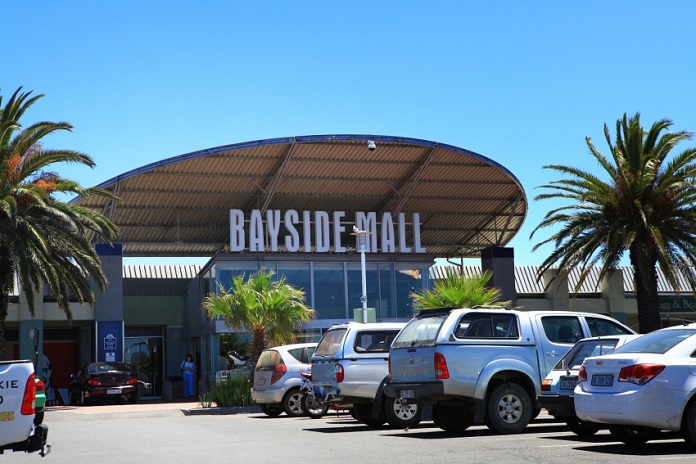 Location: Blaauwberg Road, Table View, Cape Town
Year It Opened: Late 1980s
Size: N/A
Number of Stores: Over 100
Best For: Proximity to the beach
Opening Hours: 9 am – 9 pm on Mondays – Fridays;
9 am – 5 pm on Saturdays and Sundays
The mall provides the perfect excuse to hit the beach after shopping or vice versa. It is an 8-minute walk from the center to the beach. Many of South Africa's retailers like Edgars, Checkers, and quite a number of quality stores are here. The mall also boasts of having several top-notch coffee shops and eateries, an on-site Ster-kinekor cinema with 8 screens, and an awesome game store for kids.
Peradventure you are in Table View, Bayside Mall is a good place to shop. It is not as luxurious as other centers but it has its strengths: relaxed atmosphere with several amazing restaurants. It's simply an ideal place to spend time with your family, eat, shop, drink, and relax.
9. Constantia Village
Location: Constantia Rd, Constantia, Cape Town
Year It Opened: Unknown
Size: N/A
Number of Stores: N/A
Best For: Spectacular surroundings
Opening Hours: 9 am – 6 pm on weekdays;
9 am – 5 pm on Saturdays;
9 am – 2 pm on Sundays and Public Holidays
Constantia Villa is a rich mix of the convenience of a shopping mall, the desirability and quality of a boutique, and the ambiance of a village square. It is an upmarket village boutique for style and glamour surrounded by picturesque vineyards with several specialty stores, restaurants, exclusive fashion boutiques, coffee shops, and anchor stores. The surroundings, mountain, vineyards, the calm of the environment makes it an ideal shopping spot.
This shopping mall is also home to art galleries, glittering jewelry, antique dealers, fresh food halls, book centers, beauty salons, travel agencies, a range of banks, post office, electronic stores, foreign exchange spots, and other services that you would need to make your stay enjoyable in Cape Town, especially for tourists.
10. Cape Quarter
Location: Green Point, Cape Town
Year It Opened: Unknown
Size: N/A
Number of Stores: Over 100
Best For: Art and design stores
Opening Hours: 9 am – 6 pm on weekdays;
9 am – 4 pm on Saturdays;
10 am – 2 pm on Sundays and Public Holidays
This shopping mall is a great spot for those who are fashion and art enthusiasts. With several fashion stores, art galleries, interior decoration stores, gift shops, food and drinks, medical services, jewelry stores, specialty stores, pet stores, over 900 safe underground parking bays, spar, grocery stores, etc, Cape Quarter definitely deserves a spot among the top shopping malls in Cape Town.
The design of the mall is commendable, talk more of the beautiful blend of the modern and historic heritage of its environment. Cape Quarter is simply designed to make every of your experience memorable.
Recap of the 10 biggest shopping malls in Cape Town:
Canal Walk
Tyger Valley
V&A Waterfront ( Victoria wharf)
N1 City Mall
Blue Route Mall
Garden Shopping Center
Cavendish Square
Bayside Mall
Constantia Village
Cape Quarter