Biggie, also known as The Notorious B.I.G. was an American rapper. He has been described as the greatest rapper of all times by magazines such as The Source, Rolling Stone as well as Billboard. Unfortunately, Biggie was one of the leading figures in the East Coast-West Coast hip-hop rivalry that enveloped the US hip-hop scene between 1994 and 1997.
That rivalry would eventually cost his life as well as that of another great rapper, Tupac Shakur. Find out more details about Biggie's life here including his kids, marriage to fellow musician Faith Evans, when he died, etc.
East Coast-West Coast Hip-Hop Rivalry
Notorious B.I.G released his debut album, Ready to Die in 1994. The album was a tremendous success and cemented his arrival on the hip-hop scene. He followed it up with successful collaborations with other artists and by the end of 1995 was the biggest-selling solo male artist on the Billboard charts — not only in hip-hop but also in pop and R&B.
The Brooklyn native thereafter became embroiled in the East Coast-West Coast hip-hop rivalry which was a battle for supremacy between the East Coast (New York) and West Coast (California) hip-hop scenes. The feud featured artists and fans on both sides of the divide. The East Coast side was spearheaded by the likes of Biggie, Sean Combs and his Bad Boy Records while West Coast featured the likes of Tupac Shakur, Suge Knight, and his Death Row Records.
At first, the feud mostly involved diss tracks from artists on both sides. Things, however, escalated when Tupac accused Notorious B.I.G and Combs of masterminding a robbery attack in which he suffered multiple gunshots on the 30th of November, 1994. They both denied the allegations but Biggie went on to release a song 'Who Shot Ya' mocking Tupac for the robbery and shooting.
Tupac responded with other diss tracks as well, including one where he claimed to have slept with Biggie's wife, R&B singer Faith Evans. On the 7th of September 1996, Tupac was shot in a drive-by shooting in Las Vegas and died six days later. Many fingered Biggie and Combs as being behind the hit but they continued denied this, with Biggie insisting that he never hated Tupac and that the feud was just a beef that was not taken to heart.
When Did Biggie Die?
The Notorious B.I.G died on the 9th of March 1997 in Los Angeles. He had attended a party and was on his way back to his hotel when tragedy struck. Biggie and his entourage (including Combs) set off for their hotel in two different vehicles. At 12:45 PST, they stopped at a red light some miles from the venue of the party. While waiting at a traffic light, a black car approached the vehicle carrying Biggie and the driver drew a 9 mm pistol and fired multiple shots at the truck. Biggie suffered several bullet wounds and was taken to the Cedars-Sinai Medical Centre where he gave up the ghost shortly after.
His funeral was held nine days later on March 18th at the Frank E. Campbell funeral home in Manhattan. His funeral was attended by fellow heavyweights in the music industry. Biggie lay in state in an open mahogany casket, dressed in a white suit and his remains were cremated after the service.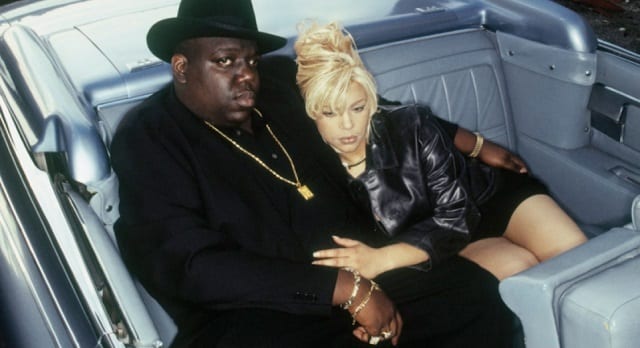 Marriage to Faith Evans
Biggie got married to renowned R&B singer Faith Evans on the 4th of August 1994. The two met at a Bad Boys record label photoshoot and tied the knot just eight days after that initial meeting. According to him, her looks and her bold nature was what attracted him to her. He reportedly told her at their first meeting 'You're the type of girl I would marry' and she replied, 'Why don't you?'.
The couple welcomed their only child together, Christopher J. Wallace in October 1996. They, however, separated shortly before Biggie's death. Biggie himself attributed their marital problems to the fact that they rushed into marriage and never took the time to get to know each other. The situation was also worsened by the fact that he cheated on Evans with other women including rappers Lil Kim and Charli Baltimore.
The split was an amicable one and Evans moved on with her life. After the separation, Evans started a relationship with music executive, Todd Russaw and they welcomed a son Joshua in 1998. They were married later in 1998 and welcomed another son, Ryder, in 2007. Evans and Todd divorced in 2011. Faith Evans harbors no ill feelings towards Biggie whom she regards as her first true love. He named her as one of the administrators of his estate and she works with Biggie's mom to uphold his legacy.
Who Are Biggie's Kids?
Daughter – T'yanna Wallace
Biggie's first child is a daughter by the name T'yanna Wallace. She was born on the 8th of August 1993 and her mother is Jan Jackson, Biggie's high school sweetheart and longtime girlfriend. When T'yanna was born, Biggie was only just forging his music career and as such didn't have the resources to provide for his daughter. He resorted to dealing drugs until Sean Combs forced him to quit. T'yanna Wallace was just three when her dad was murdered. She is a graduate of Pennsylvania State University (Penn State) and is an aspiring fashion designer.
Son – Christopher Jordan Wallace
His second child is a son, Christopher Jordan Wallace, born by wife Faith Evans on 29th October 1996. Christopher was just a few months old when his dad was murdered. He was raised by his mom Faith and stepdad, Todd Russaw. Christopher has followed in his dad's footsteps and at present is a budding rapper and actor. He regards the fact that he is the son of one of the world's biggest hip-hop artists as motivation and fuel rather than pressure. Christopher played a young version of his dad in the 2009 biopic Notorious.
Controversies About His Death
It must be noted that more than two decades after the death of Notorious B.I.G, the murder has never been officially solved and nobody has been charged with killing him. This is despite the fact that his death (as well as that of Tupac Shakur) has been the subject of many police and FBI investigations as well as numerous TV crime shows. Accusing fingers have been pointed at many including the LAPD and Suge Knight (boss of Death Row Records).
In 2006, LAPD detective, Greg Kading, began investigating the murders of Biggie and Tupac and later headed a federal task force on the cold cases. The investigation concluded that Sean Combs paid a Compton Crip gang member, Orlando Anderson, to kill Tupac Shakur. They also determined that Suge Knight paid a Mob Piru Blood gang member, Wardell "Poochie" Fouse, to kill Biggie. Sean Diddy Combs has, however, denied any involvement in Tupac's murder.
The theories and speculations have continued unabated and some have even said that both Biggie and Tupac are still alive and living in some remote countries.