Bill Cosby is a talented actor and comedian who is best known for starring in his own sitcom, 'The Cosby Show' which was the number one show in America from 1984 to 1989.
The Philadelphia-born entertainer, who has received numerous accolades for his work in acting, comedy, and music, was once regarded as 'America's Dad' for his father figure roles in the aforementioned show. He has, however, been accused and convicted of sexual assault by multiple women in recent times.
Early Life & Career
Bill Cosby was born William Henry Cosby Jr., the oldest of four sons to Anna Pearl and William Henry Cosby Sr. on July 12, 1937, in Philadelphia, Pennsylvania. His father was in the U.S. Navy where he served as a mess steward while his mother worked as a maid.
He attended Mary Channing Wister Public School in Philadelphia where he became active in sports as captain of the baseball and track and field teams and also served as class president. He went on to attend FitzSimons Junior High School where he continued his athletic prowess but also started acting in school plays. At Central High School, Cosby participated in all the school's sports team before he left for Germantown High School but had to leave again because he couldn't pass through tenth grade.
Bill Cosby got a job as an apprentice at a shoe repair shop after leaving school. He also did other odd jobs before joining the U.S. Navy in 1956 where he first served as a hospital corpsman before working in physical therapy, helping injured personnel from the Korean War.
By completing correspondence courses during his service, Cosby was able to secure a high school equivalency diploma before he attended Temple University in 1961 on a track and field scholarship. While at Temple, Cosby supported himself financially by working as a bartender in a club. With him often entertaining customers with jokes, Cosby was given the opportunity to perform on the club's stage which he took with both hands.
Eventually, he opted to drop out of school and give stand-up comedy a chance in his career life. He performed in shows in various cities across the country before he got to appear on NBC's The Tonight Show which led to a recording contract with Warner Bros. Records with whom he released his debut comedy album titled 'Bill Cosby Is a Very Funny Fellow…Right!' (1963).
The following year, he won a Grammy Award for Best Comedy Performance in his sophomore comedy album 'I Started Out as a Child'. He went on to release a total of 22 comedy albums.
By 1965, Bill Cosby transitioned into acting and was cast in the NBC television series 'I Spy' which he won him three Emmy Awards for Outstanding Lead Actor. By 1967, he began singing, releasing the musical album 'Silver Throat: Bill Cosby Sings', the first of sixteen music albums.
In 1969, Cosby created and starred in his own sitcom, 'The Bill Cosby Show' which ran for two seasons. After that, he went back to school for graduate study at the University of Massachusetts, Amherst. While attending school, he appeared on the educational children's series 'The Electric Company'. He also developed the semi-biographical animated series 'Fat Albert and the Cosby Kids'.
Bill Cosby eventually received a doctorate in Urban Education in 1977 from the university which led to him also being awarded a bachelor's degree by Temple University on the basis of life experience. After a couple of Box Office movie hits with actors like Sidney Poitier, Cosby went on to star and produce another semi-biographical show titled 'The Cosby Show' which was an instant hit among critics and fans.
Since the end of 'The Cosby Show', Bill Cosby has continued to appear in a number of productions, however, none were as popular or successful as the former. In 2002, he was awarded the Presidential Medal of Freedom and in 2009, was given the Mark Twain Prize for American Humor.
What Is Bill Cosby's Net Worth?
The legendary actor, comedian, musician, and author is estimated to have a net worth of around $400 million which he earned through his various works. It should be no surprise as Bill Cosby was the world's highest-paid entertainer in the 1980s while also serving as brand ambassadors for companies like Coca-Cola and Jell-O.
Who is Bill Cosby's Wife?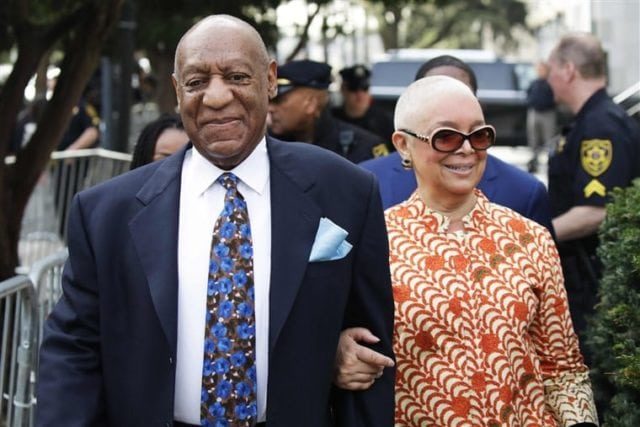 Bill Cosby is married to Camille Olivia Cosby (nee Hanks) who is a television producer, author, and philanthropist. She is also the inspiration behind the Clair Huxtable character on 'The Cosby Show'.
Camille was born on March 20, 1944, in Washington D.C. She studied psychology at the University of Maryland where she met Bill Cosby in her sophomore year. The pair got married on January 25, 1964, and have together, five children; Erika, Erinn, Ennis, Ensa, and Evin.
Is He Dead or Alive?
Bill Cosby is very much alive despite it being falsely reported that he died. He was a victim of the internet death hoax series which said that he died after being found guilty of sexual assault. It was reported that Cosby committed suicide by hanging himself with a rope at his Philadelphia home and was discovered by his wife.
Read Also: Michael Jai White Wife, Kids, Brother, Height, Weight, Age, Net Worth
His Trial
On April 26, 2018, Bill Cosby was found guilty of aggravated indecent assault by a jury. He was accused by former Temple University women's basketball administrator, Andrea Constand, of drugging and molesting her at his suburban Philadelphia mansion in 2004.
She joins a long list of people accusing Cosby of crimes that include rape, sexual battery, child sexual abuse, drug-facilitated sexual assault and sexual misconduct.