Bill Maher, like many other comedians, has courted controversy and gotten into trouble for the things he has said. Unlike most comedians, though, he continues to forge ahead and carve a niche for himself. He has gained a reputation as a fearless political commentator and mastered the art of infusing comedy into discussions about real-life events.
Along with his commitments as a comedian and host of political shows, he is also an actor and businessman. It is therefore not a surprise that he has had a financially rewarding career. His private life is also filled with drama and interesting occurrences ranging from his preference for black women to his comments about the institution of marriage. All of these are why Bill Maher is a fascinating and controversial public figure.
Bill Maher Has Mostly Dated Black Women
Of the many women that Bill Maher has been romantically linked to, he has only dated one non-black woman, the famous science commentator, Cara Santa Maria. On every other occasion, it has been with a black woman. As a result, fans and the media began speculating that Maher might be into black women only.
In response to these claims, Maher revealed that he is into women who are real and honest, and it is a coincidence that these women happen to be black. Based on his comments, it would seem that he is not actively searching out black women to date.
The comedian has dated more than his fair share of women so far. While his relationships do not last, they are certainly not short on drama. He has been in a relationship with no fewer than 26 women and the following are the significant ones.
Coco Johnsen (2003 – 2004)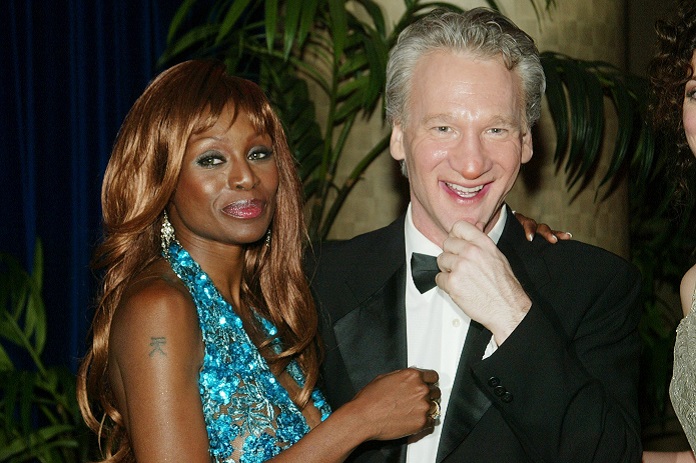 In 2003, he began a relationship with Coco Johnsen, an African-American who was a former playboy cyber girl. The relationship lasted for a year and a half, ending in 2004.
Bill Maher's life is an entertaining one that is not short on drama. For instance, he got hit with a lawsuit after his relationship with Coco came to an end. She brought a $9 million palimony lawsuit against the comedian, claiming she was subjected to verbal and physical abuse, including denigrating racial comments.
Further claims by Coco include a promise of marriage which made her quit her job as a flight attendant. Maher denied claims of abuse in any form, neither did he admit that he promised her marriage.
He cited his very public views on marriage as evidence and also denied promising financial support to her. Before the comedian, Coco had accused an ex of kidnapping and rape in 1997. On May 2, 2005, Coco's case against Maher was dismissed for lack of evidence.
Karrine Steffans (2005 – 2006)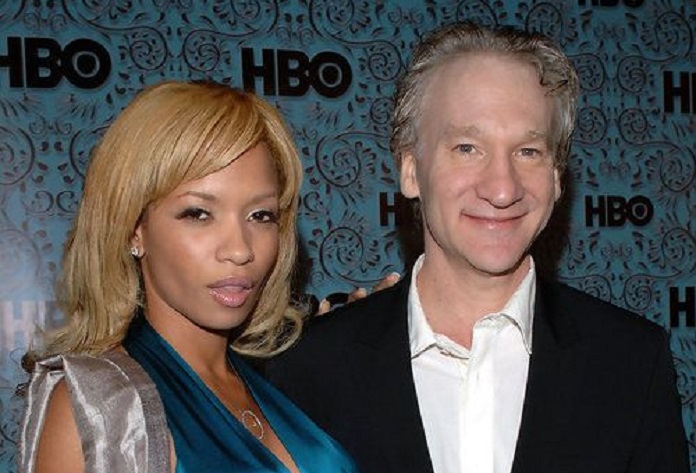 In 2005, Bill Maher began dating another African-American woman, Karrine Steffans. At this point, Maher was 50 years old, and Steffans was 26. Karrine Steffans is the author of the Vixen books series. She also worked as a video vixen and wrote a book called Confessions of a Video Vixen.
The book detailed her numerous sexual encounters with rappers, actors, and athletes. Steffans had nice things to say about Maher after their breakup and was especially impressed by his willingness to bond with her son and keep himself open and honest.
Cara Santa Maria (2009 – 2011)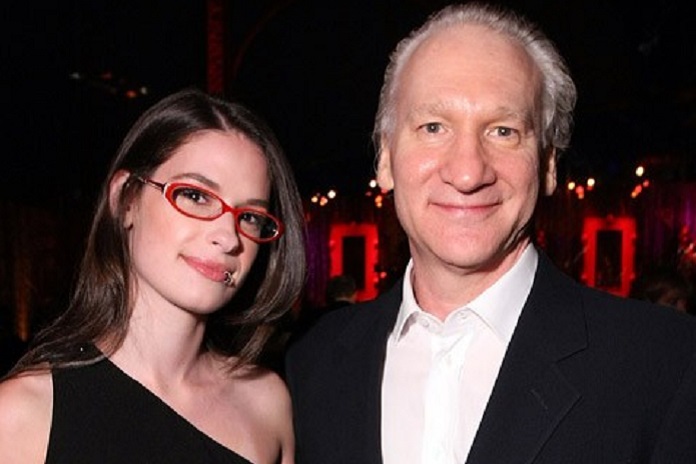 Bill Maher dated Cara Santa Maria from 2009 to 2011. She is a science commentator and host of various podcasts, including Talk Nerdy and The Skeptic's Guide to the Universe.
She is known for battling major depressive disorder and taking antidepressants daily. The decision to break up was a mutual one and was very amicable. Despite their breakup, Maher and Santa Maria have remained friendly and continue to support each other's respective endeavor.
Anjulie Persaud (2014 – Present)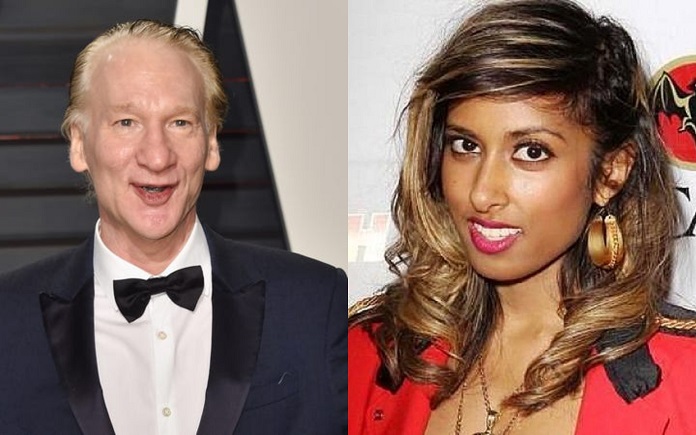 In 2014, Bill Maher began dating Canadian singer and songwriter, Anjulie Persaud. She is of Indo-Guyanese descent and has collaborated with musical heavyweights like Drake, Kelly Clarkson, and Nicki Minaj. The two have remained together to date.
Here's Why You Shouldn't Expect Maher to Get Married Anytime Soon
Bill Maher is proudly not a fan of marriage, he holds the belief that it is a form of slavery. The TV host once revealed that he is the only unmarried person amongst his group of friends. As such, their wives want him to stay away.
The comedian is not worried about that. As far as he is concerned, he has escaped the slavery of marriage and would extend his salvation to others by spreading his message of freedom.
His stance did look like it would shake a little while he was dating Cara Santa Maria; it circulated that he was considering getting married to the science communicator. That didn't happen and Bill remains a bachelor.
Some Portion of His Wealth Came from Comedy and Acting
Bill Maher is perhaps most famous as a television host and political commentator, but he began his career as a comedian and actor. At the age of 23, he became the host of the New York City comedy-chain club called Catch a Rising Star.
Bill got his break when he began appearing on Late Night with David Letterman and The Tonight Show in 1982. As an actor, he also made appearances on shows like Sara, Murder, She Wrote, and Charlie Hoover.
His first appearance in a movie came in 1983 when he appeared in D.C Cab. Other movie credits include Ratboy and Cannibal Women in the Avocado Jungle of Death. His acting career did not take off and he never achieved much success in the field.
His Earning Power Broadened When He Started Hosting TV Shows
Bill Maher got his career breakthrough in 1993 when he was named the host of the late-night political talk show, Politically Incorrect with Bill Maher. The show revolved around discussing various topical issues amongst an array of guests from different walks of life.
It ran from 1993 to 1997 on Comedy Central before moving to ABC where it aired for another five years, ending in 2002. ABC canceled Maher's contract and fired him after he made controversial remarks just six days after the September 11 attacks. Maher had opined that the terrorists' actions were not cowardly, unlike the US military's habit of dropping bombs from 2000 miles away. It prompted a huge backlash and major sponsors like FedEx and Sears pulled their ads, causing the show to lose significant revenue.
Politically Incorrect won numerous awards during its run, including an Emmy award, two CableACE awards, and a Genesis Award. Bill Maher also earned several nominations as the host, including ten Emmy nominations, two TV Guide nominations, and two Writers Guild nominations.
In 2003, Maher became the host, co-producer, and co-writer of Real Time with Bill Maher. The weekly, hour-long political comedy talk show followed a similar pattern to his previous project, Politically Incorrect. The show has mostly received positive reviews. In 2016, HBO renewed it for additional seasons. It has received over ten Emmy and six TV Guide award nominations. Maher has also personally received nine Emmy nominations as the host.
Without a doubt what the comedian earned from hosting these shows have contributed in no small manner to his fortunes.
He Makes Money from His Frequent Stints as a Political Commentator
When he is not busy hosting his talk show, Maher makes money through other endeavors. He is a frequent political commentator on various news networks such as Fox News, CNN, and HLN. For CNN, Bill is a regular fixture on The Situation Report with Wolf Blitzer.
He also makes repeated appearances on MSNBC's Hardball with Chris Matthews and has guest-hosted Larry King Live, having been a regular guest on the show.
Bill Maher Has a Net Worth Estimated at $140 Million
Bill Maher has been active since 1979 and he has a diverse workload that generates multiple streams of income for him. It is therefore not surprising that the legendary comedian and TV host is worth an outstanding $140 million. As host of Real Time with Bill Maher on HBO, Maher takes home a yearly salary of $10 million.
A significant source of Maher's wealth, however, comes from his investment in the baseball team, the New York Mets. In 2012, Maher purchased a minority stake rumored at 4%. With the New York Mets valued at $2 billion, his stake thereof is a profitable investment. The man might be a controversial figure, but he sure knows how to make money.