Edgar Obare (born 10th of December 1991) is a 31 year-old Kenyan blogger, YouTuber, and social media personality known for not being too far from controversy as he exposes the high and mighty of society.
Described as a veritable truth seeker that has assumed the duty of keeping the country's celebrities and politicians in check, Edgar achieves this by exposing their wrongdoings. The task which the Kisumu-born controversial content creator assigned to himself is a herculean one that constantly exposes both him and members of his family to danger. However, even in the face of danger and multiple threats to his family, the self-acclaimed "tea master" still does not hesitate to spill any cup of tea that deserves to be spilled.
Profile Summary of Edgar Obare 
Full Name: Edgar Obare
Nickname: Tea Master
Gender: Male
Date of Birth: 10th of December 1991
Edgar Obare's Age: 31 years old
Zodiac Sign: Sagittarius
Ethnicity: Luo
Nationality: Kenyan
Education: School Certificate at Moi High School Kabarak, a degree in Information Systems and Technology at United States International University, Master's in Computer Science at the Free University of Bozen-Bolzano.
Religion: Christian
Sexual Orientation: Straight
Marital Status: Single
Edgar Obare's Net Worth: KES40 million
Twitter: edgarobare
Instagram: edgarobare
Edgar Obare Hails From The Luo Community of Kenya
The self-acclaimed truth seeker of Kenya was born on the 10th of December 1991. From the Luo tribe of the country, Edgar Obare's place of birth is captured as Kisumu. Nothing has been said about his parents as the controversial content creator prefers to shield them from the public arena for their safety. However, after he took all the necessary precautions to safeguard his family, Edgar's brother was arrested and tortured by people who sought to harm the vlogger.
Edgar Obare can be best described as a globe trotter. While studying for his master's degree in Italy, the vlogger leveraged the opportunity to visit several European countries. He touched Germany, Switzerland, Denmark, the Netherlands, and many more. The fun-loving internet star spent quality time in Europe, hiking, skiing, and attending several festivals and concerts.
Edgar Got His Academic Qualifications in Africa and Europe
Edgar Obare completed his basic education in Kenya. He completed his high school education at Moi High School Kabarak in 2009 before enrolling at the prestigious United States International University in 2011. In the institution, he majored in Information Systems and Technology, graduating in 2014. For his Master's degree, the loud-mouthed content creator left the shores of Africa to Italy where he joined the Free University of Bozen-Bolzano to study Computer Science. The program was completed in 2019.
We are not sure if he went for a higher degree but responding to people who took him to be a no-good blogger that spends his time bad-mouthing celebs, Edgar referred to himself as a Dr., demanding to be addressed as Dr. Obare. Needless to say, this silenced all the dissenting voices. Thus, it became clear to all the trolls who view him in the light of an uneducated blogger that the man is not just well-read, but is experienced and has been around.
Life Away From Blogging and Vlogging
As a professional software engineer, Edgar Obare did his internship at a design studio in 2017. Working at the studio's Physical Computing Department, the software expert focused on the internet of things. Using microelectronics, he developed smart objects and also leveraged platforms like Arduino.
Prior to that, he was employed at Kul Graphics Ltd where he was engaged in their creative department in his capacity as a web developer. There, his work portfolio included building websites, designing print and digital media to aid the company's customers in promoting their brands, communication, and advertisements.
Edgar Obare's Career on Social Media
During his time in Italy, Edgar sustained a skiing injury that left him indisposed for a while after bagging his master's degree. Thus, going in search of employment was not part of his immediate plans. Besides, he had to skip some scheduled interviews to have enough time for his recuperation.
While at home recuperating, Edgar took the conscious decision to begin making and sharing videos online. He first started with Instagram, but as the content of his videos started getting lengthier, the vlogger shifted to YouTube where he created the YouTube channel – Edgar Obare BNN (BBN stands for Bandana News Network). By this time, he was already back home in Kenya and was all set to try content creating for one whole year. In the event that it doesn't work out, Edgar would then move out to get paid employment. Thus, he put more seriousness in the business with a major focus on washing the dirty linens of celebrities in Kenya and beyond.
Edgar's explosive posts about celebs made his BBN channel experience rapid growth. While exposing celebrities and fixing them at the same time, the "tea master" spilled the tea on the likes of Felix Odiwour (Jalang'o), Terrence Creative (Kamami), Anita Sonia, Natalie Tewa, and her ex-boyfriend Rnaze, Val Marshall, Vera Sidika, Shaq the Yungin, and many more. It goes without saying that Edgar Obare got a plateful of threats from aggrieved celebrities. The vlogger would later move from YouTube to Instagram where he continued to share his stories. Barely a month after his IG account was created, it received verification, however, the account was later blocked as Edgar continued to clash with the high and mighty of Kenyan society.
The Reason His Instagram Account Got Deactivated
Edgar Obare's major Instagram account – @edgarobare got deactivated after the content creator uploaded and shared several screenshot messages on his Insta stories. These uploads supposedly uncovered a network of Nairobi-based money laundering gangs called 'Wash Wash'. Since the account goat deactivated, nothing has been said about restoring it. However, his YouTube channel is still functional and his backup IG account, @edgarobare2 also works but is private.
Edgar Obare' Modus Operandi
Edgar Obare only focuses on exposing the ills of celebrities, slay queens, top politicians, influencers, and any other person who soils his or her hands with serious wrongdoing. According to him, he has no bones to grind with the good people of Kenya so long as they continue to be on the straight and narrow. The computer science expert leverages his skill and knowledge on the job; his followers are the ones who bring in the scoop and he subjects them to research and investigations to be able to sieve the chaff from the grain.
When he is sure of a story, Edgar Obare does not hesitate to put them out for public consumption. The blogger who claims to have no personal beef with any celeb said he usually gives his victims ample time to air their own side of the tale before wading into his expose. No stone is left untouched in Edgar's research process and his thoroughly investigated stories are well equipped with tangible pieces of evidence like video clips, receipts, voice notes, and many more. More often than not, this offends involved parties and it comes as no surprise that they retaliate with threats, warnings, and intimidations.
Defending himself from all the bullying, Edgar Obare said public figures benefit from the publicity which is why he shares those negative stories about them. The celebs according to him also need to pay when they deviate from the right path.
Even with all his controversial posts flying all over the internet, Edgar Obare draws the line at some point as according to him, there is a limit to what he can publish. He doesn't blog about children and has never used his channels to settle personal scores. Another area he avoids is the LGBTQ that has been harshly judged for years and highly discriminated against. Edgar is one blogger that tries to keep bias at bay and has never leveraged his blog in settling issues between parties.
Edgar Never Charges For His Scoops To Maintain Credibility
The tea masters said he never charged a shilling for the stories he receives as that can destroy credibility. The money he makes from blogging comes from several companies that leverage his account for adverts. Clearly, he is tidying up a lot of funds since he posts ads for over 20 brands in a single day and his stories receive above 100,000 views on a daily basis. Even the companies that place the ads have come out to testify that doing ads with Edgar Obare pays better than their previous modes of adverts.
Edgar's IG accounts are two in number; @edgarobare is his main account on the picture-sharing platform which has since been verified with the following going over 145k. His backup account on IG is @edgarobare2 and it is not doing badly at all with 49.8k subscribers. His Bandana News Network on YouTube can boast of over 206 videos and has hit above 75k in subscription level. Fans follow the tea master for daily tea updates on both IG and YouTube but the real tea is on Instagram.
Edgar Obare's Life Is Suffused With Controversies
Edgar Obare is one Kenyan content creator who goes around with a bag full of controversies as his victims are not ready to let him get away with airing the content of their private affairs in the public arena. Below are some of the Kenyan celebs he has clashed with in the past.
Edgar Obare and Jalang'o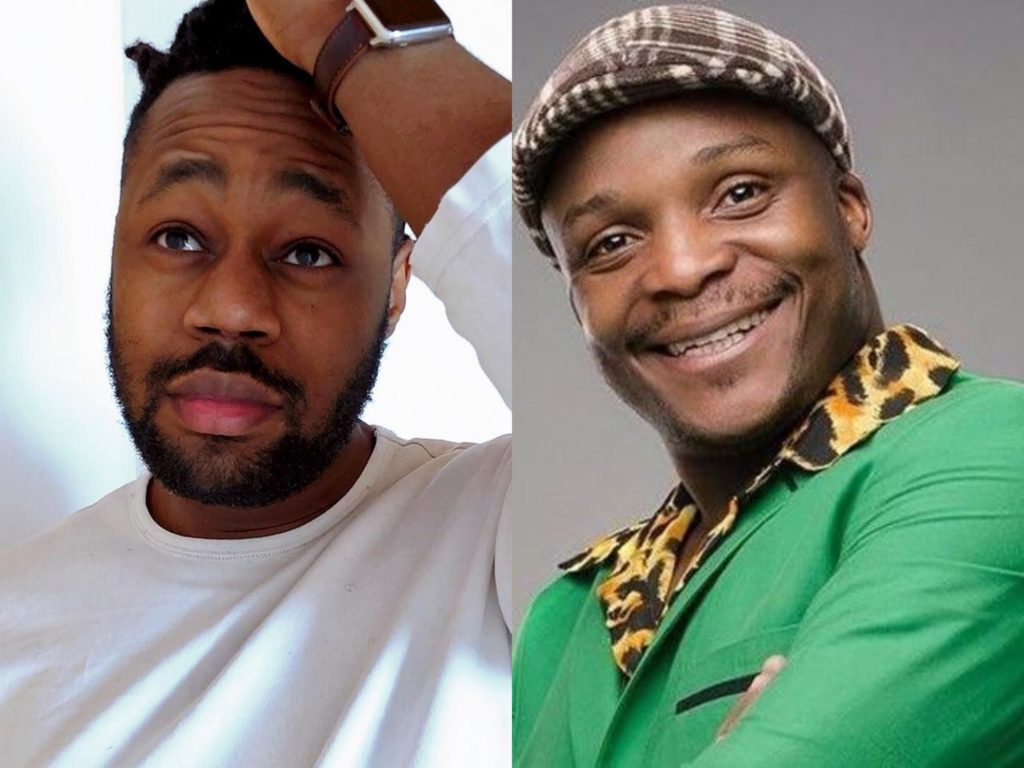 During the peak of COVID 19 in Kenya, Edgar Obare did a big story about media personality Jalang'o (real name Felix Odiwuor) and his "Boys Club." The story surpassed the Corona Virus story in the country. This is the second time Jalang'o has been caught in Edgar's net.
In the story, the self-acclaimed 'well-endowed' Heavy J invited some ladies to a secret party with his friends. At the party, the girls were turned into escorts with Heavy J's friends in attendance. Important to note that this incident occurred a while after Jalang'o had exchanged marriage vows with his wife Amina Chao.
The girls eventually came out to expose Jalang'o, telling the whole world how they had been with him despite the fact that he had just gotten married. To prove their points, the said ladies backed up their stories with pieces of evidence like screenshots of messages, M-Pesa receipts, and some really unequivocally clear raunchy pictures with Heavy J himself doing it behind one of the girls.
A while later, a group called Boys Club had screenshots of their conversations appear on Facebook which went viral before getting to Obare's platform. Reports said the group has Edgar, Cornel, and Sam Young as members and their job is to share pictures of the ladies that have graced their beds. They have a furnished house in Kilimani where they take their victims for cheap sex, rotating the ladies from one man to another until they are satisfied. The group was also accused of going to the internet space to randomly pull out pictures of beautiful ladies and then openly discuss their non-existent sexual escapades with the said ladies. Important to note that with the exception of D.O., all the members were supposed to be happily married. Those randomly picked girls have been demanding apologies from these guys to no avail.
When Jalang'o whom Edgar calls 'The married man that I don't like' realized that he had been put to big shame, he went to seek attention on Instagram, saying that Edgar Obare is breaking up families and portraying all his members in a bad light that has bred nothing but hate.
Natalie Tawe and Hassan Joho vs Edgar Obare
Anybody that has been following the tea master will know that Edgar Obare is no stranger to scandals and controversy. One of his biggest hits so far involves the first citizen of Mombasa County Governor Hassan Joho and the beautiful Natalie Tawe which saw him locked up in jail.
According to the latest news from the "tea master", the reason he found himself behind bars was that he disclosed Natalie's private data. Edgar reported that Tawe accompanied the governor on his Dubai trip. He had credible evidence in Natalie's stamped passport which he shared a picture of, and after joining two and two together, he came up with the conclusion that the duo met up in Dubai to spend time together.
Doing this expensive story that involved stepping on the toes of the high and mighty was what landed him in the police net after being charged at the Kiambu Law Courts. However, Kenya's most controversial content creator soon got his freedom after his lawyers managed to get him a bail term of KSh 100,000.
Edgar Obare and Carolinedxb
While Edgar Obare was still doing the dirt on the governor of Mombasa County, he came across content creator Carolinedxb whose name has been sexually linked with Joho. Even though she could boast of over one million followers on her own account, the beautiful social media star replied to Edgar's DM, telling him how close she is with the governor. This cleared the doubt on whether the governor and Carolinedxb's affair actually happened or it was just rumored.
In the process, the lady became very close friends with Edgar and even had a live session with him. She gifted him Ksh 20,000 to distribute among his followers which he split into 1,000 each for 20 deserving winners. Edgar and Carolinedxb have since remained internet buddies.
Shirleen Mukami Scandal
After the good citizens of Kenya came to the aid of Shirleen Mukami – who claimed to be a single mother and ran a foundation to assist other young single mothers, all hell broke loose for the woman as Edgar Obare soon exposed her to be a phony.
Kenyans who were fooled into believing the woman's tale donated over 800k for her non-existent foundation. On hearing this, Edgar quickly liaised with one of his correspondents to get the bare facts. According to findings from the content creator, Shirleen just ran a scam on Kenyans by teaming up with the father of her child who she is still dating. The money was meant to get a new car for Shirleen so she could desist from bothering her baby daddy.
Obare's correspondent also dug up the fact that the entire scam was masterminded by Shirleen's baby daddy (known as Cabugah) and Shirleen was just told what to respond when quizzed. On her own part, Shirleen took to social media to blast Edgar's claims but the cat was already out of the bag and Kenyans have since become wiser.
Controversy About Edgar Obare's Sexuality
Because his stories touch the deepest part of his victims, some of them teamed up to spread the news that Edgar Obare is gay. In his defense, the tea master replied that he is very far from gay. According to him, his body count recently came to 17 and they were all women. Besides, he had a very public relationship with Wacera that lasted for a while before they called it quits.
Advising those who think that they have some tea to spill about him, Edgar said they should first do their homework through in-depth research and then place their stories alongside the evidence for public consumption.
Perhaps the reason why people saw the need to dump an accusation of gay sexuality on the controversial blogger is that he shies away from any stories concerning the LGBTQ community. This has made people naturally believe that he belongs to the community and that may be why he never exposes them. But the truth remains that the "tea master" is straight and has only ever dated women in his life.
Celebrities React To Edgar's Accusations About their Sources of Wealth
Edgar Obare recently set the internet space ablaze with his controversial story of how celebs like Tanasha Donna, Jalang'o, and Prezzo made their money through fraudulent means. In his response, Jalang'o said he never for one day believed that someone would rise up to question his source of income or pen some stuff that will make him appear fraudulent.
Swearing on his father's grave, Heavy J said he has never stolen anything in life nor has he gotten into unscrupulous or fraudulent deals. He has always believed in hustling for his money and that is the secret of his success. If making money were to be easy, then, everybody would be rich, Jalang'o said.
Counting his major sources of income, Heavy J mentioned his brand ambassadorial deals with several top-notch companies, running a media agency, hosting events, including being a radio presenter, and a well-known one at that.
On her own part, Kenyan singer Tanasha Donna took to her Instagram page to drag Edgar Obare in the mud for mouthing negativity about her sources of income, terming all that the tea master said as "fabricated lies". According to the Gere hitmaker, Obare's false rumors are fast getting out of control. She described him as someone who wakes up to fabricate stories just for the pleasure of getting attention.
On her BMW which took center stage in Edgar's allegations, Tanasha said everything she has today was achieved through hard work and she bought each and every piece with her own sweat and hard-earned money. Advising Obare to stop involving her in his fabrications, Donna called him and his blogs "sickening."
Rapper Prezzo, whose real name is Jackson Ngechu Makini, also weighed in on the issue. However, he was quite taciturn with a cryptic story on IG. He wrote: "Fellow Kenyans, the only tea you should rely on is the tea from Kericho."
Edgar Constantly Exposes His Life and That of His Family To Grave Danger
Edgar Obare suffused the internet space with sensational claims about his life being in danger. According to the controversial content creator, his brother was kidnapped and released by unknown people but he never substantiated the claims nor did he file a police report as he does not expect much from the authorities.
Narrating his gory experience on BBN, Obare opened up on the troubles he and his family have been facing because of his chilling exposes. The tea master narrated how his brother was kidnapped and tortured in a bid to get information on his current whereabouts and that he said, is very scary. Expressing regrets that his brother had to go through such inhuman treatment on his behalf, Edgar revealed the hate he has for their country Kenya where people can decide to go very low and get away with everything. Going further, Edgar said this kind of thing has happened to his brother twice – the young man whose identity he prefers to shied was recently detained at the airport when he went there to collect a parcel.
On getting to the airport, Edgar Obare's brother was advised to wait as he would need to pay duties to get the package from customs. When they failed to release the parcel, the young man left and returned on another day only to find DCI (Directorate of Criminal Investigations) agents waiting for him. They collected his phones and took him to a room where he was locked up for about four hours. Their reason was just for him to reveal Edgar's whereabouts.
Edgar said he had to keep mute on the whole issue as his brother who was afraid for his life begged for everything to be kept under wraps. This incident followed the disappearance of Obare's main IG account.