This is a continuation of 10 Famous Black and White Photographers 
6. Dorothea Lange (26 May 1895 – 11 Oct 1965)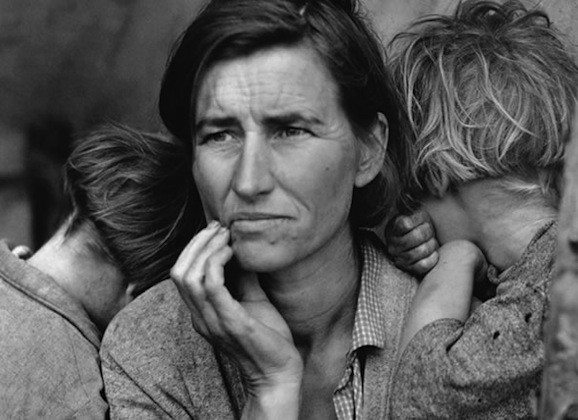 Lange's family were second-generation German immigrants living in New Jersey when she was born as Dorothea Magaretta Nutzhorn – she stopped using the middle name and assumed her mother's maiden name of Lange after her father left when she was 12.  At the age of seven she acquired a permanent limp after contracting polio, which she said had a great impact on her, both physically and psychologically. She studied photography at Columbia University, served apprenticeships with several New York studios, including Arnold Genthe, and in 1918 moved to Berkeley, San Francisco to open her own successful portrait studio. When the Great Depression hit, she went out to document the lives of the people hit by it, and her pictures brought her to the notice of the FSA, who employed her to continue with this and include sharecroppers, migrant labourers and rural poverty.
She and second husband Paul Schuster Taylor, a professor of Economics, documented everything they saw for the next five years – he conducted interviews and amassed data and she took the photographs. She was awarded the Guggenheim Fellowship (for excellence in black and white photography) in 1941, but gave it up to record the forced evacuation and internment of Japanese Americans following Pearl Harbour – only to have the army impound the resulting pictures as too critical. In her later years, she taught fine art black and white photography at the California School of Fine Arts and co-founded photographic magazine, Aperture, but ill-health dogged her later years and she died of esophageal cancer in 1965.  However, she was not forgotten – she had a California school named in her honour in 2006, and was inducted into the California Hall of Fame in 2008.
7. Arno Minkkinen (1945 – )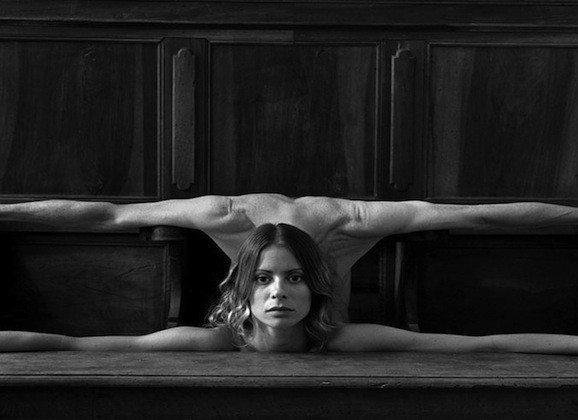 Born in Helsinki, Finland, Minkinnen emigrated to the USA when he was six. He took his first degree in English Literature at Warner College, New York, but became interested in black and white photography soon afterwards and earned a Fine Arts degree in photography at the Rhode Island School of Design in 1974. Since then, he has worked as a curator, a writer and a teacher whilst spending most of his time and energy on researching the self-portrait, producing stylish, unaltered photographs of the human body (often his own), in part or in whole, in a natural setting.
Over the years, he has published seven books of his work; he has pictures in over seventy collections all over the world; and has taught art and/or photography in many prestigious institutions including MIT and the École d'Arts Appliqués in Vevey, Switzerland. Minkkinen was awarded a knighthood in Finland in 1992 (the First Class Order of the Lion of Finland) and, among the dozen or so prizes and awards he has been given, in 2006 he received the Finnish State Art Prize in Photography. 2009 saw him begin an interest  in screenwriting and film-making, and in 2010 he won the necessary support to direct his first feature film, using his own screenplay – 'The Rain House' debuted as part of the Dance Films Associations 'Dance on Camera' Festival in 2013.
8. James Nachtwey (14 Mar 1948 – )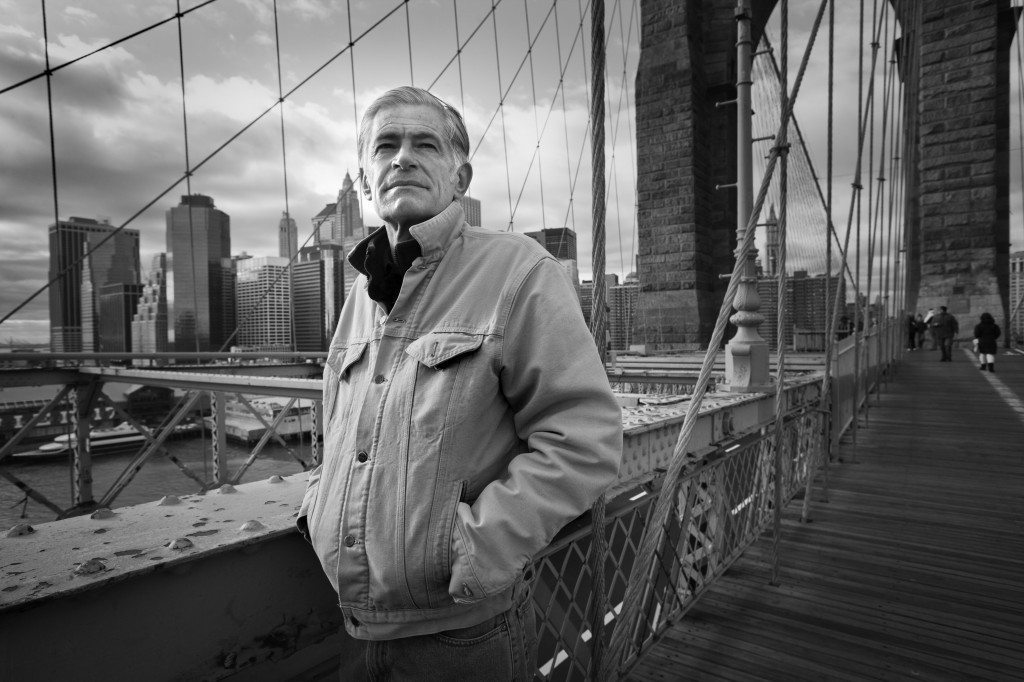 James Nachtwey is a war photojournalist who came from Massachusetts, gaining degrees in Political Science and Art History from Dartmouth College. His first job was at the Albuquerque Journal as a newspaper photographer, but in 1980 he went freelance in New York and the following year took his first overseas assignment, in Northern Ireland. Since then he has covered a great variety of conflicts and strife, in places as diverse as the Middle East, Latin America, Russia and South Africa, documenting in pictorial form every aspect of famine, war and other sociopolitical issues. He has been injured more than once, not surprisingly, but his only combat injury occurred when a grenade exploded in the vehicle in which he was travelling – and he managed to take some pictures of the medic treating his companions before losing consciousness!
He was fortunate enough to make a complete recovery, eventually. He has received the Robert Capa Gold Medal from the Overseas Press Club (for courageous overseas photography) no less than five times (in 1983/4/6 and 1994/8) and he was the winner of the 1994 World Press Photo Award.  In 2001 a documentary about him and his work was released, the oscar-nominated 'War Photographer', and in 2008 he had an exhibition in Paris at Le Laboratoire called 'Struggle for Life', about the problems of TB and AIDS in the third world.
9. Joe Rosenthal (9 Oct 1911 – 20 Aug 2006)
Joe Rosenthal is best known for producing probably the most famous war photographs of all time, the Pullitzer Prize-winning 'Raising the Flag on Iwo Jima'. He was born in Washington DC of Russian Jewish immigrant parents and converted to Catholicism while still young, then graduated from San Francisco University and in 1932 became a reporter-photographer for the San Francisco News.  When war broke out he tried to join the army as a photographer but was rejected for poor eyesight, so he followed the US Marines as part of Associated Press instead. After the war he went back to civilian photography, first running Times Wide World Photos and then working at the San Francisco Chronicle, where he remained until his retirement 35 years later.
He died peacefully in his sleep, aged 94, and four weeks later was awarded a posthumous Distinguished Public Service Medal by the US Marine Corps. A Hollywood movie about the soldiers who raised the flag in his iconic photograph was made in 2006, in which he was played by Ned Eisenberg. His famous picture has appeared on the cover of numerous magazines, as a postage stamp and as the model for two sculptures – the US Marine Corps War Memorial (the 'Iwo Jima Memorial') at Arlington and a parade ground statue at the Marine Corp Recruit Depot Parris Island in South Carolina.
10. Alfred Stieglitz (1 Jan 1864 – 13 Jul 1946)
Alfred Stieglitz was a ground-breaker in the field of art photography and is considered to be the first person to produce deliberately abstract photographs, in the form of a collection of hundreds of photographs of clouds which he called 'Equivalents'. He was an American born in Hoboken, New Jersey, of German-Jewish immigrant parents and the eldest of six children. He was an overachiever at school, both in America and in Germany when his family moved there for a few years, but when they returned to America he stayed to concentrate on photography (with a generous allowance from his father). He only returned to America when his father threatened to cut off this allowance if he didn't, but then his father bought him a small photography business…
He also started writing for 'The American Amateur Photographer' magazine, winning awards for his photographs and making a name for himself.  In 1896 he successfully campaigned to merge the two almost-dead camera clubs in New York to form the new Camera Club of New York, and as Vice President was soon running it almost completely and well on the way to succeeding in his goal to make it one of the largest and most prestigious camera clubs in the world. In 1902, he started a new photography journal, Camera Work, declared it would be the best of its kind, too, and subsequently made it so – and in 1908 opened a gallery called '291' selling all types of art, which rapidly took off as well. In 1924 he divorced his first wife, Emmy, to marry his soul 'twin', artist Georgia O'Keefe, and took hundreds of photographs of her in what became another iconic collection.
It was at this time he started 'Equivalents', which took a dozen years to finish. He mounted many exhibitions of art in his life, including some of the biggest and most prestigious ever seen, in his own galleries and elsewhere. However, his later years were dogged by ill-health, including a series of increasingly serious heart attacks, and he finally died from a stroke in 1946. After his death, Georgia put together a collection of his best works, selecting only from prints he had already mounted (and therefore considered finished), and donated the 1,642 pictures of the 'Key Set', as it became known, to the National Gallery of Art in Washington, DC, where it remains.