Blondie Makhene (born 16 September 1955) is a 67-year-old South African veteran singer who dominated the airwaves in the 1980s with his unique style of music and captivating vocals. He created uplifting and empowering songs and is now a celebrated music icon in the rainbow nation.
Blondie's music literally spoke to the hearts of the people as he used his songs to address social and political issues rocking his country at the time. This rare show of bravery during such tough times when the political situation in South Africa was tense earned him a spot in the hearts of many.
Blondie Makhene's Profile Summary
Full Name: Keoagile Gerald Makhene
Stage Name: Blondie Makhene
Gender: Male
Date of Birth: 16 September 1955
Blondie Makhene's Age: 67 years old
Place of Birth: Soweto Township, South Africa.
Nationality: South African
Religion: Christian
Sexual Orientation: Straight
Marital Status: Married
Blondie Makhene's Wife: Agnes Makhene (late)
Children: Pauline, Letoya, and Gontse Makhene.
Occupation: Musician
Best Known For: Liberation songs
Blondie Makhene's Net Worth: $500,000 (estimated)
How Old Is Blondie Makhene?
Mzansi's legendary singer Blondie Makhene was born on the 16th of September 1955 which makes him 67 years old as of now. For a man his age, Makhene is an accomplished singer and has earned an enviable place in South Africa's music industry as he has contributed immensely to the growth of the industry for more than four decades.
The iconic musician actually began his life in the suburbs of Soweto with his family. His father has been identified as Peter Makhene but there is no information regarding his mother. However, it is gathered that he was raised alongside his siblings, Pappa, Cliff, Pamela, and Phyllis Makhene in Soweto.
He had his early education at Mabopane Junior Secondary and during his time there, he was active in the school debate club before he became the music conductor for the school's boys' choir. Makhene also tried his hands on acting during this period but ended only with a single-character drama piece that he wrote and performed. He then proceeded to Hebron Training Institution for his higher education but the qualifications he obtained are not known.
There is also no information regarding further studies by the legendary singer. However, it seems that the Makhene family appears to have music running in their bloodline and Blondie's love for music must have stalled his academic pursuits. It is gathered that the grand patriarch of the family, Peter Makhene was a gifted singer and had at some point formed a family band that included Blondie, his two brothers, and two sisters which is probably where Makhene's music career took off from. The family band which was created in 1977 released an album titled "The Family". His brother Pappa Makhene would also go on to venture into music but he did not turn out to be as successful as Makhene would eventually become in the coming years.
Blondie's Music Career Thrived On The Theme of Liberation
One of the things that make South Africans hold Makhene in high regard is his contribution to the liberation movement during the Apartheid regime. While he might not have fought on the frontlines, he used his talent to shed light on the political situation in the country. His liberation from struggle songs highlights the pains, hopes, and aspirations of South Africans during the era of the oppressive regime. People could easily relate to his songs because they told their collective story as a nation and listening, as well as dancing to his wonderful tunes helped them to forget their sorrows.
The now veteran artist was able to achieve such a career feat because he distinguished himself at a young age and had his own unique style which set him apart from the rest. By the time he was a teenager, he was already a member of the T&T band in which he acquired the name Blondie. This nickname unknown to the teen star would later overshadow his real name as fans chose it over his birth name. He would go on to join another band, called "The Mover" and while he was with the band, they released a hit single titled "Hopeless Love". The song resonated with music lovers and was on the airwaves for a long time. This will eventually bring Makhene to the limelight as a teenager and for a black person, it was a remarkable achievement at the time, considering how much humiliation blacks received during the Apartheid regime.
He later teamed up with his brother, Pappa Makhene to release "24 Hour Service" in 1980, which was well-received by the public. The hit song was produced by Mally Watson. By this time, Blondie Makhene was already a music star and continued to release smashing hit tracks. In 1984, he released his first album, "Communicate" which was one of his greatest of all times. The album which was produced in collaboration with Mally Watson sold about 500,000 copies at the time of its release, making it a gold-selling album.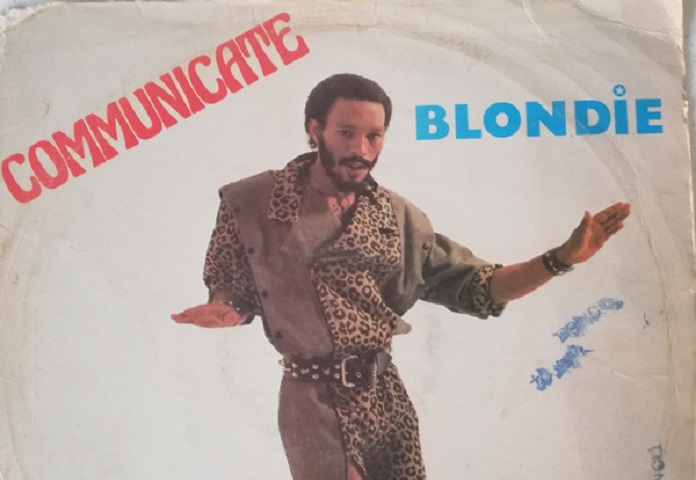 This album was followed by a record-breaking soulful ballad "Still In Love With You". This single secured a place in the hearts of South Africans who at the time needed the message in the song. Makhene did not take a break from fame and soon dropped another hit song "Overtime 1985" in collaboration with Mally Watson. The superstar also blessed the world with yet another mind-blowing album in 1987 titled "Satisfy You" in collaboration with Thapelo Khomo. While people were yet to get over this album, he dropped another one a few months later titled "Spreading Love", which was a huge success and contained the hit single, "Baby I'm Missing You", a tribute to his late wife.
Blondie Makhene Had A Blissful Marriage With Agnes Makhene
Makhene has a beautiful family which he cherishes. He began the family with the love of his life and wife, Agnes Makhene, and together, they brought 3 gorgeous daughters into the world – Pauline, Letoya, and Gontse Makhene. How, where, and when he met and married his wife is not known but the bond the pair shared was enviable.
This lovely family however has had its fair share of tragedy as the matriarch of the family passed away in 2007 from a stroke. The shock from Mrs. Makhene's sudden departure left her husband and their children shattered. This pain lingered with them and Blondie had no choice but to continue with his life as a single parent.
However, the task of single parenting was not easy on the music star as he had to spend his time between raising his children and making good music. The star is believed to have remarried years later to a certain Pam Makhene but it is not known how and when they got married and if they are still together to date.
Who Are The Makhene Girls?
With their father's status as a celebrity, the Makhene girls have received a lot of attention from the public. Various aspects of their lives have come under scrutiny but a fact that is known about the girls is the sisterhood bond they share which has been a fortress over the years. Get to know about their lives below:
Pauline Makhene
Pauline Makhene is the first child of Blondie and Agnes Makhene. There is no information about her date and place of birth because Blondie Makhene tried his best to keep his beloved family away from the public eye. However, it is gathered that Pauline is a graduate of Boston Business School, although the qualification she obtained there is not known to the public. She is also believed to be a very successful businesswoman but yet again, there is no information in the public domain about the business she is into.
Following the death of their mother, she stepped into her mother's shoes and began to play a maternal role in the family. She did her utmost best to make up for the absence of their mother and keep their family united. This was an immense responsibility for the young lady and might be the reason she is not popular with the South African public – Pauline played mum for some time until her father found love again. Although Pam eventually took on the role of mother in the Makhene household, it is not clear what type of relationship Pauline had with her stepmother as she left South Africa shortly after her father remarried. She reportedly moved to Dubai and carried on with her life.
Letoya Makhene
As much as Blondie Makhene had tried to keep his family from the spotlight, not everyone can be hidden. Letoya is the second of Blondie and Agnes Makhene's 3 daughters. Unlike her older sister, the 38 years old enjoys a successful career in the South African entertainment industry. She set off on the path of music and many saw the female version of her father about to emerge. However, after her mother's death, things took a different turn and she found solace in spirituality.
Letoya trained as a traditional healer "Inyanga" after her mother's death. She lived in an enclave in the course of her training to learn the healing arts of her ancestors. This training lasted for 8 months and during this period, she was not allowed to see anyone which meant that she had to suspend her career in music. However, she would later give up on spirituality and pursue a career in the movie industry with an occasional try at music.
Gontse Makhene
Gontse is the youngest of the Makhene girls. She lived a private and quiet life until 2015 when she made headlines as a missing person. As of then, she left home without any trace which stirred tension in the family. As they could not afford another tragedy in the family, a search was initiated immediately and pictures of her went viral on the internet at the time as a missing person. She however showed up 2 weeks later and the family was overjoyed to have her back. Rumors were made around that she was battling with substance addiction but there was no public statement from the family regarding these rumors.
One thing is clear, the Makhene girls love and support each other and have a good relationship with their famous father. Like their father's family did back in the days, the girls also started a family band when they were much younger. The music group consisted of the 3 sisters and their cousin Nicky. The group was known as Skool Girlz but nothing much came out of it apart from a couple of singles.
Who Is The Most Famous Amongst Blondie Makhene's Children?
Blondie Makhene may have placed his family name on the map but someone from his bloodline is seeing to it that the name is immortalized. Letoya is arguably the most famous of Makhene's three children as she already enjoys a booming career. As expected, she started off as a musician and was seen as the co-host on the 2nd edition of South African Idol in 2003. More so, she has some successful tracks and was a backup singer for the music icon, Brenda Fassie. She has also collaborated with notable South African artists like DJ Chynaman and DJ Cleo, not forgetting the one with her famous father.
Letoya is famous as an actress, especially for her time on one of South Africa's most popular Soapies, Generations. She played Tshidi Mogale – Phakade in Generations for several years before deciding to call it quits for spiritual reasons and to spend time with her children. She was also on Isidingo as Ayanda Diale.
Where Is Blondie Makhene Now?
Blondie Makhene may not be dropping albums as he did in his youthful days but he is not completely out of the spotlight. In recent times, he has been using his position to speak up for younger artists in the industry. He supported the agitation for better pay for South African artists by the Independent Music Performance Rights Association (IMPRA) and it yielded positive results.
In March 2021, Makhene received 2 honorary doctorate degrees – he was conferred with an honorary Doctorate in African Medicine by the SADC University of African Medicine and another from Christ the Lamb Theological Seminary in Music, Arts, and Culture. South Africans reacted well to the awards and showered praises on the music legend. His celebrity daughter, Letoya did not also fail to celebrate the glorious occasion with fans on social media and praised her father for always raising the bar and making the family proud.