If you are a keen fan of the NBA, then you must have surely heard of the gentle giant who has thrown the league into Boban-mania. He is none other than Serbian basketball player, Boban Marjanovic. Marjanovic commenced his career in Europe and won several trophies there. He finally made it to the NBA in 2015 and since then; has won many fans with his towering size, massive hands, unique fashion sense as well as his friendly personality. The Serbian player has become so popular that he has even landed a part in a Hollywood blockbuster!
Boban Marjanovic Bio (Age)
Boban Marjanovic was born on the 15th of August 1988 in Boljevac, a town in the eastern part of Serbia. The player spent his childhood in Serbia and was mostly raised by his single mom. Marjanovic began playing basketball as a child and by the age of 14; he was signed by a Serbian professional team known as Hemofarm. He would spend a total of eight years with Hermofarm (2002 – 2010) during which he played for their youth team as well as their first team.
Boban Marjanovic left Hemofarm for Russian club, CSKA Moscow, in 2010. He spent just a few months there before he was loaned to Lithuanian basketball club, Zalgiris. At Zalgiris, Marjanovic won several titles including The Lithuanian League, The Baltic League, and The Lithuanian Cup. After his successful time at Zalgiris, the center-forward went on to play for other Serbian clubs such as Mega Vizura and Crvena Zvezda. He also won other trophies including The Serbian League (2015), ABA League (2015), Serbian Cup (2014 and 2015) and Serbian Super League MVP (2013 – 2015).
Wife and Girlfriend
Boban Marjanovic is married to his long-time girlfriend, Milica Krstic. The couple first met at a birthday party, back in Serbia, and commenced their relationship around 2007. They dated for several years during which Marjanovic's career threatened their romance. The Player's busy schedule often meant that he skipped important celebrations such as anniversaries and birthdays. Krstic, however, took it all in stride and decided to put her man's needs first.
The couple was able to sustain their relationship and later got married in 2014. Their wedding ceremony was in two parts; the first was held on a Mexican beach while the second was held in their beloved Serbia. Marjanovic and wife now have two sons together. The first is Vuk who was born in 2012 while the second is named Pera. Marjanovic's wife is quite popular on Instagram and goes by the handle – Mrs. Bobi. She often posts pictures of family times (zoo adventures, school days and birthday celebrations), as well as photos of her man's exploits, on her page.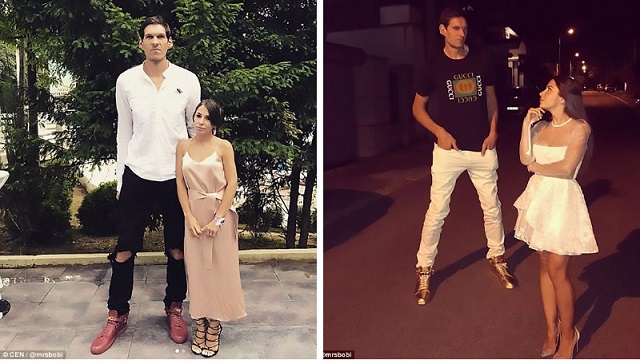 Boban Marjanovic's Net Worth
Marjanovic has a net worth estimated at $20 million. His source of income is his career earnings over the years. The Serbian national finally made it to the big leagues when he joined the San Antonio Spurs in 2015. He spent just one year with them during which he enjoyed a contract worth $1.2 million. From the Spurs, Marjanovic moved to the Detroit Pistons on a three-year contract worth $21 million. He reportedly earned a salary of $5.8 million per annum during his time with the franchise.
Marjanovic's income is not restricted to basketball. The center-forward is also a budding actor and made his Hollywood debut in the blockbuster movie, John Wick: Chapter 3 – Parabellum. John Wick: Chapter 3 – Parabellum is the third installment in the John Wick series. The movie features Keanu Reeves as an ex-hitman who goes on the run after a lucrative contract is put out on his head. In the movie, Marjanovic played the role of a Dante-quoting assassin named Ernest.
See Also:  Tim Duncan Wife, Girlfriend, Age, Height, Net Worth, Kids, Is He Gay?
Height and Weight
Boban Marjanovic is renowned for his towering height and ripped physique. The center forward is 7 feet 3.5 inches tall (2.21 m) and his weight is given as 290 lbs or 132 kg. Marjanovic is one of the biggest players in the history of the NBA, surpassing even the likes of Shaq O'Neill. His imposing frame has made many opponents look ridiculous while endearing him to fans. Additionally, it must be known that the NBA star is 2 feet taller than his wife. The significant height difference makes for some funny couple photos but Krstic relishes this. She often posts pictures highlighting their significant height difference on her Instagram page.