Bobby Lee is a Korean-born Hollywood actor, comedian, and writer. He has appeared in several movies and TV series. He is most popular for his time on the comedy/variety series, MADtv. The show consists of sketches and musical performance and pokes fun at politics, pop culture and popular TV series. Lee spent a total of eight years on MADtv during which he played many memorable characters such as North-Korean leader, Kim Jong-Un and the late maverick U.S. senator, John McCain. Apart from acting, Lee regularly performs stand-up comedy and also hosts a popular podcast. Get to know more about the comic here including his height, brother, girlfriend, net worth etc.
Bobby Lee Bio (Age)
The comic was born Robert Lee Jr. on the 18th of September 1971 in San Diego, California. He studied at Poway High School, Poway, California. On finishing high school, Lee attended Palomar College, San Marcos, California. He, however, did not get to complete his studies as he dropped out after a short while.
Lee did not initially plan to go into comedy. When he reached the age of 18, he moved out of the family home to live on his own. He did several odd jobs in the San Diego area to survive. In 1994, he was working at a coffee shop when the store shut down. This left Lee jobless and he went to the shop next door to see if they had an opening.
The shop next door turned out to be the San Diego Comedy Store and he was employed to do odd jobs. He did this for a while and having gotten a flair for comedy, decided to try out at the club's amateur night. He gave a very terrific performance and was subsequently invited to open for already established comedians such as Carlos Mencia. From being an opening act, Lee progressed to the main act and started doing his own gigs in the L.A. Comedy Store.
Bobby Lee made his TV debut in 2001 in the series, MADtv. From thereon, he has also appeared in other movies and series such as Harold & Kumar Go to the White Castle, Curb Your Enthusiasm, Pineapple Express, The Dictator, NCIS: Los Angeles and Splitting up Together. Bobby Lee has also featured in music videos of artists such as Taio Cruz and Eminem.
Net Worth
The San Diego native has really done well for himself as he has accumulated a fortune worth $1 million. Many online followers have suggested that his wife is only with him because of his wealth and fame. This is not unconnected with the fact that Kuhn does not hide her love for luxury items. Kuhn has however rebuffed the allegations in a twitter post in March 2018. She stated that she has been self-sufficient since 17 and already had a comfortable life before she met Lee.
Wife and Girlfriend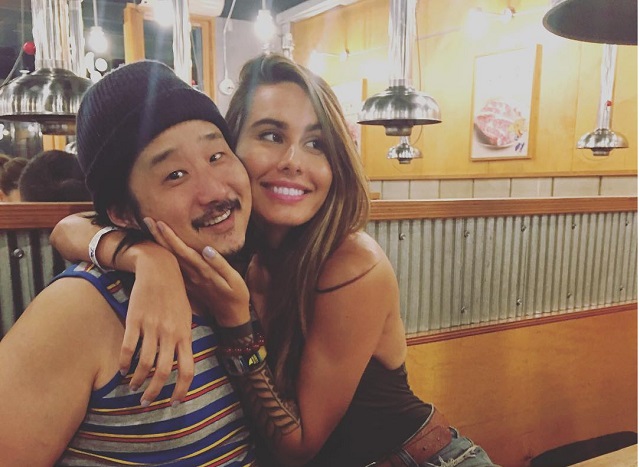 Bobby Lee is married to his long-time girlfriend, Khalyla Kuhn. Kuhn trained as a nurse and is also a social media personality. She is half-Filipino (on her mother's side) and half-Egyptian (on her father's side).
Lee and Kuhn commenced their relationship in 2012 after meeting through a dating app, Tinder. They dated for four years before tying the knot in New York in 2016. Lee and his wife are not just lovers but also professional collaborators.
They have a weekly podcast titled TigerBelly which they created in 2016. Lee hosts the podcast and it often focuses on issues affecting Asian-Americans. One cannot blame the couple for this seeing as they both have Asian ancestry.
Brother and Family
The comic/actor hails from a family of four. His mother's name is Jeanie while his father's name is Robert. His parents are entrepreneurs and own some boutiques in San Diego. they actually expected him to take over the family business but were disappointed that he choose comedy. This caused an estrangement between Lee and his parents. They have however patched things up after realizing that comedy is a serious gig for him and not just a hobby.
See Also:  Joe Rogan Wife, Family, Daughter, Weight, Height, Net Worth, Bio
Bobby Lee also has a younger brother named Steve Lee. Steve is a musician and is the frontman of the band, Mangchi. The band is currently on a hiatus but prior to that, they released albums and toured the US. Steven also hosts his own podcast known as the Steebee Weebee Show.
When he was a teenager, Lee dabbled into drug abuse but cleaned himself up at the age of 17. He, however, fell back to it when he hit a snag in his career; his role in MADtv was under threat. He sobered up again and since then, has not fallen off the wagon.
Height
Bobby Lee is 5 feet 4 inches tall (1.63m). Additionally, he also has dark brown eyes and jet black hair.