Bobby Lee is a Korean-born Hollywood actor, comedian, and writer who has recorded appearances in several movies and TV series. The multi-talented performer is most popular for his time on the comedy/variety series, MADtv. The show consists of sketches, musical performances, and pokes fun at politics, pop culture, and popular TV series.
Lee spent a total of eight years on MADtv, during which he played many memorable characters such as North-Korean leader, Kim Jong-Un, and the late maverick U.S. senator, John McCain. Apart from acting, Lee regularly performs stand-up comedy and also hosts a popular podcast. However, the actor's life is fraught with a big downside, which has been revealed to be substance and alcohol abuse but has managed to get sober several times, only to have another relapse.
Bobby Lee's Struggle With Drug Abuse Started From Childhood
It all started when Bobby Lee was 12 years old, the young lad began experimenting with hard substances like marijuana and methamphetamine. Consequently, they had to put him through a drug-rehabilitation process, and after the third attempt, the emerging comedian finally managed to clean up and put an end to his met abuse at the age of 17.
Lee recounted interesting stories of his drug abuse days by claiming that he competed and won a wrestling tournament under the influence of LSD and methamphetamine. However, the veracity of these claims was never substantiated as they were mere assertions from the California-born comedian.
He Had A Relapse After He Launched His Career on MADtv
After he Joined MADtv, Bobby Lee was mocked by a certain producer who pointed out that the comedian was far from funny and may not get the chance to feature in the show anytime soon. To Lee, this was tantamount to hitting a snag in his career as his role in MADtv was under threat, and unable to handle the accompanying pressure, he relapsed on Vicodin, which put an end to his sobriety that has lasted for all of 12 years.
It was thanks to Lauren Dombrowski – a MADtv producer that Lee managed to get sober again. Lauren played an active role in fighting for the comic act after he got laid-off from the show a second time. Following Lauren's death in LA from the complications of cancer on the 8th of October 2008, the California native claimed that the late producer's funeral was one of the only occasions he had ever cried.
He Confessed To A Recent Relapse On TigerBelly
Bobby had yet another relapse, which he admitted to guest Theo Von on TigerBelly Episode 224. According to the social media personality, it was after the death of his dad in August 2019 that he let himself fall back into his old life of substance abuse, but his girlfriend came to the rescue.
However, Lee revealed on the show that he recently left rehab and was already 11 days sober as of then. We have cause to believe that since then, he has not fallen off the wagon again. But alcohol is a different ball game altogether as the comedian is also an alcoholic, though he is said to be a recovering alcoholic.
Bobby Lee's Foray Into Comedy Was By Happenstance
It was after he dropped out of Palomar College in San Marcos, California that Bobby Lee began to find his way in life. However, he did not initially plan to go into comedy, but as the youngster reached the age of 18, he decided to move out of the Lee family home to start fending for himself.
Faced with the need to eke out a living, the emerging actor cum comedian had to take on several odd jobs in the San Diego area to survive. In 1994, he was working at a coffee shop when the store shutdown. This left Lee jobless, and he went to the shop next door to see if they had an opening. Surprisingly, the shop next door turned out to be the San Diego Comedy Store, and he was employed to do odd jobs.
Lee did this for a while and having gotten a flair for comedy, he decided to try out at the club's amateur night. He gave a very terrific performance, and within one year of performing regular comedy sets, the young man was subsequently invited to open for already established comedians such as Carlos Mencia and Pauly Shore. From being an opening act, Lee progressed to the main act and started doing his gigs in the L.A. Comedy Store owned by Pauly Shore's mother Mitz.
Lee Has Recorded Lots of Career Highs In His Professional Life
Bobby Lee made his TV debut in 2001 in the series, MADtv. Joining the cast of MADtv distinguished Lee as the first and only cast member of Asian roots. The comedian has publicly expressed his fear of depicting the characters of Connie Chung and Bae Sung, describing them as "Average Asian" skits. Lee remained part of the cast until the series was canceled in 2009 and made a brief return seven years later after MADtv was revived on The CW in 2016.
From thereon, he has also appeared in other movies and series such as Harold & Kumar Go to the White Castle, Curb Your Enthusiasm, Pineapple Express, The Dictator, NCIS: Los Angeles, and Splitting up Together. Bobby Lee has also been featured in music videos of artists such as Taio Cruz and Eminem.
Presently, the versatile comedian collaborates with his spouse Khalyla Kuhn in hosting a video podcast, TigerBelly, on YouTube. So far, the podcast seems to be doing exceptionally well with over 401,000 subscribers, and the views had surpassed 69 million and still counting.
The Comedian Has Been Married Since 2016
Bobby Lee is married to his long-time girlfriend, Khalyla Kuhn. Kuhn trained as a nurse and is also a social media personality. She is half-Filipino (on her mother's side) and half-Egyptian (on her father's side). Lee and Kuhn commenced their relationship in 2012 after meeting through a dating app, Tinder. They dated for four years before tying the knot in New York in 2016.
Lee and his wife are not just lovers but also professional collaborators. They have a weekly podcast titled TigerBelly, which they created in 2016. Lee hosts the podcast, and it often focuses on issues affecting Asian-Americans. One cannot blame the couple for this, seeing as they both have Asian ancestry.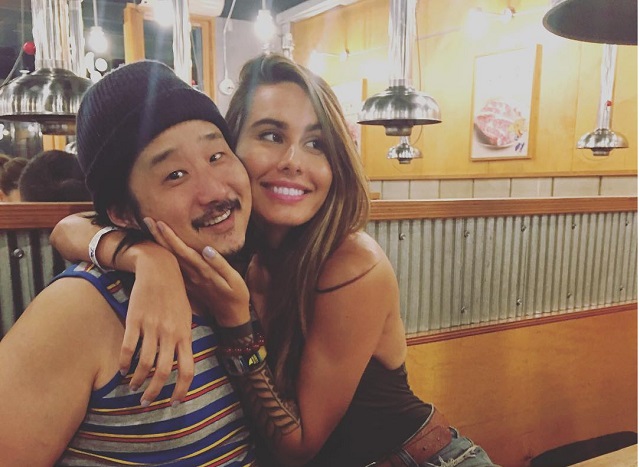 Speculations About The Couple's Union
As Bobby Lee continued to grow in both fame and fortune, many online followers have suggested that his wife is only with him because of his wealth and fame. This is not unconnected with the fact that Kuhn does not hide her love for luxury items. She has, however, rebuffed the allegations on social media, stating that she has been self-sufficient since 17 and already had a comfortable life before she met Lee.
Kuhn landed herself into marital troubles in 2018 when she dropped an expensive joke about Lee, stating that she couldn't have gone into marriage with him if not for his wealth. The majority of her husband's fans, who were angered by this careless comment, branded her a fortune hunter and a gold digger that was only with Lee for what she can get. Consequently, Khun faced untold ridicule from these aggrieved fans on social media, something that did not go well with her.
Khun Took To Social Media To Make Amends
Bobby Lee's wife, who was heartbroken that they judged her based on a careless comment, later took to social media with an explanation, stating that it was just a joke and that she has been well off even before getting hooked up with the comedian. The speculations did not affect their union in any way as the duo has remained happily married to date.
Besides, neither Khun nor Lee has had any complaints about their life as a couple. Even the Khalyla Kuhn/Brendan Schaub incident where Lee became suspicious after spying the text messages they exchanged didn't shake the foundations of their union. It was later established that the Kuhn/Schaub issue was never a cheating incident as many people perceived. Thus, the matter was laid to rest.