In this age of the internet where different people all over the world are clamoring to establish LGBT rights while some others vehemently oppose, it is almost a surprise that a cross-dresser cum transgender will emerge from a country like Nigeria which frowns at that kind of lifestyle. Bobrisky did not just establish her sexual orientation on social media, she went ahead to become popular while at it.
Bobrisky is an internet personality who is known as a transgender woman in Nigeria. She is known for her presence on the social media app Snapchat and has gained a large following across other platforms. The internet sensation is able to pull all these feats off in a very homophobic and transphobic country but he seems unperturbed by the fact that she might be breaking the law. The fact that Bobrisky continues to roam the streets of Lagos freely and share pictures of her transformation on social media is a pointer to the fact that she might indeed have friends in the highest of places.
The True Birth Gender and Early Life of Bobrisky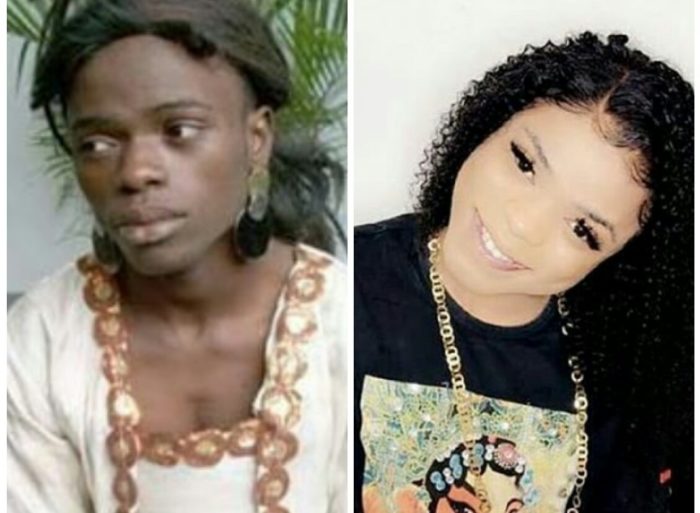 The social media buzzer's real name is Okuneye Idris Olarenwaju and she was born on the 31st of August 1991 in Ebutemetta, Lagos. Of Yoruba origin, Bobrisky was born a male into a polygamous home. His father had 3 wives and she is the last child born in the family. Her mother (even though now late) noticed early his tendency to prefer female attire and her attitude that depicts everything female.
Like every African parent, she initially tried to beat the 'malady' out of 'him'. However, all measures taken to reset Bobrisky's personality did not work, and as she came to realize that there was no changing for the young man who already enjoys other feminine activities, including cooking and cleaning, Bobrisky's mother came to accept him for who he is.
He Started Cross Dressing Long Before Fame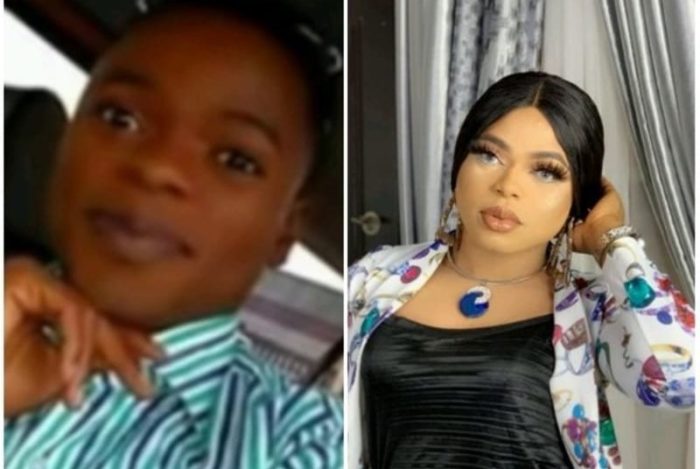 According to Bobrisky, she started cross-dressing from a young age, even though her parents never liked the idea, it didn't seem to stop her. She preferred and still prefers to wear ladies' apparel and even when she did wear a man's clothes, Bobrisky would find a way to look all girlish in them. This lingered through the early years of her life and eventually made her popular.
Aside from cross-dressing, another thing that drew lots of attention to Bobrisky, especially in her early years was the transformation of her skin color. He practically transformed from a dark-skinned guy to a fair-skinned girl, documenting the whole process and progress. Even though he did go for surgeries to be where he is today, his "cross-dressing game" was so tight that he could easily pass for a woman.
Bobrisky Is Yet To Brave The Gender Reassignment Surgery
Despite the contrary information rife on social media, Bobrisky is yet to undergo gender reassignment surgery. She has done a lot of adjustments to her body but seems to be dreading the final stage of gender reassignment. She did go for liposuction surgery in Dubai in 2019 and has been on several drugs to further bring out her feminine side. Also, she has done several face surgeries to look more beautiful but is yet to go all the way.
Nonetheless, all hope is not lost for those who would like to see Bobrisky become a woman in all entirety. She has been sincere enough to share with her followers that she has been saving up and hopes to have the surgery soon (2021). Sharing a before and after picture of the popular transgender woman, Nikita Dragun, who has been an inspiration to Bobrisky, he wrote that "If she didn't die during her gender change, there is hope for her to also survive the process. She further disclosed that a certain Doctor Philip from Colombia would be performing the surgery on her at an estimated cost of $300,000.
What The Internet Sensation Has to Say About the Pronoun to Use For Him
Even though she is yet to fully transform, Bobrisky has been really quite decisive about the choice of the pronoun she wants to be addressed with. She called out people who compliment her and refer to her as a boy. The influencer shares that she is a girl and uses female toilets in public places. She also shared that she ticks the female box while filling out forms. She further reiterated that she can only be searched by a female attendant at the airport.
Several public figures in support of LGBTQ rights have also weighed in on the issue. Bisi Alimi who is a gay man and advocate for LGBTQ rights cautioned in a series of tweets that the right pronoun for Bobrisky is 'she' and 'her'. He emphasized that using this will help reduce stigma and show that people really care. Bisi is always quick to rush to Bobrisky's defense whenever the internet wants her head but he doesn't also hesitate to drag her when the need arises.
Does Bobrisky Prefer To Date Men or Women?
Bobrisky's brand has thrived on his controversial personality which has given her lots of exposure. Shortly after she joined Snapchat in 2016 to promote her bleaching cream, she has been able to build her brand by being involved in several controversial issues ranging from cross-dressing to sex and sexuality. With Bobrisky, it's difficult to decipher what to really make of her as she has made several claims about her sexuality over the years.
After becoming popular, she began to hint at followers about dating a rich man who she refers to as Bae. According to Bobrisky, this "Mystery Bae" is Africa's 4th richest man and gave him a Benz and seven million naira. She even posted a picture of the money after catching it from the bank. She also shared that his Bae has plans of getting him a house next to Linda Ikeji on Banana Island. This 'Bae' is obviously male but Bobrisky shared in an interview with celebrity journalist, Dele Momodu, on the 31st of July 2020 that she is neither a bisexual nor homosexual, implying that she still dates women. As pointed out earlier, Bobrisky thrives on controversies and her fans won't be surprised if she comes out as gay, bisexual, or any other category he wants tomorrow.