Bojana Jankovic found fame through her marriage to her celebrity husband, Michael Weatherly in 2009. While her marriage has made her some sort of a public figure, many are yet to discover that the faithful wife and mother of two has gained expertise with public speaking and is also an educator and a health practitioner. She holds a few certifications that have made her very knowledgeable in her field. Read on to find out all the fascinating facts about Michael Weatherly's wife.
Bojana Jankovic's Age and Biography
While living her normal life away from the camera, Bojana Jankovic became a person of interest after she kicked off a relationship with the famed American entertainer, Michael Weatherly in 2017. Soon, every detail of hers became of interest and made headlines. Unfortunately, Bojana Jankovic has done a good job of keeping a lot of her details like her birthdate, family, formative years, and education away from the limelight.
There has not been a consensus on the specific date she was born, but unconfirmed reports have it that Bojana was born to Serbian immigrant parents on the 7th of May 1983. This is, however, a case of mistaken identity with a retired basketballer who bears the same name as Bojana. The retired female basketballer currently sits as the director of ŽKK Partizan and has won 3 National Championships, the national cup, and Adriatic League Women.
Michael Weatherly's wife, on the other hand, is a public speaker and educator who was once a staff at Cedars-Sinai Medical Group. She has expressed her self eloquently on several health platforms and is currently the CMO (Chief Medical Officer) and co-owner of WellStart Health.
She graduated with a B.S. in biophysics from the University of British Columbia and subsequently bagged a masters degree in Oncology in 2005. Later in 2009, she became an M.D. Also, she studied epidemiology at the University of California Los Angeles School of Public Health.
Bojana Jankovic's Huband and Kids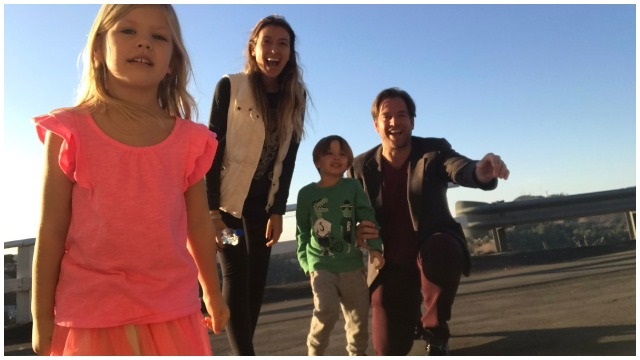 Bojana Jankovic's union with the famous actor, producer, and director Michael Weatherly happened way back in 2009 after meeting for the first time in a Vancouver bar in 2007. The actor, in most interviews, has had only good things to say about his wife's beauty and poise while also, stating that theirs was love at first sight. They dated for two years and on the 30th of September 2009, they sealed their love in matrimony in a small wedding ceremony.
Michael and Bojana welcomed their first daughter Olivia on the 10th of April 2012 and on the 29th of October, the family welcomed a baby boy, Liam. Meanwhile, Michael Weatherly already has a son, August from his previous relationship with Amelia Heinle. Currently, the family lives in their home in Hollywood Hills after relocating from Los Angeles in 2012.
While Bojana Jankovic has never revealed the details of her past relationships, Michael Weatherly has been involved with a few other women. He once married Amelia Heinle in 1995 but subsequently got a divorce in 1997. Later on, he moved on with Jessica Alba but like his first, called it off after their engagement in 2001. Michael Weatherly, on his part, is a loving husband and father to his kids. He is well known to have proven his acting prowess in different drama series like NCIS, Dark Angel, and Bull in Bull
Facts About Michael Weatherly's Wife
How She Met Her Husband – Michael Weatherly
Michael and Bojana's love story started with eye contact. The two while having fun at a Vancouver bar, were throwing looks at each other. According to the actor, he noticed her for the first time with a side look. Then he finally took a better gaze and was wowed with her beauty and poise which moved him to approach her and the rest, as they say, is history.
Academics
Bojana Jankovic is an expert on endocrinology and Oncology in her Academic Career and has published Research in Journals. According to Jankovic's Cedars-Sinai profile, she focused on endocrinology and oncology and published in several journals. She also partook in the Internal Medicine Residency program at Cedars-Sinai Medical Center and West LA Veterans Administration. Jankovic is quite skilled at her job and holds a five-star rating from patients who she has had dealings with.