Bonnie Hunt is a versatile American entertainer, a fine mixture of a variety of talents. She started off as an improv comedian, and has over the three decades, metamorphosed into an actress (including voice), a screenwriter, film producer and director, as well as a television host. Hunt also garnered massive popularity through her self-titled television program, The Bonnie Hunt Show. However, behind Bonnie Hunt's successful career is her failed marital life. Read on to get all the details you've been looking out for.
Bonnie Hunt's Bio
Bonnie Hunt was born on 22nd September, 1961 in Chicago, Illinois, United States. Her middle name is Lynn. Bonnie is the sixth of the seven children (comprising three boys and four girls) born to Robert Edward Hunt and his wife, Alice E. (Jatczak) Hunt. While her father worked as an electrician, her mother was a housewife. Being the second to the last child, Bonnie has three older brothers (Patrick, Kevin, and Tom), two older sisters (Cathy and Carol), and one younger sister (Mary). She is of American nationality and mixed ethnicity of Irish, Belgian and Polish decent.
Growing up in Chicago, Bonnie Hunt attended the St. Ferdinand Grammar School as well as Notre Dame High School for Girls. As a young girl, she nursed a flare for the entertainment world but could not follow her dreams as her dad wanted her to pursue a medical career. While schooling at Notre Dame, Bonnie therefore, took up a part-time job as a nurse assistant. She later worked at Chicago's Northwestern Memorial Hospital as an oncology nurse in 1982.
Comedy/Acting Career
While still working as a nurse, Bonnie ventured into comedy, co-creating the sketch comedy troupe, "An Impulsive Thing" in 1984. The same year, she made her screen debut on an episode of the PBS periodic series, American Playhouse. Two yeas later, she joined and performed with the globally popular improv comedy organisation, Second City based in Chicago.
Bonnie Hunt subsequently made her movie debut in Rain Man, starring as Sally Dibbs. She soon after earned the role of main character Carol Ann Smithson in NBC's 1990 sitcom, Grand. She later played Gwen Davis in Davis Rules and Alice Newton in Beethoven, both in 1992.
In 1993, in collaboration with her close friend, David Letterman, Hunt made her debut movie production titled The Building. Two years later, she once again joined hands with Letterman to create the Bonnie show which aired 11 out of its 13 episodes before it was cancelled in 1996. In 2002, Hunt came up with a new TV sitcom, Life with Bonnie which aired on ABC until 2004. Despite terminating in its second season, Hunt later received a 2004 Emmy Awards nomination for her role on the series.
Bonnie Hunt subsequently played a variety of roles in numerous films including Cheaper by the Dozen (1&2), and Loggerheads. She also did several voice works as in Cars (1,2,&3), Hawaiian Vacation, and Toy Story (2&3). Hunt as well co-wrote, co-produced and directed some films such as Return To Me, and Let Go.
In 2008, Bonnie created and launched her own talk show on Telepictures – The Bonnie Hunt Show. The show was syndicated and aired on a total of 17 top US television outlets. In its about two years of existence, The Bonnie Hunt Show was a great success, earning itself as well as Hunt numerous nominations and awards some of which include the Daytime Emmy Awards, and the Gracie Awards.
Other popular film/TV series credits of Bonnie include Jumanji (1995), Getting Away with Murder (1996), Wheel of Fortune (1997), Kissing a Fool (1998), Monster, Inc. (2001), and Sophia the First (2013-2018). In addition to entertainment, Bonnie Hunt is actively involved in charities, always channeling her humanitarian works to cancer patients.
Quite interesting to note before ending Bonnie Hunts bio, that she has two fellow American actresses going by the same last name with her – Hunt. They are Mad About You star, Helen Hunt, and legendary actress, Linda Hunt. Meanwhile, she has no biological relationship with any of them, contrary to what many think and believe. Among the two, Bonnie is often mistaken for Helen Hunt. Coincidentally, they have both played the same role (Tom Hank's love interest), but in different movies.
Who Was Bonnie Hunt's Ex-Husband and Why Did They Divorce?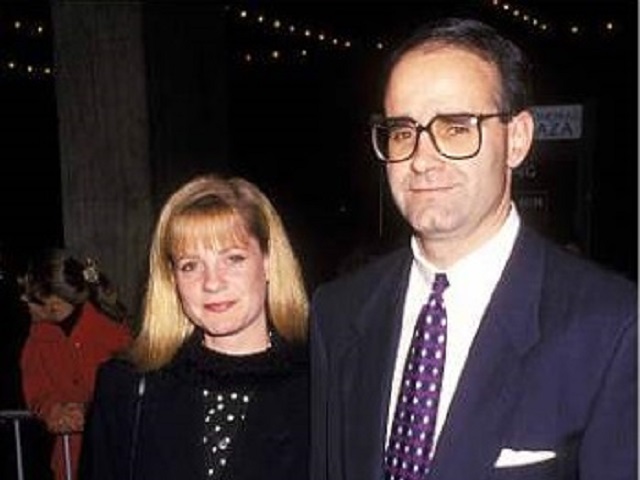 Bonnie Hunt was married to John Murphy for eighteen years (1988-2006). The only media record about Murphy is that he is an investment banker. After parting ways in 2006, the duo completed their divorce proceedings in 2008. Following their official separation, John Murphy has ever remained completely out of the public eye.
Meanwhile, Bonnie's fans have been eager to know the reason behind her divorce with Murphy. Since the former couple never disclosed the reason(s) themselves, it has been speculations all along. Among the several conjectures at what could have led to Hunt and Murphy's divorce is the high ranking suspicion over Bonnie's relationship with fellow TV host and comedian, David Letterman.
Recall that Hunt and Letterman collaborated in a number of projects including The Building and Bonnie. But apart from being professional colleagues, many suspected that Bonnie and David were having an affair, especially while considering the fact that the latter was a single man all through the years leading up to the former's divorce. Also heightening the speculations was the fact that Bonnie announced her separation from her husband on the Late Show with David Letterman, precisely during her June 6, 2006 appearance on the CBS late-night show.
Moreover, when asked whether she was having a romantic affair with David Letterman, Bonnie Hunt gave an ambiguous reply. She said that they never dated but "slept together". While this response could possibly be one of her usual comic innuendos, it further heightened people's suspicions. Be that as it may, the actual reason behind Bonnie Hunt and John Murphy's divorce remains elusive to this day.