Trey Parker has since made his presence noticed in the world of entertainment; he officially joined the industry in 1989. Debuting as an actor, Parker has over the years grown in his career to also become a screenwriter, producer, director, animator, and music composer. Notorious for his humorous profanity and vulgarity, Parker has numerous film and music projects to his credit including the popular South Park series and The Book of Mormon. Meanwhile, the personal life of Trey Parker has not been without numerous troubles. The multi-talented actor has been married and divorced twice; the latest being with his now-estranged wife, Boogie Parker (née Tillmon). Here are all the facts we know about her and their divorce.
Untold Truth of Boogie Parker (Tillmon) – Trey Parker's Wife & Their Relationship
Boogie Parker is a former sensational strip/exotic dancer. She is believed to have still been dancing when she met and started dating Trey Parker. Before her relationship and marriage to Trey Parker, Boogie was completely obscure to the media. She only earned her fame as the wife of the animator.
Trey Parker began dating Boogie Parker not long after parting ways with his first wife, Emma Sugiyama in 2008. However, several sources hold that Trey was already dating Boogie before ending his marriage with Emma, citing the extramarital affair as the major reason behind the divorce. Parker had married Sugiyama, a Japanese social sensation in 2006. The former couple had no child together.
In 2013, Trey and Boogie welcomed a daughter named Betty Boogie Parker. The pair subsequently tied the knot the next year, precisely on the 2nd of April, 2014. As earlier hinted, Trey Parker's marriage to Boogie is his second whereas it is the latter's first. Prior to marrying Parker, Boogie was known as Boogie Tillmon, "Tillmon" being her biological surname. She, however, replaced it with Parker following their union. Worthy of note is the fact that Boogie has a grown-up son named Kobe from a previous relationship. Following her marriage to Parker, Kobe became the Trey's stepson.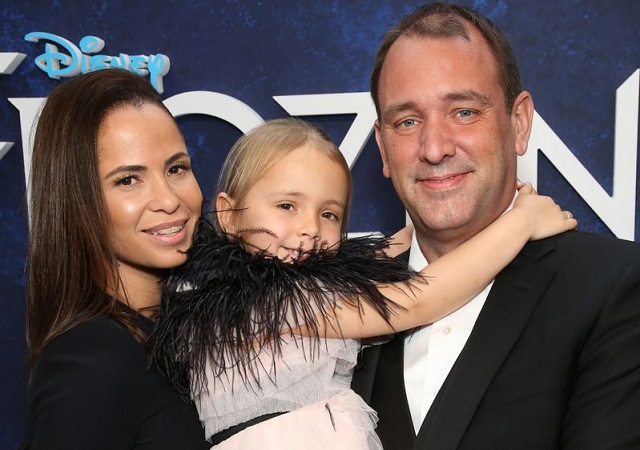 Unfortunately in 2019, Trey Parker and Boogie Parker separated. Many of their fans received the news with shock considering the close bond that apparently existed between the couple, especially as portrayed on their individual social media accounts. Just before the separation was announced, one of their latest updates even showed Parker giving Boogie a deeply romantic peck on the 2019 new year's eve.
See Also: Brenda Song – Bio, Age, Dating, Boyfriend, Married, Husband, Ethnicity
More Facts About Boogie Parker and Trey Parker's Divorce
So far, neither Trey nor Boogie has opened up to the public or the media the actual reason behind their separation. We have, however, gathered some facts about the divorce procedures.
To start with, Trey Parker was the one who actually filed the divorce application. According to a report initially released by The Blast, Trey submitted the legal application on the 5th of March, 2019 at a Los Angeles court, citing irreconcilable differences as the reason behind the separation. The couple stopped living together starting from February 28th, 2019.
Trey also moved for the termination of any kind of spousal support as well as joint custody of their daughter, Betty Boogie Parker. Betty has also played numerous voice roles on her father's TV series, South Park.
Meanwhile, Boogie signed a pre-nuptial agreement with Trey which seems not to be in favor of post-divorce spousal support. She is, however, hoping the court will let her have it as her soon-to-be ex-husband has an impressive net worth of about $500 million.
While the apparently amicable divorce procedure continues, Parker and his ex-wife, Boogie, appear to be getting along quite well despite being separated. In August, 2019, the estranged couple embarked on a family vacation together in Hawaii. Each member of the estranged couple posted photos from the vacation on their Instagram pages. The posts show them in a very good mood together with their daughter.
So far, Boogie and Trey have reached a joint child custody agreement. The agreement which includes both legal and physical custody would have Betty spend equal number of the days of the week and holidays of the year with each parent. The soon-to-be ex-couple however, continues to post family photos on their individual social media accounts.