Brandi Carlile is a folk-rock and Americana singer/songwriter whose love for music was so strong that she dropped out of high school to pursue her dreams of becoming a singer. She released her debut album "Brandi Carlile" in 2005 but earned wider recognition with the single "The Story" (2007), from her second album of the same name.
At the unveiling of the 2019 Grammy nominees, Brandi emerged the most-nominated female of the 61st annual Grammy Awards with a total number of six nominations for her latest album, By the Way, I Forgive You. 
Brandi Carlile was born on June 1, 1981, in Ravensdale, Washington, United States. The daughter of singer Teresa Carlile, Brandi grew up alongside her brother Jay and sister Tifanny and as kids, they played in the woods, built forts and played music together.
Having a singer as a mother rubbed off on Brandi as she became interested in singing and taught herself to sing when she was just a little girl. At the age of eight, she began singing country songs on stage and at one time, performed Johnny Cash's "Tennessee Flat Top Box" with her mother.
She started playing the guitar and writing songs at age fifteen and at sixteen, she became a backup singer for an Elvis impersonator. The singer revealed that she was diagnosed with an attention-deficit disorder as a teen while attending Tahoma High School. Consequently, she dropped out to build her career in music. While honing her skills, she was introduced to the music of Elton John and afterward, she taught herself to play piano, and later the guitar at 17.
Brandi Carlile kicked off her music career performing in music clubs in Seattle alongside the twin brothers, Tim and Phil Hanseroth. In 2004, she was signed on to Columbia Records on the basis of the songs she had been recording at home from time to time. These songs, together with newly recorded tracks formed her debut major label album which was released in 2005 in the self-named album Brandi Carlile. Although it received critical acclaim, its commercial success was limited.
Not too long after the album was released, Brandi left her Seattle home and set out with the Hanseroth brothers whom she had worked with on her earliest recordings and independent regional tours. The trio spent roughly two years going on tours, perfecting the songs which eventually became part of Brandi's second album, The Story (2007), produced by T Bone Burnett.
The album took the 41st spot on Billboard 200 and number 10 on U.S. Rock Albums and as a result of the lead single "The Story", Brandi Carlile earned wider recognition. In 2017, The Story was awarded gold status as it has sold more than 500,000 copies to this day.
In 2009, she released another album titled Give Up the Ghost. The album which made its debut on the Billboard 200 was produced by Rick Rubin, a Grammy Award-winning producer. About two years after, she released her fourth album, Live at Benaroya Hall with the Seattle Symphony which peaked at number 14 on the Top Rock Albums chart. In the United States, the album made it to the 63rd position on the  Billboard 200 and number 5 on the U.S. Billboard Folk Albums chart.
Brandi Carlile released her next album, Bear Creek, on the 5th of June 2012 and on March 3, 2015, her fifth album, The Firewatcher's Daughter, was released on ATO Records. The latter peaked at number 9 on the Billboard 200 and earned her a Grammy nomination for Best Americana Album.
In 2017, the talented singer produced the third album by The Secret Sisters titled You Don't Own Me Anymore. It was released on June 9, 2017, and was nominated for the Grammy Award for Best Folk Album. Meanwhile, before then, she released a charity tribute album named Cover Stories, Brandi Carlile Celebrates 10 Years of The Story, An Album to Benefit War Child. The album featured 14 artists including Adele, Pearl Jam, and Dolly Parton who covered tracks from her 2007 studio album, The Story. 
Brandi released her most recent album, By the Way, I Forgive You, on February 16, 2018. It generally received good reviews from critics and was a huge commercial success in addition to being Brandi Carlile's highest charting album since the beginning of her career, debuting at #5 on the Billboard 200 and #1 on Billboard's Top Rock Albums.
Over the years, Brandi Carlile's music has been grouped in different genres including pop, rock, alternative country, and folk. But speaking of her style, she said she has gone through all sorts of vocal phases, from pop to blues and R&B, but no matter what she does, she just cannot get the country and western out of her voice.
Apart from music, Brandi has also been involved in a number of humanitarian activities through her non-profit organization, Looking Out Foundation, established in 2008.
Who's The Wife – Catherine Shepherd?
Speaking during an interview in November 2002, Brandi Carlile identified herself as a lesbian. She announced her engagement to her partner, Catherine Shepherd, in June 2012 and on September 15, 2012, they got married in Boston, Massachusetts.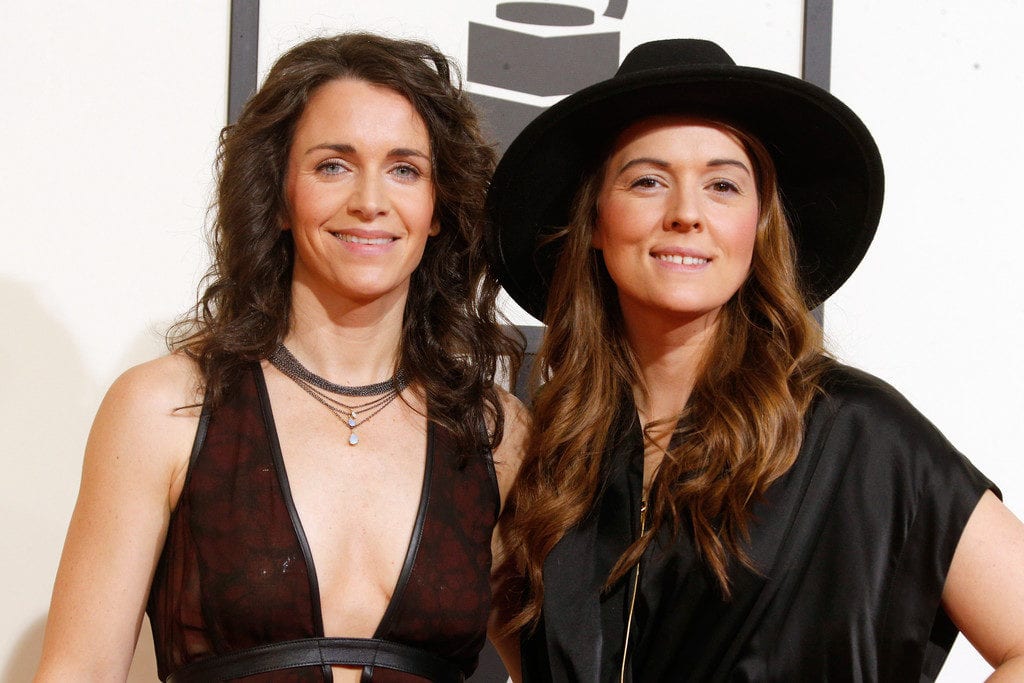 Brandi met her wife while working for Paul McCartney, an English singer/songwriter, multi-instrumentalist, and composer who became famous for being the bass guitarist and singer for the rock band, the Beatles.
Catherine worked as the charity coordinator for Paul McCartney and through Brandi's Looking Out Foundation, she became interested in one of their campaigns. Consequently, she offered to donate materials from Paul McCartney's foundation to auction off in order to raise money for Brandi's campaign.
The duo communicated a lot over email and later, Catherine traveled to the US to do some work for Paul in New York City. There, they met backstage at one of Brandi's shows and their relationship continued from there.
Even though Catherine is not into music professionally, she plays guitar and sings really well according to her partner.
The couple welcomed their first child, a daughter named Evangeline Ruth Carlile, on June 15, 2014, and in February 2018, Carlile, through Instagram, announced that their second child was on the way. On March 18, 2018, Brandi Carlile's wife gave birth to Elijah, their second daughter.