Brandon Arreaga is known for being a member of the boy band PRETTYMUCH but most of the fame he enjoys today is as a result of Simon Cowell, the English producer. The musical star, like many other musicians, is where he is in his career endeavors for the hard work and talent he puts in but the investment that Cowell has put in a lot of stars like him cannot be ignored. Is Brandon Arreaga dating anyone at this time? Let's find out who.
Career Achievements
This musician was born Brandon Michael Lee Arreagato Chris and Gina Arreaga, on the 14th of December 1999 in Dallas, Texas. Brandon is one of the two children his parents have with the other child being Halie, his elder sister. He was homeschooled by his parents, but by the time he was in the sixth-grade, he was enrolled in a public school, Hawk Elementary which is located in Corinth, Texas.
As a child, Brandon Arreaga had always had an interest in music, and by the time he was six, he could already play the piano. In a couple of years, he could also play the guitar. His pursuit of a musical career saw him build a recording studio when he twelve. Not only would he record his own songs but he also charged other artists who wanted to use his recording studio. Although Brandon Arreaga enrolled in a school when he was in the sixth grade, he dropped out of Hawk Elementary by the time he got to the eighth grade, all in a bid to have a career in music.
It was in 2011 that he got his first opportunity to announce his talents to the world and this opportunity came with his casting on the show Majors and Minors. This was a talent competition for singers; the ultimate prize was a partnership with RCA Music group. And even though Arreaga did not win the competition, it did not dampen his passion as he continued to find a way to be involved in the music scene.
Slowly he started to get noticed for his talents, as he started to upload videos of himself performing covers; most of these covers were uploaded to YouTube. His covers on YouTube led to him be discovered by Simon Cowell.
Cowell has always been a big wig in the music industry, particularly for his skill as a talent manager. In 2016, he wanted to create yet another boy band, and during his search for viable members for the band, he discovered Brandon Arreaga. When Cowell reached out to Arreaga for a position for the band, the musician had to perform an audition which he did in March of 2016. By the end of that year, Brandon Arreaga relocated from Texas to Los Angeles as he had become a member of the newly created band PRETTYMUCH. All five members of the band were leading solo careers until Cowell put them together, currently, they reside in the same house where they rehearse their dancing, hone their singing and also record their music.
PRETTYMUCH an EP which is the band's first body of work was released in 2018, by the following year they had released Phases EP. They also have seventeen singles and have made twelve music videos. Prior to the release of their first EP in 2018, they had released four singles. Their biggest song is Phases which is on the Phases EP. All the work the band is doing is not going unnoticed as they have been receiving award nominations for their music, none of which they have won yet.
Brandon Arreaga who was raised in the Christian faith continues to toe that line of religion and he is one of the biggest stars who work with AMTC – a talent company for Christians who work in film and music.
Read Also: David Guetta – Bio, Net Worth, Age, Wife or Girlfriend, and Family Life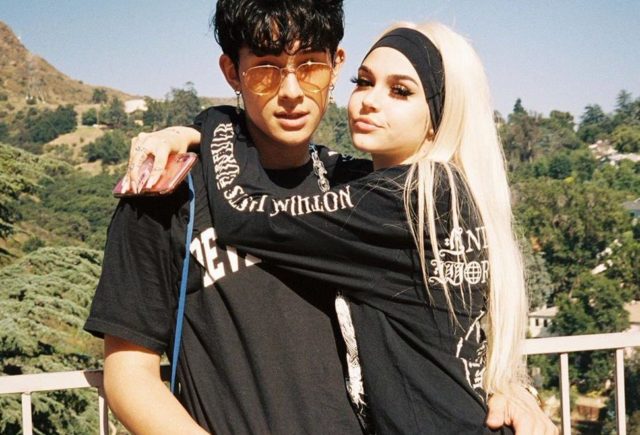 Is Brandon Arreaga in a Relationship or Dating Anyone, Who is The Girlfriend?
The question – is Brandon Arreaga dating? is a question that comes along with being famous as fans would dig in to know all about their favorite celebrity. In the time that he has become famous, Brandon Arreaga has been romantically linked to two women. The first of the two is a girl called Charlotte Dean. They started dating in 2017, it is not clear how they met or started hanging out but a year into the relationship, they broke up, the reasons for their breakup is also not known.
Maggie Lindemann, a musician just like Arreaga, is the second person he has been in a relationship with, their relationship which is still going on started in 2019.