Brenda Warner is a former US Marine Corps, a licensed nurse, philanthropist, and a New York Times best-selling author. Nonetheless, she is most famous for being the wife of the NFL legend, Kurt Warner. Also a public speaker, Brenda has found a purpose in sharing her life story to inspire women facing various challenges across the nation. Being a devout evangelical Christian, her message of faith and hope have permeated family life, finance, and motherhood.
More than that, Brenda is the mother of seven children. She and her husband have initiated philanthropic activities that help families cope with the cost of catering for their children with special needs. As you would soon learn, Warner's story is an inspiring tale that justifies the audacity to hope for better days while drowning in poverty and tragedies.
Financial Struggles Made Her Join The US Marines 
Brenda Warner was born in Parkersburg, West Virginia on June 17, 1967. She was raised on a farm in Iowa where her father managed the land of a rich business owner, in addition to the factory job the man kept.
Her mother was more of a housewife and although there was so much love in the family; they consistently battled poverty. Because of this, Brenda Warner decided to join the US Marine Corps after she graduated from high school.
It happened that she had witnessed her parents struggling to fund her sister's college education; so she decided to not constitute an additional financial burden and settled for the Marines. Also, her dad had served in the Marines and as she was very fond of the man, it was an easy choice to make. She served in Japan and was honorably discharged to care for her son.
First Marriage With an Unfaithful Spouse and How Brenda's Son Made Her Become a Nurse
She met her first husband named Neil while in service. Together, they had two kids, including a son named Zachary who was born in 1989.
While Neil was bathing Zack their first child, he accidentally dropped the baby who was only four months old; the consequence was devastating. The incident damaged the left portion of Zack's brain and left him blind.
The couple's second daughter named Jesse was born in 1992 but Brenda and Neil were no longer together at that point. When she was eight-months pregnant with Jesse, Brenda uncovered that her husband was cheating on her so she left him and moved in with her parents; the union eventually ended in a divorce.
Things were very hard for Brenda Warner after the end of her marriage to Neil and they only got worst with the birth of Jesse. It was so bad she had to rely on the nutrition program of the government (food stamps) to survive. Meanwhile, she began sponsoring herself through nursing school so that she would be able to provide her son the nursing care he would need for the rest of his life.
Meeting Kurt Warner Dragged Her Into The Limelight
Brenda Warner met Kurt while she was a nursing student, thanks to her mother. As the story goes, the older woman dragged her to a country bar where she met the college student who would later become an NFL star and her husband.
Meeting Kurt, Brenda immediately informed him that she was a divorcee with two kids, believing it would scare him away. But Kurt visited her the following day with a rose, met her kids, and it sealed their fate.
They got married on the 11th of October 1997 at St. John American Lutheran Church. Kurt adopted his wife's two children from her first marriage and they gave birth to another five kids named Kade, Jada Jo, Elijah, and Sienna and Sierra (twins).
Brenda Warner Faced Another Life Challenge When She Lost Her Parents 
Brenda Warner's parents were killed in 1996 when their Mountain View, Arkansas home was ravaged by a tornado. She received a call from her sister that their father and mother were both killed and as one would expect, it devastated Brenda.
As she would later admit, the unexpected passing of her parents was one of the hardest things she has had to deal with. It made her angry with God and she almost lost her faith as she believed God could have saved at least one of them.
Their funeral service was held at St. John American Lutheran Church; the same place Brenda and Kurt exchanged vows a year later.
Defeating Poverty and Building a Better Life With The NFL Star 
The couple had their fair share of hardship before things improved for them. As Warner went undrafted in the 1994 NFL Draft, he had to look for other ways to make a living while pursuing his NFL dream.
He worked as a graduate assistant coach at the University of Northern Iowa and run night shifts stocking shelves at a grocery store. They couldn't even afford a home at this point as they lived in Brenda's parents' basement.
Over the years, however, they have grown to become a celebrity couple and are well off today. While Brenda has thrived in various fields, Kurt has had an incredible career that's financially rewarding, leaving him with a net worth estimated at $30 million.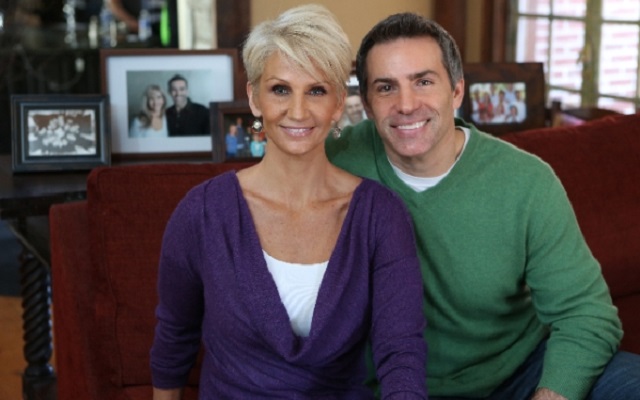 In 2001, Brenda and her husband co-founded the First Things First Foundation; an organization that promotes Christian values and helps the less fortunate. As vice-president of First Things First, Brenda joined Kurt in co-authoring their 2009 book titled "First Things First – The Rules for Being a Warner." The book debuted as an instant New York Times Best Seller.
Brenda Is Now a Photographer and a Welder
She is a gifted photographer and focuses on portraits. Her photos have been published in the New York Times and other major publications. She loves taking pictures of the babies she cares for at a local rehabilitation hospital where she volunteers weekly.
Brenda Warner is also passionate about metal art which drove her into becoming a welder. She spends most of her time gathering rusted scraps and creating metal art pieces out of them.