Brent Hatley is an American radio broadcaster who made his name working as a senior producer and contributor for the Howard Stern channels at Sirius XM in New York City. He was part of the uber-popular radio show for six years before he announced his exit in March 2020.
It came as a shock to many and since then, people have wondered what the skilled on-air talent would move on to as much as they have been inquisitive about what inspired his departure, it appears we finally have the answers.
The Former Radio Producer Now Has a Show on Twitch TV
After he announced his exit from the Howard Stern channels, it did not take long for fans to learn of Brent Hatley's next professional gig. Following years of working as a sidekick, he now has his own thing, a Twitch TV program titled The Brent Hatley Show.
On the channel which he launched in April, he serves as talk show host and producer. While the channel is still in its cradle stage, it will consist of various programming, including specialty shows with his wife, Katelyn. The Brent Hatley Channel will run from Monday to Friday from 3 PM Eastern to 6 PM Pacific.
Some of the titled shows on the channel include Hunting The Beast, Yoga with Katelyn, Know It All Sports, and many others. According to Brent's website, the channel will also feature live content on the weekends from concerts, bikini beach volleyball, pool parties, and several more. It sounds like the producer/on-air talent landed on his feet despite his mysterious exit from the Howard Stern channels.
Brent Hatley May Have Left SiriusXM Over Incidents Involving His Wife
Usually, when a significant contributor to a popular media project leaves, there is an official reason why it had to happen. However, that was not the case when Brent Hatley announced his exit in an Instagram post on March 11.
The lack of official reason sparked speculation that he may have left because of his wife's sexcapade. While he was on the show, Brent shared that he and his wife are swingers. He also disclosed an encounter between his wife and a porn star named Jackhammer.
The gist of his swinging lifestyle became the focal point of the show, and he left the show shortly after, leading to the rumors. However, Brent has since denied that to be the cause. He claimed he and his wife are on good terms with everyone, including the porn star.
However, he did suggest things were not right in his personal life in a tweet on May 27. Brent did not elaborate on the tweet, but it could lend credence to the idea that personal issues forced his exit from the show. One other possibility is medical reasons. Brent had opened up earlier in the year that he suffered from excruciating migraines.
They had been a fixture in his life since he was 14 and its getting worse. He has seen a specialist for it and taken his advice for a lifestyle change. Before the advice, Brent overconsumed diet soda and ibuprofen. But while it may not be a sufficient explanation for his exit, his improved health condition has enabled him to continue with his media career which began in 1993.
He Served in the Marine Corps Before Taking Up Life as an On-Air Talent
Popularly known as the Ballard, Brent Hatley was born in Saint Petersburg, Florida, on June 17, 1971. He attended Northeast High School, graduating in 1989. He later enlisted for the United States Marine Corps, where he served as an Aviation Operations Specialist between 1989 and 1993.
Towards the end of his time in the US Military, Brent began preparing for life after it. He studied Criminal Justice at Irvine Valley College and Philosophy at St. Petersburg College from 1992 to 1993 and 1993 to 1994, respectively. During his time at Irvine, he also took broadcasting classes, earning an FCC License in Radio Broadcasting from the Academy of Radio and Television Broadcasting.
In the US Navy, he received a Navy Achievement Medal for leadership during Operation Desert Storm in 1991. He began his media career at WXTB-FM as a promotions assistant & part-time air talent. He went on to work with other major broadcasting corporations such as Cox Radio, Citicasters, iHeart Radio (formerly Clear Channel), and Great American.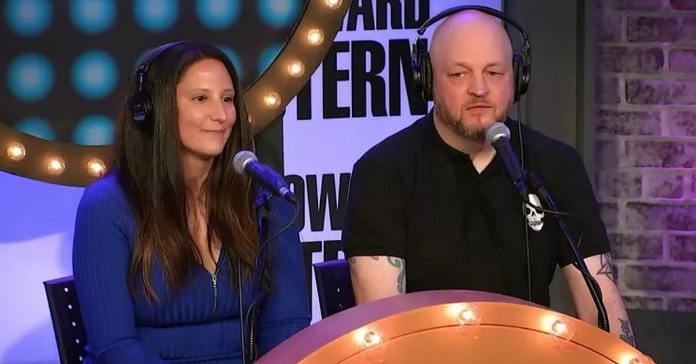 He spent almost nine years with iHeartRadio as an executive producer before joining SiriusXM in the same role in July 2005. Although he left after five years, during which he worked for other broadcasters like Bubba Radio and Sun Broadcast Group, he returned to SiriusXM in August 2014.
Brent Hatley spent another five years working for the broadcaster as a senior producer and on-air talent before moving on to launch his own venture with Twitch TV in March 2020.
Brent's Wife Is 10 Years Younger Than Him
Brent Hatley has been married to Katelyn Hatley since November 25, 2016. After dating for about a year, the couple wedded in a private ceremony. Now married for a few years, the pair has not made any announcements about starting a family.
Sadly, when it comes to Katelyn, there is little we know of her life before she met Brent. In fact, we have not learned much about her life since they got married, only a few details that point to the dynamics of their marriage. We know that she is ten years younger than him, and they are both sexual deviants.
Brent and Katelyn revealed that they are swingers: they have sex with other people in their marriage. But it is one of the tamer aspects of their sexual history. They have freely shared graphic details of their sex life on The Howard Stern Show to shocking and hilarious reception.
A Look at What Katelyn Does for a Living
As for Katelyn's profession, while her education background remains a mystery, she can be described as a media personality. Aside from her appearances on The Howard Stern Show and The Brent Hatley Channel, she also has a Cameo account, where she gets paid to record personalized messages for fans.
Speaking of personalized content, Brent's wife also has an OnlyFans account. It allows her to earn money for her sexual nature which she has freely talked about on shows.
Brent's marriage to Katelyn is however not the radio broadcaster's first try at marriage. According to sources, Hatley had been married to a woman only identified as Amanda, whom he reportedly divorced because she cheated on him with a co-worker.