From being a player to eventually becoming a head coach, Bret Bielema is an icon who has achieved many remarkable feats in the sport of American football. He has also managed to carve a niche for himself at the college level, having coached many college teams including Iowa Hawkeyes, Wisconsin Badgers, and Arkansas Razorbacks.
Bielema has won many astounding awards in his career, some of which include clinching the Super Bowl title (LIII), becoming a three-time Big Ten champion, as well as 2006's Big Ten Coach of the Year. He has also set several records including being the first head coach in the annals of Big Ten to win ten games in his first season, the first coach in the annals of UW to win eleven games in the regular season, the third coach in the annals of NCAA to win 12 games in his debut season as a coach, among several others.
All these glowing achievements have made Bielema a notable figure in American football. It, therefore, made quite a splash when it emerged that he had embarked on a legal battle against one of his former employers. The battle has kept analysts quite busy with many pointing out that it is symptomatic of a collegiate division that thinks that they can solve their problems by throwing money at it.
Going From A College Player At The University Of Iowa To A Coach 
Position
Bret Bielema's route to becoming a famed football coach can be traced back to his college days at the University of Iowa. While in the university, Bielema played as a defensive lineman under the tutelage of coach Hayden Fry. He later rose to become the team captain in his senior year of 1992. Following his graduation from college, Bielema had a brief stint as a player at AFL's Milwaukee Mustangs. He, however, did not make much headway and decided to try his hands at coaching.
The defensive linesman returned to his alma mater and utilized his good standing to gain a job as a graduate assistant in 1994. From this position, he was able to work his way up to the team's linebackers coach in 1996. He would retain this position for the next five years before bidding farewell to the institution in 2001. Upon departing Iowa, Bret Bielema had brief stints as the defensive coordinator for Kansas State University as well as the University of Wisconsin. He impressed many at the latter and was rewarded with their head coach position in 2006.
Dominating the Big Ten Conference With The University of Wisconsin
The 2006 appointment marked the first time that Bret Bielema would be tasked with a head coach position and he threw himself into his duties with much fervor. He repositioned his team to effectively perform and the team went on to win an outstanding 12 out of 13 matches. They then crowned their glorious season with victory in the Capital One Bowl in January 2007. Bret Bielema and the Wisconsin Badgers would continue in this stead throughout the remaining five years that he spent with them.
Even though he did not repeat the awesome win-ratio of his first year, his team still went on to emerge champions in the Big Ten Conference on three occasions. He personally recorded several individual achievements including winning the 2010 Big Ten Coach of the Year. He also set several records including becoming the first coach in Wisconsin to win eight games in his rookie season, the third coach in Wisconsin to win his first three games, and the first head coach in the annals of Big Ten to win ten games in his debut season.
His Five Year Stint With The University Of Arkansas
Following a desire to get a taste of the action in a different Conference as well as negotiate better pay for his assistants, Bret Bielema left the University of Wisconsin for the University of Arkansas in December 2012. Inheriting a team that was severely lacking in many areas, the coach could only manage 3 victories out of 12 matches in his first season. This terrible start made many to demand his head but the school authorities kept faith with him. He, in turn, rewarded them by returning with a much-improved 7 victories in 13 matches as well as a Texas Bowl trophy.
Bret Bielema and his team maintained this winning form for the next two years (2015 and 2016) during which they also won the Liberty Bowl against Kansas State University. Their fortunes however deteriorated in the 2017 season, 8 losses out of 12 matches, and he was fired that same year.
His NFL Berth And His Lawsuit Against His Former Employers
Was able to catch up with these Dolphins Monday and others on Patriots side as well! @wisehog94 @SweetFeet_White @AJ_Derby @drewmorgan15 pic.twitter.com/axs2nHCg9U

— Bret Bielema (@BretBielema) December 13, 2017
Following his sack by the University of Arkansas, Bret Bielema tarried for a little while in the jobs market before being appointed as a defensive consultant for the NFL team, the New England Patriots, in 2018. He spent two years with the franchise during which he contributed to the defensive expertise that helped the Patriots beat out the L. A. Rams and win Super Bowl LIII in February 2019.
Bret Bielema currently serves as the outside linebacker coach for the New York Giants. He joined the NFL team in January 2020 and receives a salary that hovers in the $50,000 region; that salary is part of several things that motivated his present ongoing legal dispute with the University of Arkansas.
In order to understand this dispute, it is important to know that coaching contracts are for a specified period with a specified sum. It, therefore, means that if the team were to fire the coach before the contracted period is up, they would pay him the remainder of the contract. The team can, however, insert a clause that can limit some of its liabilities.
This is exactly what transpired in Bielema's case. Upon being fired in 2017, he and the University of Arkansas agreed that they would pay him $12 million spread out at $320,833 per month. They, however, inserted a clause requiring him to show that he was making serious efforts to get another job, or even if he gets another job, they are not paying him a commensurate salary.
Arkansas stuck to their words and paid Bret for several months after his sack. They, however, stopped payment in January 2019 asserting that he deliberately agreed to receive a lower salary from his new employers in order to be still eligible to receive the monthly payouts. Bret didn't take this lightly and filed a suit in June 2020, asking for the remainder of the money they owed him.
He made several assertions including the fact that he sought several jobs but wasn't employed. He also faulted Arkansas for including a buyout chart that was not previously in the contract. There is no decision on this matter at the moment but analysts have pointed out that this is one of the major problems of college football – schools don't do good research in hiring coaches and have to pay them millions to go away.
The Three Ladies In Bret Bielema's Life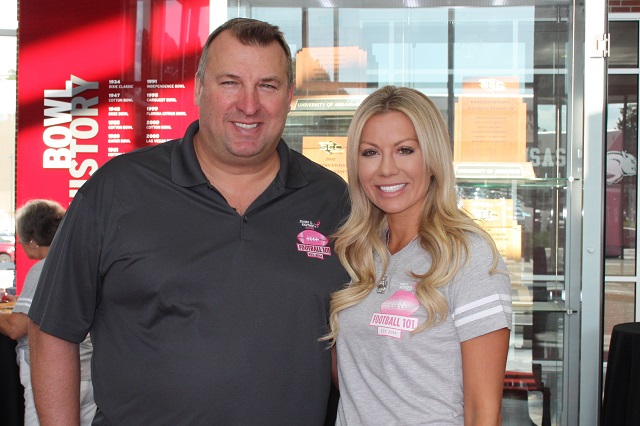 Bret Bielema is married to a former professional model named Jennifer Hielsberg. Jennifer is a native of Tampa, Florida, and was born in 1985. She holds a degree in psychology from the University of Wisconsin. Prior to her marriage to the famed college coach, Jennifer was a model who worked for various modeling agencies. She was also a businesswoman who has worked for many financial institutions.
Bret and Jennifer first crossed paths at a Las Vegas casino in 2008. They struck up a relationship that same year and dated for three years. They then got engaged on the 1st of April 2011. The couple later solemnized their union on 11th March 2012 in a private ceremony held in Madison, Wisconsin.
Bret and Jennifer now have two daughters, Briella Nichole Bielema – who was born on 8th of July 2017, and Brexli Nichole Bielema – who was born on 18th March of 2019. Jennifer maintains a relatively low profile and is content to just share pictures of her family on social media.