Following the birth of Brett Hundley on June 15, 1993, in Phoenix to a sporty American family, his parents joined thousands who hoped for their child to play in the world's most prominent football league. His mom is April Hundley and his dad, Brett Senior, was an active footballer during his heydays.
It wasn't just his parents either. His uncle, Albert Hundley played for Wichita State University and was a prominent player for the team. Between the weight of following in the family's profession and the pressure of reaching the pinnacle of his career, Brett Hundley's career successes have been an inspiring story, one that began in Chandler High School.
Brett Hundley was a Highly Ranked High School and College Football Player
Brett wouldn't have gone pro as a footballer if he had not made the best of himself during his days as a student-athlete. During his junior days at Chandler High school in Arizona, he was detailed as a young, determined footballer and scored 107 passes for 1,517 yards. He also had 16 touchdown passes in addition to two interceptions as a junior.
His stats in his senior year improved as he recorded 139 passes for 2,348 yards with 20 touchdowns and two interceptions. With such a glaringly remarkable performance, he bagged a lot of accolades. Soon he left for college and proved his relevance with the University of California team (UCLA).
Three Years of College, Three Years of Excellence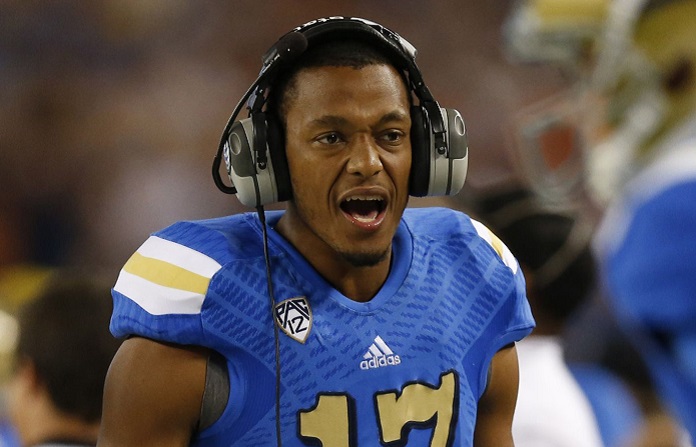 He redshirted in his first year of college, but in his second year, he was named the starting quarterback. In his very first game, he proved why Rivals.com ranked him as the second-best dual-threat quarterback in his class. He made a 72-yard run for a touchdown that earned him team victory. Brett's excellent performance continued throughout the season, achieving feats like helping the Bruins to their first victory over the USC Trojans in six years.
He finished his first season with a loss at the PAC-12 Football Championship Game. Individually, he set a single-season passing record at 3,740 yards. Things got even better in his second year when he led the Bruins to victory at the Sun Bowl and got named as a co-MVP with his teammate, Jordan Zumwalt.
A slow start to his third season as a college player turned around midseason. He finished his college career with 3,155 passing yards and 271 completed passes from 392 attempts. He also scored 22 touchdowns. Overall, Brett Hundley played 40 college games, scored 75 passing and 30 rushing touchdowns with 9,966 passing yards. His passing record placed him as the school's second all-time player in its entire history.
Brett Hundley has Played for Three Teams in the NFL so Far
Relatively speaking, it is still early days in Brett Hundley's career in the National Football League, but he has surpassed the average number of years (3.3 years) drafted players spend in the league. In that time, he has also played for three teams, Green Bay Packers, Seattle Seahawks, and Arizona Cardinals.
Green Bay Packers (2015 – 2017)
Upon graduation from UCLA, the Green Bay Packers made his dream of going pro a reality after the team selected him in the fifth round of the 2015 NFL draft. He signed a four-year deal with the team and became the third-string quarterback.
Brett did not play a single game in his rookie season. In his sophomore season, however, he played four games, completing a dismal two out of ten attempted passes. Hundley's third and last season for the team saw him play 11 games, starting nine of them. He replaced Aaron Rodgers after he suffered a broken collarbone during a game against the Minnesota Vikings.
Brett took a modest advantage of the opportunity, recording 192 completed passes out of 316 attempts. He also had nine passing and two rushing touchdowns. At the end of his third season, he finished with 1836 passing yards and 270 rushing yards. Before the start of the new season, the Packers traded him to the Seattle Seahawks.
Seattle Seahawks (2018)
Brett Hundley's dreams of staking a place as a first-choice quarterback did not materialize at the Green Bay Packers. Following his trade to the Seattle Seahawks for a sixth-round pick in the 2019 NFL Draft, it did not change either. He did not play a single regular-season game for the team before his subsequent move to the Arizona Cardinals.
Arizona Cardinals (2019 – Present)
As a free agent, following the end of his original four-year contract with the Packers, he signed a one-year contract with the Cardinals on March 2019. The deal, worth $1.88 million, made him a backup quarterback to Kyler Murray, the rookie QB signed by the team in the 2019 NFL Draft.
Ten months into his new deal in December 2019, Kyler suffered a hamstring injury, giving Brett Hundley his chance to play for the team. He played two games, the first against his former team, the Seattle Seahawks. He completed four out of nine passes for 49 yards and rushed 35 yards, helping the Cardinals to a Week 16 victory.
Despite not getting a lot of time to play for the team, the Cardinals resigned him to another one-year deal in March 2020.
Brett Hundley's Marriage to Dawnielle Baucham
Brett Hundley's love tale sounds like most fairy tales told in history that later ended sourly. He married his then-girlfriend, now ex-wife Dawnielle Baucham in 2016, and a year later, in 2017, they renewed their vows.
Dawnielle was a college athlete at UCLA where they met. She ran track in high school, at Junipero Serra High School, where she was part of the school's 2011 California State Championship winning team.
At UCLA, she was part of the school's sprint team and 400-meter hurdles team. She also graduated with a degree in philosophy. A year after Brett Hundley and Dawnielle Baucham got married, she started a music career, under the stage name, Dionne Anylah.
The couple had their wedding at Santa Barbara, on July 8, 2016, and four years after, the couple separated, and are in the middle of a controversial lawsuit.
Dawnielle Sued Him for Infecting Her with STDs
There have been numerous stories of celebrity divorces over the years, and in 2020, it was the turn of Brett Hundley and Dawnielle Baucham. His ex-wife filed a lawsuit accusing the Cardinals quarterback of infecting her with STDs.
According to court documents filed for the suit in April 2020, Baucham claims he infected her with chlamydia after he returned from a trip to Las Vegas for a bachelor party. According to her, he had sex with an unknown number of women and got infected with the disease.
Although his infidelity did not lead to divorce at the time, an argument over the origins of the STD led Brett to grab and chokeslam her onto their pool table. Dawnielle claims she suffered mental trauma and a broken ankle from the incident, and it was one of a couple of domestic violence against her during their marriage.
In response, Brett's attorneys claimed Dawnielle threatened to file the lawsuit unless the quarterback paid her a sum of $750,000. According to them, she had received over one and a half million dollars from their divorce and gets an additional $13,000 in monthly spousal support. So far, Brett has refused to pay, and his attorneys intend to countersue.