Bri Winkler is best recognized as a weather girl for ABC7 Eyewitness News. The LA meteorologist doesn't just love chasing storms but also takes pride in notifying and educating the public on different weather conditions. Here's all you need to know about the ABC7 broadcaster who has survived a life-threatening illness and continues to weather storms both professionally and personally.
Bri Winkler Biography
Bri Winkler from south-eastern Massachusetts was born on October 25, 1988. There is no information readily available regarding her parents, family background, early life, and elementary education. While it is uncertain if Bri has other siblings, it is no secret that she has a sister, Tara Riggs. For her tertiary education, Bri studied Marine and Atmospheric Science with a minor in Mathematics and Communications at the University of Miami.
Career
Bri began her broadcast career right after graduation. Fresh from college, she landed her first job with KAMR-TV, a Texas-based NBC affiliate TV station in Amarillo. She served as the network's morning meteorologist as well as a co-host for one of its popular shows. As a weather forecaster with the station, part of Winkler's duties was chasing storms. In addition to informing and educating the public on weather conditions, Bri also reviewed consumer products on the network's Does It Work show.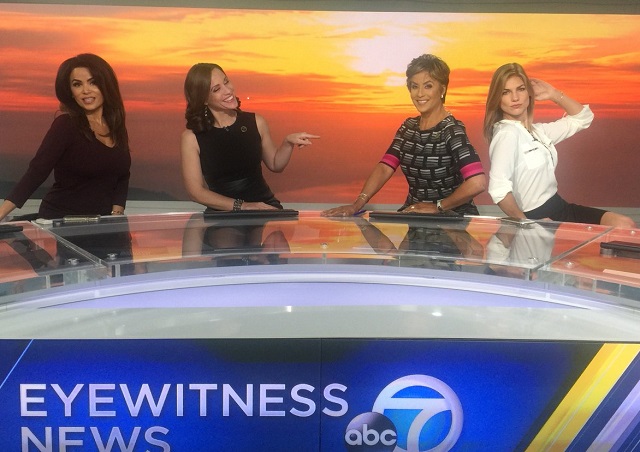 Bri Winkler currently works as a morning meteorologist for ABC7's Eyewitness News. She joined the media outlet in 2011 and has served in different capacities. Besides reporting weather news, she has worked on local radio shows, and also featured on Good Morning America.
See Also: Caribe Devine – Bio, Age, Ethnicity, Husband of The Famous TV Anchor
In July 2017, Bri announced that she was leaving TV to return to school. In a message posted on her Instagram page, the broadcaster disclosed that she was temporarily forfeiting her lucrative salary at ABC7 to go earn a Masters Degree in Environmental Science. Winkler left a huge vacuum in the station but her colleague and weekend anchor Leslie Lopez has successfully taken over the reins until she returns in a fill-in capacity.
Health Challenge
In 2012, Bri Winkler was unexpectedly hit with a stroke while still in her early twenties and in her prime. The illness first began with a severe headache which forced the broadcaster to do a CAT scan. When the results came back clean, her doctors presumed it was a viral infection and prescribed some painkillers for her. Sadly, weeks went by and Bri was only getting worse. After noticing a slight hearing loss in her right ear, numbness in her face, right arm and leg one early morning, Bri was alarmed and quickly called her sister who then called in paramedics.
Bri was checked into the hospital in a much worse situation that left her partially blind and with a slurred speech. Further CAT scans later revealed that she not only had a tear in the carotid artery lining but also a blood clot in her brain. Subsequent treatments broke down the blood clots and helped Bri recover fully from the illness within a few days. Though doctors are still uncertain of the exact cause of Bri's stroke, an MRI scan revealed that she had no permanent brain damage.
Husband
Since she became a public figure, many have been curious about Bri Winkler's personal life. While the LA meteorologist has not publicly disclosed details of her love life, we do know that she has never been married nor does she have any kids yet. However, it is no secret that Winkler is currently engaged and is set to walk down the aisle with her boyfriend whose identity has not been made public knowledge. After surviving a life-threatening health challenge, Bri became increasingly endearing to fans who only wish the best for her both professionally and personally.
Is She Related To Henry Winkler?
Given their surnames, it is unsurprising that many have wondered if there is any biological or family link between the ABC7 weather girl and veteran actor Henry Winkler aka 'The Fonz' of the hit '70s sitcom Happy Days. While Bri has sometimes been presumed to be Henry's daughter, our investigations reveal that they are not related in any way.
Other Facts
1. A stroke survivor, Bri Winkler is now an activist who actively spreads awareness by sharing her story at various platforms. As an ambassador for the American Stroke Association and member of the Western States Stroke Task Force, Winkler passionately educates the public on easy ways to detect the illness early including the Face drooping, Arm weakness, Speech difficulty and Time to call 911 (F.A.S.T.) technique.
2. In 2012, Bri Winkler was embroiled in a controversy in relation to her employment with ABC7. In a lawsuit filed by another meteorologist, Kyle Hunter who also applied for the same position as Bri, ABC7 was accused of taking preference in hiring only young and beautiful women for the post. Furthermore, the defendant alleged that Bri Winkler made no official application and did not also have the requisite experience for the post.
3. Bri Winkler stands at an average height of 5 feet 5 inches.
4. When she is not working, one of Winkler's fun activities is chasing storms in the High Plains.
5. After her health challenge, Bri began practicing yoga especially for its physical exercises that help her upper body.