We would refer Brigette Lundy-Paine as one of the stars who would definitely blow the minds of many with creativity in the few years to come just like Natalie Portman,  Scarlett Johansson, Jennifer Lawrence, Emma Stone, Gal Gadot, Alexandra Daddario, Megan Fox and the rest of them. She's barely up to a decade in the movie industry and is already pulling strings with her applauding performances on set. She made her film debut in 2015 and has gone ahead to bag other roles.
Some have downplayed Brigette Lundy-Paine's success by linking it to the affluence of her parents, however, her personal efforts in building her acting career are quite notable.
Brigette Lundy-Paine's early life
The actress was born on the 10th day in the month of August 1993 in Dallas, Texas. She is the only known child belonging to Laura Lundy and Robert Paine. Her parents are stage artists in the Bay Area, San Francisco and are well respected in the entertainment industry.
Not much is known about the actress's educational details as well as where she spent her formative years, however, with her parents being film stars one could almost say for sure that Brigette Lundy-Paine had all the parental care and love any child could ever ask for.
According to a few sources, the then-little Brigette Lundy-Paine had always wanted to be a scientist, however, no one knows what changed. She changed her mind and redirected her steps to acting making her first film appearance in the crime mystery drama, Irrational Man directed by Woody Allen in 2015. In that same year, she also starred in the television show One Bad Choice.
In 2016, she appeared in eight episodes of the TV show Margot in Margot vs. Lily starring as Maggot. Then, she went ahead to deliver an applauding performance in the biographical drama film, The Glass Castle (2017) playing as Maureen Walls. That role later cemented her place as Dusan's girlfriend in the film Downsizing.
Later in the same year, Netflix noticed the upcoming star and stole her away to their television series; Atypical. With Netflix, she gathered more fame and became a staple. Netflix also got stars like Jennifer Jason Leigh, Keir Gilchrist, Amy Okuda, and Michael Rapaport on board in the series.
The 2018 America Comedy film directed by Tim Kirkby in 2018, Action Point featured the actress as one of its cast. She starred alongside Johnny Knoxville, Chis Pointius, Conner McVicker and the rest of them. Brigette was given the role of Julia Clarke in the movie, Fair and Balanced and her filmography continues to rise.
What are her talents?
Apart from her acting gigs, Brigette Lundy-Paine is also a singer. She makes a few pennies working on live songs for a band known as Subtle Pride. The actress also co-founded an online art magazine known as Waif. She often described her online magazine has one that has the combination of Vogue and The New Yorker.
Does she have a boyfriend or husband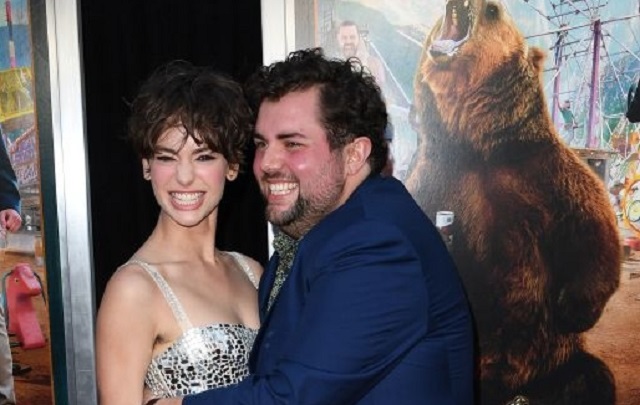 Brigette Lundy-Paine is unmarried but is engaged to American actor and comedian Joshua Hoover. The two announced their engagement on the 16th day of July 2017 on Instagram. There are no details of how they met but they have shown their love for each other on their various uploads on social media.
Meanwhile, sources say that the actress once shared something with Charlie Dan Joshua. No one knows truly if they dated or were just friends. She, however, took to her gram to post a couple of photos of themselves and on one occasion referred to him as "baby."
Net Worth
Brigette Lundy-Paine total net worth is yet uncertain, however, most movies that she has appeared in have been commercially successful. Atypical, the Netflix film that skyrocketed her fame hit over 249,000 views on Netflix's official YouTube channel in just a few days after it was released. The movie Irritational Man grossed over $27 million which is double of its budget. The Glass Castle which grossed $22 million was also a big hit. All of that said Brigette Lundy-Paine has most likely grabbed a spot in the millionaire's club.
Body Measurements
Paine stands at a height of 5 Feet 9 Inches tall. She has dark-brown eyes and often wears her brown hair in curls.