We are all familiar with professional wrestlers who have gone on to become WWE superstars but how many of these superstars can boast of having also conquered the mixed martial arts world? Well, if there is one man who has such bragging rights, it is former WWE and UFC heavyweight champion, Brock Lesnar.
Hailed as one of the biggest combat sports stars of his generation, Brock debuted as a wrestler with the dawn of a new millennium in 2000. He went on to enjoy a flourishing WWE career which saw him win several belts and set several records including being the first man to end the Undertaker's undefeated streak at Wrestlemania.
On the MMA front, Brock has also headlined several pay-per-view events and has emerged the universal UFC heavyweight champion. His UFC journey has also witnessed several controversies including serious health issues, an allegation of substance abuse, among others. These issues have taken their toll and have forced Brock into a seemingly endless cycle of retirements, comebacks, and retirements.
His Battle With Diverticulitis and Mononucleosis Contributed to his Quitting the Octagon the First Time
Brock Lesnar didn't walk away from the UFC because he had been defeated but rather as a result of the fact that he was dealing with some serious health conditions which significantly hampered his ability to perform. Lesnar's travails date back to November 2009 when he collapsed while vacationing in Canada. His loved ones immediately rushed him to the hospital where he was later diagnosed with a life-threatening gastrointestinal condition known as diverticulitis. The condition led to large pockets of fluid forming in his stomach which caused him excruciating pain.
Lesnar initially sought help in a local Canadian hospital but couldn't get what he needed as the hospital lacked the proper machines for the surgery. He was later transported back to North Dakota and underwent a life-saving surgery that drained about 3 pockets of fluid from his stomach. The doctors subsequently patched up a perforation in his intestine that had been leaking fecal matter into his abdomen. Upon release from surgery, Brock Lesnar was quite frank about what he had gone through and praised the American healthcare system for coming to his rescue.
He then returned to the octagon in July 2010 and was able to defeat Shane Carwin for the undisputed heavyweight title. He however suffered another bout of diverticulitis in May 2011 and his next two matches ended up in defeat. It was quite obvious that the illness had taken a toll on him and so he unceremoniously announced his retirement after being defeated by Alistair Overeem in December 2011. He stated that this would be the last time he will be seen in the octagon.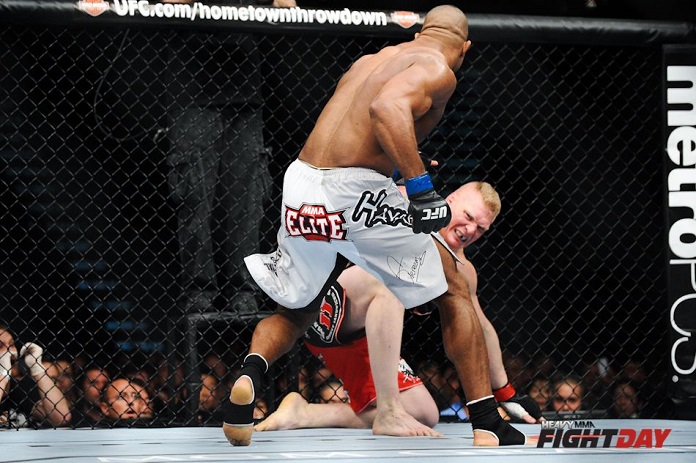 2016 Comeback and The Doping Allegation Led to His Second Retirement
When Brock Lesnar announced that he would be retiring from the MMA, there was a whole lot of shock and disappointment amongst fans and many urged him to reconsider. The former NCAA champion however stuck to his guns for the next five years. During this time, he returned to the WWE and was able to win the WWE world heavyweight title in 2014. That same year, he also defeated undertaker at Wrestlemania XXX to end the latter's decades-long undefeated run at that particular tournament. By and large, Brock Lesnar was having a swell time in the wrestling but he remained unfulfilled. He missed the thrill of training and competing in a division where the outcomes weren't scripted and so decided to return to the octagon in July 2016 for UFC 200.
It was as if the South Dakota native never left. In a thrilling match up with Mark Hunt, Lesnar delivered an offensive assault full of big punches and hard shots and was able to vanquish his opponent in a unanimous 29-27 score by all three judges. This victory was quite sweet for Brock, as it meant that he still had it in him as an MMA fighter, and he celebrated accordingly. His celebrations were however cut short after the Nevada State Athletic Commission confirmed that he had twice tested positive for a banned substance, Clomiphene.
The first positive test was returned from a sample taken from him on the 28th of June 2016 while the second was from a sample taken from him on the 9th of July 2016. Lesnar denied knowingly taking any prohibited substances but such mere denials were not enough to stem the fate that would befall him. He was given a one year ban by USADA, The United States Anti-Doping Agency, and was also fined $250,000. The Nevada Athletics Commission also overturned his victory over Mark Hunt. Following these waves of punishments, Brock Lesnar quietly informed the UFC that he was retiring once more from the UFC in February 2017.
Rumored 2020 Comeback
That retirement still holds to date but recent indications show that the South Dakota native is making moves to return to the octagon for a third stint. For instance, he attended UFC 226 in July 2018 and challenged newly-crowned heavyweight champion, Daniel Cormier, to a fight.
He has also begun the process of getting back into the USADA testing pool. Per the regulations, if an athlete retires during the period he is serving a suspension; his name would be removed from the testing pool. He would then have to rejoin the testing pool and spend about five months there before serving out the remainder of his suspension. Brock is on track to achieving this, subsequently, UFC president Dana White, began hyping a fight between him and another UFC great, Jon Jones, in September 2020.
How He Emerged the Undisputed UFC Champion in a Space of Just Two Years
Brock Edward Lesnar first took to combat sports, specifically wrestling, during his days at Webster High School. From there, he moved over to Bismarck State College where his performance in wrestling earned him a scholarship which resulted in his transfer to the University of Minnesota where he concluded the rest of his college years. By the end of his amateur career, Brock had an overall record of 106–5, garnered from his four-year college stint. He also won among others, the National Junior College Athletic Association (NJCAA) All-American, the National Collegiate Athletic Association (NCAA) All-American, and the Big Ten Conference Champion, two times each.
Brock Lesnar began his professional wrestling career in the year 2000, signing up with the WWE (formerly WWF). After spending about two years in the developmental territory, Ohio Valley Wrestling (OVW), he debuted on the main roster of WWE in 2002 and won the WWE Championship five months later. Being 25 at the time, he became the youngest person to win the championship in the history of the title. This historic victory was soon followed by the King of the Ring title later in 2002 as well as the 2003 Royal Rumble title.
Following his many victories as a wrestler, Brock Lesnar decided to spread his tentacles to the mixed martial arts (MMA) world and signed up with Hero's (a Japanese MMA promotion) in 2006. He spent one year with the outfit, during which he dazzled, and the Ultimate Fighting Championship (UFC) came calling in October 2007. Brock made his UFC debut against fellow American, Frank Mir, in February 2008. He lost that match but quickly remedied that anomaly by winning his next two matches and emerging the heavyweight champion in December of that same year.
Brock Lesnar would go on to successfully defend his title and unify the UFC heavyweight division on two occasions; first against Frank Mir (July 2009) and then against Shane Carwin (July 2010). He then lost his next two matches, against Cain Velasquez (in October 2010) and Alistair Overeem (December 2011) and announced his retirement that same year.
Lesnar Is Married to Former Playboy Model and WWF Champion – Sable
Brock is married to a former model, actress, and wrestler named Sable. Real name, Rena Greek, Sable is a native of Jacksonville, Florida, and was born on the 8th day of August 1967. She was quite active in sports as a young girl. She also took to beauty competitions and eventually became a model in her 20s.
Sable owes her journey to the WWE to her second husband, professional wrestler – Marc Mero. She started accompanying Mero to his matches and became a part of the storylines in 1996. From there, she began taking part in matches and by November 1998 emerged the WWF women's champion. Building upon that victory, she won two Slammy Awards, for Dressed to Kill and Miss Slammy, in 1997.
Away from wrestling, Sable has featured in a handful of movies and TV shows including Relic Hunter, First Wave, and Cocky Romano. She also featured on the cover of Playboy Magazine twice in the year 1999, making history as the first woman to achieve such feat.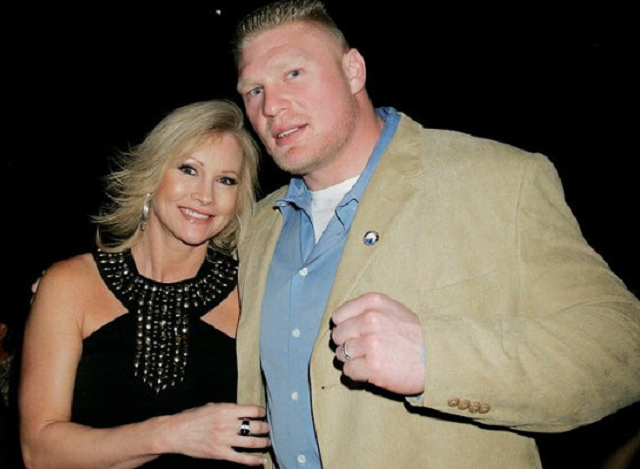 Lesnar and Sable commenced their relationship in the early 2000s. As at that time, the playboy model was still legally married to her husband, Marc who was reportedly crushed that she was cheating on him. He confronted her and she asked for a divorce. Marc had no choice but to agree and the divorce was finalized in 2004. This gave Sable and Lesnar the freedom to move ahead with their romance and they tied the knot on the 6th of May 2006 in Medina, Minnesota.
The couple remains together to date and has been able to make their union work. Lesnar has credited his wife with being the person who saved him from certain death after he was first diagnosed with Diverticulitis. According to him, she drove him hundreds of kilometers to ensure that he got the life-saving care he needed. Another thing that Lesnar must appreciate about his wife is her willingness to scale back her wrestling career (she retired from the WWE in 2004) so that she could have more time for the family.
His Daughter is One of the Best Shot Putters in America
Brock Lesnar has a total of four children. His very first offspring is a set of twin boy and girl (Mya Lynn and Luke) whom he fathered with his former fiancée, Nicole McCain, in 2002. He and Sable also have two children together namely sons, Turk and Duke.
Eldest, Mya Lynn is following her father's footsteps into sports. The young lady is a multi-sport athlete who has shown promising prospects in track and field, cross country, as well as volleyball. As a high schooler, Mya emerged the Minnesota state champion in shotput in the 2018/2019 class.
She is now ranked as the 6th best shot putter in the country and is set to join the athletics program of Arizona State University known as the Sun Devils. With the Sun Devils, she is to take part in shotput, as well as, represent the school in cross country. Such strides have made her father quite proud of her and he makes sure to attend as much of her games as frequently as possible.
Mya Lesnar is a Minnesota state champion, the sixth-best shot-putter in the country and a future Sun Devil!

Welcome to the #SunDevilFamily!#ForksUp😈 pic.twitter.com/OAH7NySPF6

— Sun Devil TFXC (@SunDevilTFXC) November 22, 2019
Lesnar's sons are also into school sports, specifically the game of ice hockey. There are however some false rumors that the eldest son, Luke, would be pursuing a WWE career in the nearest future. In July 2019, the young chap supposedly shared a series of pictures of himself with his dad. He also shared pictures of himself at the WWE performance center in Florida, alluding to the work and purpose which got him to his present status. Luke hinted that he was set to pursue a career in wrestling as he wrote that life's about to change.
This story was picked up by several news outlets but it turned out that the Instagram account and posts were fake. Sadly, this is not the only time that fraudsters have sought to take advantage of Luke's identity. In October 2019, some faceless individuals set up a fake wrestling promotion company and urged people to sign up for the sum of about $3000. They claimed that it was Luke that was floating the company and some people succumbed to their lies. It later turned out that the son of the WWE/UFC great had no hand in, or knowledge of, the so-called promotion.