Anyone who is a fan of wrestling will definitely know Brock Lesnar as he is no stranger in the industry being one of the strongest wrestlers in the World Wrestling Entertainment (WWE) circle. Popular for his extraordinary strength and energy in the ring, the former professional football player and mixed martial artist, is always a terror to nearly all opponents he has fought.
Signed to WWE at the moment, he has won different championships in different organizations, including WWE, NJPW, IGF, UFC, and NCAA; no wonder he was described as the most accomplished athlete in the history of professional wrestling in an ESPN.com article published in 2015.
Brock Lesnar Bio (Age)
Born in Webster, South Dakota, on July 12, 1977, as Brock Edward Lesnar, the wrestler is the third child of Stephanie and Richard Lesnar. He, his older brothers (Troy and Chad), and his younger sister, Brandi, were raised on their parents' dairy farm in his birthplace.
As a 17-year-old chap, Brock Lesnar became a member of the Army National Guard but instead of being assigned to work with explosives as he wanted, he was given an office job due to his red-green color blindness. Unfortunately, he later lost the job having failed a computer typing test. Moving forward, he got another job in a construction firm.
The wrestling champion began honing his skill as a student at Webster High School where he took part in amateur wrestling competitions and also played football. From there, he moved over to Bismarck State College where his performance in wrestling earned him a scholarship which resulted in his transfer to the University of Minnesota where he concluded the rest of his college years.
By the end of his amateur career, Brock had an overall recorded of 106–5 garnered from his four-year college career. He also won among others, the National Junior College Athletic Association (NJCAA) All-American, the National Collegiate Athletic Association (NCAA) All-American, and the Big Ten Conference Champion two times each.
Brock Lesnar began his professional wrestling career in the year 2000, signing up with the World Wrestling Federation (WWF). After spending about two years in WWF developmental territory, Ohio Valley Wrestling (OVW), Brock made his debut on the main roster of WWE in 2002, winning the WWE Championship five months later. Being 25 at the time, he became the youngest person to win the championship in the history of the title. This victory was followed by the King of the Ring title later in 2002 as he also emerged winner of the 2003 Royal Rumble.
Despite his many victories as a wrestler, Brock Lesnar decided to try his hands at football so he left WWE in 2004 and joined the National Football League (NFL) as a defensive tackle for the Minnesota Vikings. However, he was cut before the beginning of that years season. Consequently, he made his way back to professional wrestling the following year, joining the New Japan Pro-Wrestling (NJPW).
Lesnar decided to build a career in mixed martial arts (MMA) in 2006 so he signed up with Hero's and had his first fight, which ended in his favor, in June 2007. He later moved over to the Ultimate Fighting Championship (UFC) and eventually retired from MMA in 2011, with a lot of wins to his name.
After being away from wrestling for 8 years, Brock Lesnar, in April of the next year, rejoined the WWE. He was able to find his feet again after two years, winning world champion in 2014, 2017, and 2018. His 504-day reign as the WWE Universal Championship was the longest any title winner had reigned in WWE since 1988.
Though his contract with WWE was still active, the wrestler returned to fight at UFC 200 but subsequently bagged a one-year suspension, $250,000 fine and had his initial victory invalidated after traces of clomiphene were found in his blood. As a result of this, the champion again took a bow from MMA in 2017.
His Net Worth
Brock Lesnar has no doubt had a very successful wrestling career which has spanned more than a decade. Within these years, he has been able to garner a net worth of about $24 million being the second WWE wrestler with the highest pay. It was reported that his WWE salary is $6.5 million and in addition to that, he receives $5 million for every main event fight and a minimum pay of $400,000 per UFC match irrespective of whether he wins or looses.
The MMA fighter also makes money from endorsement deals with brands such as Everlast and Jimmy Johns.
Brock Lesnar's Wife and Daughter
Brock is married to Sable (a.K.a Rena Greek), a former model, actress, and wrestler. They tied the knot in 2006 and in 2009, their first son named Turk arrived with the second son, Duke, following in 2010.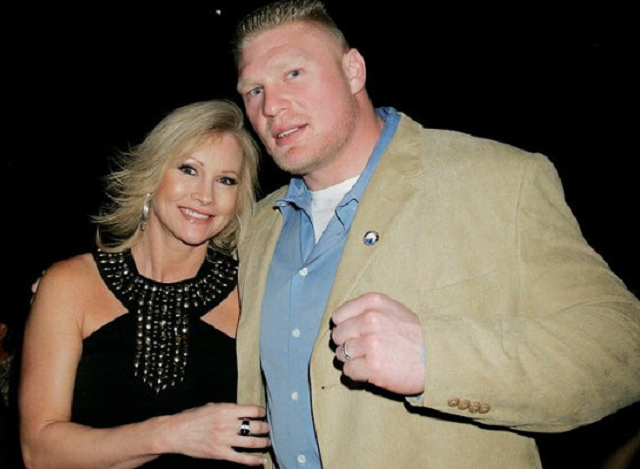 Meanwhile, he also fathered a set of twin boy and girl (Mya Lynn and Luke) in 2002 with his former fiancee, Nicole McCain.
See Also: Lionel Messi Wife, Son, Family, Weight, Height, Age, Net Worth, Bio
Height and Weight 
Considering the fact that he is one of the best wrestlers in WWE, it is not surprising that Brock Lesnar buries himself in exercise and as a result, is among the healthiest fighters in WWE and Raw. He stands at 6 ft 3 in (191 cm) and weighs 286 lb (130 kg).