A legendary martial-arts expert and actor, Bruce Lee was a determined individual who taught martial arts without boundaries and turned it into a global phenomenon. Not only did he invent his own unique kung fu genre, Lee left a legacy in the Hong Kong movie industry by boosting its global reputation. While Lee had a bright and promising career, his fame was almost entirely posthumous. Here is an in-depth reflection on the life and times of the man behind the legendary and mythical name.
Bruce Lee Biography
The second to the last of five children, Bruce Lee was born Lee Jun Fan on 27th November 1940, in San Francisco, California, to Lee Hoi Chuen, a Chinese opera star, and Grace Ho Oi-yee, a Caucasian Chinese. Lee's family relocated to the US a year before his birth but when he was three months old, they returned to Hong Kong. The name Bruce was given to him by a birthing nurse where he was born, however, he didn't get to use the name until his later years.
Lee had his elementary school years in Edison, Washington, before proceeding to the University of Washington where he majored in philosophy. He also studied poetry, dance, gymnastics, and judo while in school. With a special interest in Asian and Western philosophy, Lee incorporated a mix of Asian religions and beliefs into his studies which helped hone his love for poetry, and self-expression.
Before settling in America for college, Lee had studied dancing and trained under Yip Man in the Wing Chun form of kung fu. He later developed a unique fighting style – a mix of boxing and cha-cha dancing which eventually became one of his legacies in Hong Kong.
Being a master martial artist, with no mastery of any known or practiced martial arts, Lee proceeded to open a chain of kung fu training school in Seattle, where he began teaching his own form of martial arts. In his school, Bruce Lee made history as the first kung fu instructor in America who taught kung fu to Caucasians. Regardless of race or ethnicity, Lee accepted students without discrimination which eventually landed him in trouble with Wong Jack Man as the famous Wong Jack Man Vs Bruce Lee fight ensued.
Acting Career
Bruce Lee's acting career began when he was just a kid. In fact, Lee made his first movie appearance at the age of three months and by the end of his adolescent years, he had no less than 20 movies to his credit. While most of his adolescent works are unknown and hard to find outside Asia, some of Lee's notable works include the 1941 film Golden Gate Girl, The Beginning of a Boy (1947), The Orphan (1960), the TV series, The Green Hornet (1966-1967), The Big Boss aka Fists of Fury (1971), The Way of the Dragon (1972), and his first major Hollywood project, Enter the Dragon (1973).
Lee returned to Hong Kong in the summer of 1971 in search of better acting roles than what Hollywood had to offer. During his bright but brief career, the legendary martial artist established himself as a major movie star in Asia and posthumously, in America.
Wife, Son, Daughter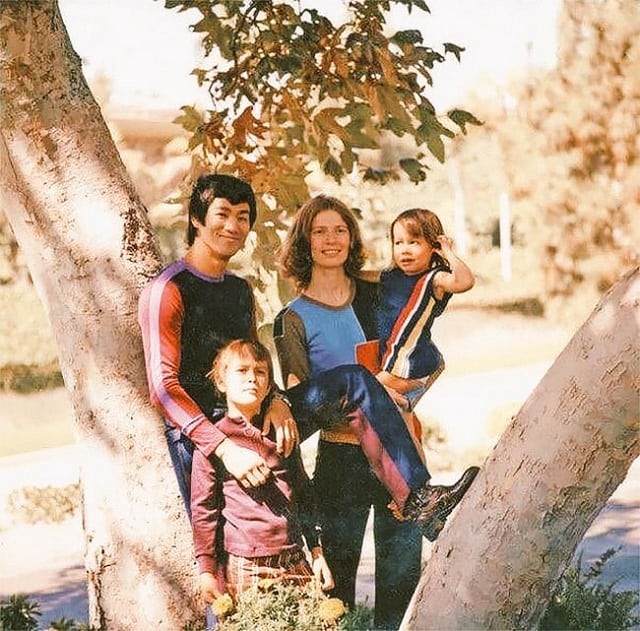 While teaching in his martial-arts school in Seattle, Bruce Lee met and married his heartthrob, Linda Emery in 1964. The couple had two children together – a son Brandon born in 1965 and a daughter Shannon, born in 1969.
When and How Did He Die?
The very promising and iconic martial-artists was dimmed quite unpredictably. On July 20, 1973, Bruce Lee died in Hong Kong from a tragic accident at age 32. A nutritionally and physically fit man, Lee unexpectedly died from a brain edema considerably caused by an allergic reaction to a prescription painkiller that he was taking for an alleged back injury. Though there were several speculations about the cause of his death, coroners officially ruled his demise as a misadventure. Even more heartbreaking was the fact that Bruce Lee had died just before the release of Enter the Dragon, the 1973 box-office hit which established him as an international star. Lee was laid to rest in Seattle.
See Also: Who is Eliza Hutton, Where Is She Now, Is She Dating Anyone?
Bruce Lee's sudden death sparked several rumors. While some believed that he was a victim of a curse, others speculated that he was killed by Chinese gangsters. But the controversy surrounding Bruce Lee's death was further stoked in 1993 when his 28-year-old actor son Brandon, died under mysterious circumstances on the set of the movie The Crow. The younger Lee's sudden demise from an accidental shooting further led many to believe that the family-curse theory was even more surreal. Brandon was buried next to Bruce at Seattle's Lake View Cemetery.
Bruce Lee's life and legacy have been posthumously depicted in several works such as the movie Dragon: The Bruce Lee Story (1993), the 2009 documentary How Bruce Lee Changed the World and many others. More so, in 2013, the Hong Kong Heritage Museum honored the fallen martial arts expert with a Bruce Lee: Kung Fu. Art exhibition.