Sandra Bullock has always been one of the leading actresses in the world, both in terms of popularity of name and body of work. As much as her recent film Bird Box reaffirmed her relevance in entertainment circles, what has dominated conversations about the popular actress is her relationship with Bryan Randall, a professional photographer.
Bullock has largely managed to keep her private life away from the public, but with the power of social media, and the increased ease of leaking information, her relationship with Bryan became known, prompting many to ask questions about the man, how he became the love of the actress' life, and what he does for a living.
Bryan Randall Studied Acting But Settled for a Career in Photography
Born on the 10th of April 1966 in one of Oregon's famous cities, Portland, there are many things that are yet to be known about Bryan. For instance, not much is known about his childhood and the identity of his parents. Nonetheless, we do know he has a brother named Kevin Randall just as it is no secret that he is a professional photographer.
He studied at Pennsylvania for his high school education. After high school, Bryan Randall attended Anthony Meindl's Actor Workshop where he studied acting, but he clearly never made use of the acquired skills in his professional life as he became a professional photographer.
He Has Modeled for Popular Fashion Brands 
How he came to become a professional photographer is currently unknown, but before he came to be known for taking pictures of people, he was having his pictures taken as a professional model.
During the 90s, he worked as a model for Vogue Paris and other major fashion brands like Hugo Boss, Saint Laurent, and Harper's Bazaar. Although there is no official confirmation of his retirement as a model, with him still modeling for Lily Aldridge and Cindy Crawford as recently as in 2011, he has reduced his modeling appearances significantly to concentrate and build his photography business.
The exact year he established his photography company, Bryan Randall Photography, is also unknown but according to the company's website, it has been operating for many years. The company is focused on outdoor and children photography and it is based in Los Angeles. As a photographer, Bryan Randall has been able to build a fairly successful photography company which has earned him a personal net worth of $500,000. His company continues to grow, catering to high profile clients. His girlfriend, on the other hand, is worth well over $200 million.
The Photographer Was Barely Famous Until He Started Dating the Superstar Actress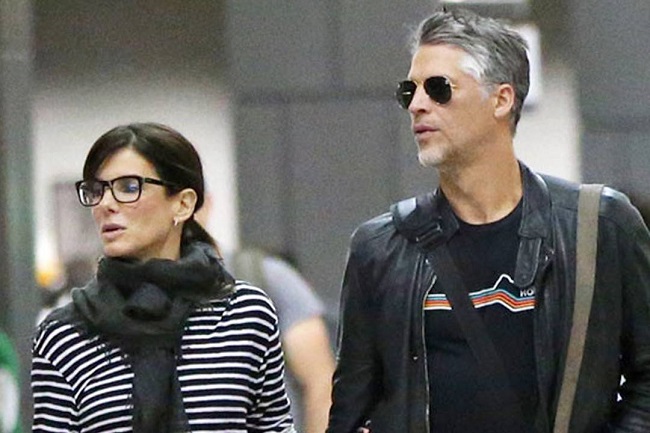 Perhaps among Hollywood insiders, Bryan Randall is a known name, but to mainstream followers of the industry, Bryan was a name that did not exist until the recent resurgence of Sandra Bullock in mainstream entertainment conversation, and it is difficult to say he would have achieved global fame any other way.
Bullock is a superstar actress who has starred in multiple critically and commercially successful films like Speed, Crash, Miss Congeniality, Ocean's 8, The Heat, Gravity, The Blind Side, and many more. She has won multiple awards, including The Academy Awards, Golden Globes, and Screen Actors Guild Awards. She has also been listed among the top 100 most influential people in the world.
Given that, it is easy to see how Bryan's romance with her made him someone a lot of people want to learn more about. It is believed that Bryan met Sandra Bullock through his company especially because he is a frequent collaborator with The Actors Company, taking headshot pictures of aspiring actors.
For Bryan, his life could be split into two parts – before and after Sandra Bullock. Before Bullock, he was in a relationship with Janine Staten, which produced in a daughter named Skylar Staten Randell. Along with having a daughter, he is also a former addict. His daughter's mother, Janine, reportedly died from addiction in 2004. He has also had run-ins with the law, including DUIs and a restraining order from a former neighbor.
Bryan Randall Started Dating Bullock in 2015 After He Worked for Her
The second half of Bryan Randall's life started in 2015 when he started dating superstar Sandra Bullock. He met the popular actress when he was contracted to shoot the birthday party of one of her children. Since then, the couple has been together but have also done their best to stay out of the public glare.
Before she got into a relationship with Bryan Randall, Sandra Bullock was in a marriage with Jesse James which lasted 5 years and ended as a result of infidelity on the part of Jesse. She has two children – a boy and a girl, whom she adopted.
Because of how great things are for Bryan and Sandra, her kids have grown very fond of the photographer and he is now a big part of their upbringing. The kids regard him as their dad and they are a happy family often seen hiking and exploring nature.
The Lovers Are Yet to Get Married But People Think They Are
From what is obvious Bryan Randall is very committed to Sandra Bullock as much as the actress is deeply in love with him. It is said that the bond they share is akin to that of an old married couple.
Even though they are yet to tie the knot, at least to the best of our knowledge, Bryan wears a wedding band on his wedding finger as a symbol of his love and commitment to the actress. Because of this, friends of the couple speculates that they may have had a secret wedding.
This claim has not been confirmed by the actress neither has Bryan said anything about it. The only thing that's certain is that the two are super happy with each other and what they share.