Burt Reynolds remains one of the most iconic figures in Hollywood history. The late actor featured in several highly-acclaimed movies, and was the biggest box office draw from 1978 to 1982. Reynolds was also a man that was comfortable in his own skin. The actor had no qualms stripping for the cameras and thus emerged as one of the ultimate sex symbols of the 70s. Reynolds truly came, saw and kicked butt. Explore this list of Burt Reynolds Movies ranked from best to worst.
Burt Reynolds Movies and TV Shows Rated From Best To Worst 
1. Boogie Nights (1977)
IMDB: 7.9/10
Rotten Tomatoes: 94%
Metacritic: 85%
Boogie Nights is the only Burt Reynolds movie which fetched him an Oscar nomination. The 1977 comedy drama revolved around Jack, a porn director who discovers a teenage busboy, Eddie, and proceeds to turn him into an adult film sensation. Eddie's fame is later threatened by his ego as well as drug abuse. Boogie Nights featured the likes of Julianne Moore and Mark Wahlberg while Reynolds portrayed Jack. His performance earned him an Oscar nomination for best-supporting actor. He also went ahead to win the SAG and Golden Globes award for best-supporting actor.
2. Sharky's Machine (1981)
IMDB:  6.3/10
Rotten Tomatoes:
Metacritic: 58%
Sharky's Machine is a 1981 action/thriller which follows Sgt Tom Sharky, a narcotics detective who is hot on the trail of a mob boss. Sharky later ends up falling for a high-class call girl who has links to the mob boss. The film featured the likes of Rachael Ward and Vittorio Gassman while Reynolds portrayed Sharky. The movie was a critical and commercial success and has a rating of 86% on Rotten Tomatoes.
3. Smokey and the Bandit (1977)
IMDB: 7/10
Rotten Tomatoes: 78%
Metacritic: 50%
Smokey and the Bandit is one Burt Reynolds movie which is definitely a must-watch. The 1977 action comedy revolved around two bootleggers, Bo and Snowman, who attempt to smuggle beer into Atlanta. Both men are relentlessly pursued by a sheriff who is maddened by his daughter's affections for Bo. Smokey and the Bandit featured the likes of Sally Field and Jerry Reed while Reynolds portrayed Bo. The film was the 2nd highest-grossing of 1977 and spurned two sequels.
4. Deliverance (1972)
IMDB: 7.7/10
Rotten Tomatoes: 89%
Metacritic: 80%
Deliverance is the Burt Reynolds movie which gave him his breakthrough. The 1972 drama/thriller revolved around four friends who decide to get away for a weekend of canoeing in rural Georgia. What was supposed to be a fun trip however turns into a nightmare as the quartet are viciously attacked by backwoods locals. Deliverance featured Reynolds, Jon Voight, Ned Beatly, and Ronny Cox as the unfortunate quartet. The film was a critical and commercial success and propelled Reynolds to the limelight.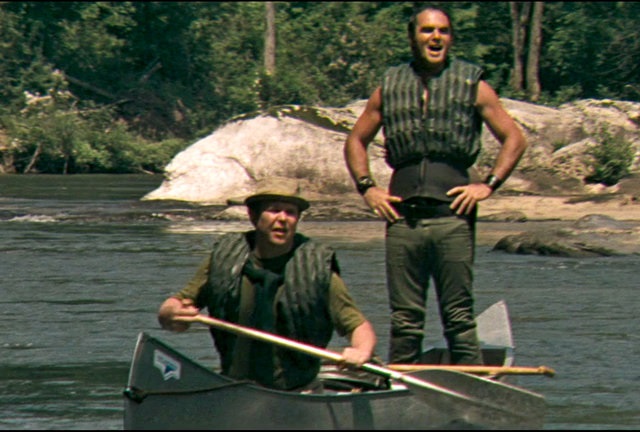 5. The Longest Yard (1974)
IMDB: 7.1/10
Rotten Tomatoes: 77%
Metacritic: 61%
The Longest Yard is a 1974 sports drama in which Reynolds portrays the lead role of Paul Crewe, a disgraced NFL star who is imprisoned. In jail, Crewe is compelled to organize the inmates into a team that will play against the guards. The warden later tries to blackmail Crewe into throwing the game but he refuses. The Longest Yard won the Golden Globe award for best motion picture, comedy or musical, and has since spurned three remakes. Reynolds also received a Golden Globe nomination for best actor in a musical or comedy.
6. Evening Shade (1990 – 1994)
IMDB: 7/10
Rotten Tomatoes: 100%
Evening Shade is a CBS sitcom which ran from 1990 to 1994. In it, Burt Reynolds portrays the lead role of Wood, a former NFL star who retires to a rural town in order to become the coach of a local high school team. Wood contends with family pressure as well as the pressure of overturning the team's losing streak. Evening Shade was one of the most-watched TV series during its entire run. It also fetched Reynolds the Primetime Emmy Award for outstanding supporting actor in a comedy.
7. The Cannonball Run (1981)
IMDB: 6.2/10
Rotten Tomatoes: 29%
Metacritic: 28%
The Cannonball Run is a 1981 comedy film which revolves around a cross-country road race from Connecticut to California. Amongst the competitors are a speed-loving racing driver, JJ, and his dim-witted sidekick, a bunch of Ferrari-driving priests and a Middle Eastern sheik. The Cannonball Run featured the likes of Roger Moore and Jackie Chan while Reynolds portrayed the lead role of JJ. The movie was one of the highest-grossing films of 1981 and spurned two sequels.
8. Starting Over (1979)
IMDB: 6.4/10
Rotten Tomatoes: 86%
Metacritic: 64%
Starting Over is a 1979 rom-com in which Reynolds plays the lead role of Phil, a man who is abandoned by his wife. Phil later falls for a free-spirited teacher just as his ex realises the errors of her ways. Phil is now forced to make a choice between his girlfriend and ex-wife. Starting Over received mixed reviews but was a commercial success. It also has a perfect score of 100% on rotten tomatoes.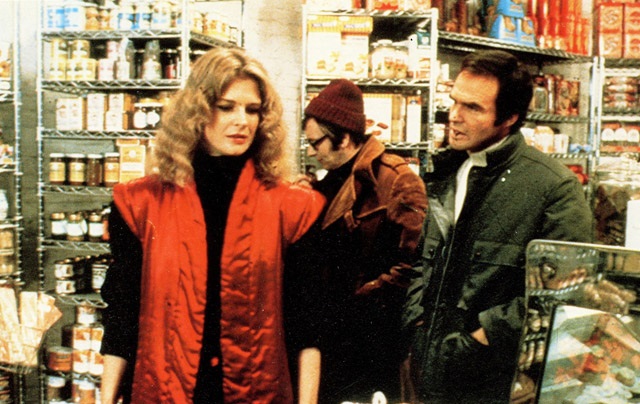 9. Broken Bridges (2006)
IMDB: 5.8/10
Rotten Tomatoes:  5%
Metacritic: 32%
Broken Bridges is a 2006 music/drama about Bo Price, a washed-out country music star who is forced to return home after a family tragedy. At home, Bo reconciles with his one true love, Angela, as well as his estranged teenage daughter. Broken Bridges featured the likes of Toby Keith (Bo) and Kelly Preston (Angela) while Reynolds portrayed the role of Angela's dad. The film received negative reviews and has a score of 5% on rotten tomatoes. It was also a box office bomb, grossing $252,539 on a budget of $11 million.
10. Deal (2008)
IMDB: 5.3/10
Rotten Tomatoes: 3%
Metacritic: 35%
Deal is another Burt Reynolds movie which was not his finest moment. In this 2008 indie/drama, the actor portrayed the role of Tommy, a former cardsharp who gave up poker after his wife threatened to leave him. Tommy later gets back into the game by collaborating with a fast-rising player named Alex. Deal received mostly negative reviews and has a poor score of 3% on rotten tomatoes. The film also earned Reynolds a Razzie award nomination for worst supporting actor.