All around the world, nations have been blessed with characters of valour, worthy of emulation; people who are nothing less than gifts to humanity. The unfortunate thing about this is that very often it appears as though African heroes are 'uncelebrated' and remembered less. They are forgotten while alive how much more the minute they are no longer with us In the absence of stumbling on history in schools, little or nothing will be known about some notable people in history that we ought to know like the palm of our hands. One of such leaders was Thomas Sankara of Burkinafaso.
Late last year Burkina Faso was all over the news for all the political tussle that you can imagine. The nation has battled with their president who has been in power since 1987. Blais Compaore toppled the government of Thomas Sankara and seized power from then on till December 2015, when he reluctantly stepped down from the position. Coupled with the fact that he was charged to court for the assassination of his comrade and Burkina Faso's Head of State, Capt Thomas Sankara.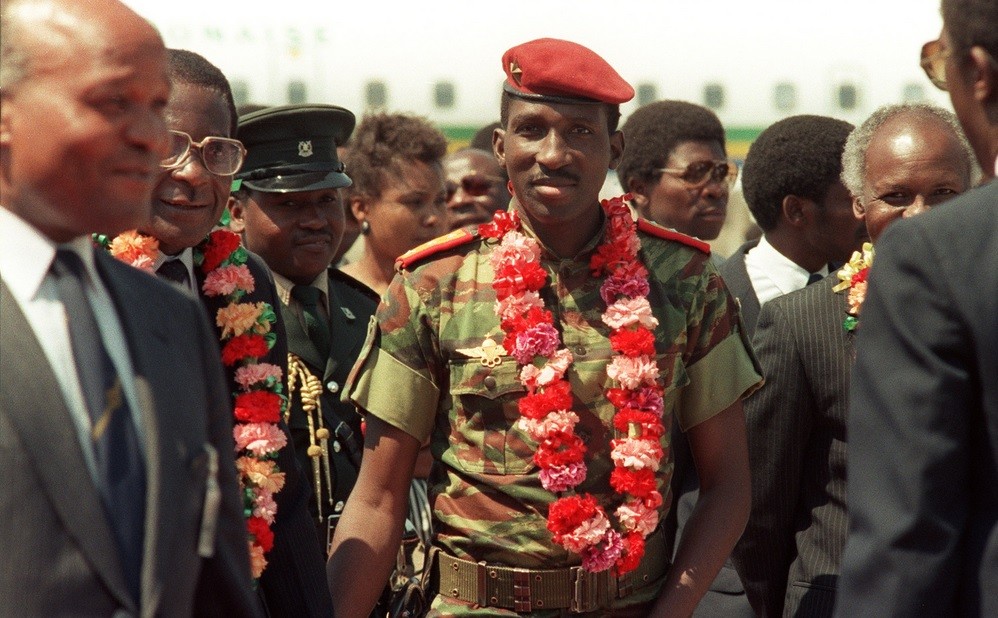 Thomas Sankara Biography
So who was/is Thomas Sankara? As Mandela is to South Africa, so also is Thomas to Burkina Faso. Born December 21, 1949, at Yako, Upper Volta (now Burkina Faso), Sankara was a military officer and Pan-Africanist who became the president of the Upper Volta and ruled from August 4, 1983, after a military coup organized by Blaise Compaore, to 1987.
Sankara, the son of a World War II veteran, Joseph Sankara,  began his military career at the age of 19 and at 33, he had become Burkina Faso's president. From "Upper Volta", he changed the nation's name to Burkina Faso- meaning the Land of Upright Men. He was a "Marxist" revolutionary, Pan- Africanist and incredibly loved by the people. Although his anti-imperialist stance and grassroots popularity increasingly put him at odds with conservatives like the then President Ouédraogo, Sankara forged ahead consistently to ensure a better living for the Burkinabes.
Thomas Isidore Noël Sankara is a one of a kind personalities in the history and record of African presidents. By his steps and actions, he was not just president but acted like a father to Burkinabes. In very daunting ways, he displayed love, a spirit of sacrifice and true leadership for his people. In few years of his reign, he drastically turned the economic and general outlook of the country for the better; earned $450 a month; self-effacement was his motto; he promoted hard work and self-sufficiency in his administration; he advocated for women empowerment, thus abolishing Female Genital Mutilation (FGM) and polygamy; he revolutionized health and education sectors, especially in remote parts of the country.
See Also: Best 25 Nelson Mandela Quotes of All Times
 Assassination
Often called the 'Che Guevara' of Africa, he toppled a controversial tyrant and assumed power in 1983, serving for 4 years till his dreadful assassination at the evening hours of 15 October 1987. The captain was murdered during a bloody coup in Burkina Faso which brought to power his one-time close friend Blaise Compaoré. The ruthlessly executed counter coup met Sankara in a most vulnerable state with few of his military guards around during his urgent meeting with his team of advisers at the old Conseil de l'Entente headquarters.
Not only was Sankara killed during the massive shootout, all his aids and group of advisers present for the brief meeting were equally killed after the gunmen sprayed their meeting venue with automatic weapons fire. Sankara was shot several times, and he died without saying anything.
Quotes
Without patriotic political education, a soldier is only a potential criminal.
It took the madmen of yesterday for us to be able to act with extreme clarity today. I want to be one of those madmen. We must dare to invent the future.
Inequality can be done away with only by establishing a new society, where men and women will enjoy equal rights, resulting from an upheaval in the means of production and in all social relations. Thus, the status of women will improve only with the elimination of the system that exploits them.
I can hear the roar of women's silence.
He who feeds you controls you.
Our country produces enough to feed us all. Alas, for lack of organization, we are forced to beg for food aid. It's this aid that instils in our spirits the attitude of beggars.
Everything that man can imagine, he is capable of creating.
The spirit is smothered, as it were, by ignorance, but so soon as ignorance is destroyed, spirit shines forth, like the sun when released from clouds.
Imperialism is a system of exploitation that occurs not only in the brutal form of those who come with guns to conquer territory. Imperialism often occurs in more subtle forms, a loan, food aid, blackmail. We are fighting this system that allows a handful of men on earth to rule all of humanity.
The enemies of a people are those who keep them in ignorance.
We must learn to live the African way. It's the only way to live in freedom and with dignity.
Che Guevara taught us we could dare to have confidence in ourselves; confidence in our abilities. He instilled in us the conviction that struggle is our only recourse. He was a citizen of the free world that together we are in the process of building. That is why we say that Che Guevara is also African and Burkinabe.
See Also: The 20th Century World Most Noted Revolutionaries
Quick Facts About Thomas Sankara
| | |
| --- | --- |
| Full name | Thomas Isidore Noël Sankara |
| Birth place | Yako, Upper Volta (now Burkina Faso) |
| Birth date | December 21, 1949 |
| Date  Of  Death | October 15, 1987 |
| Age At the Time of Death | 38years |
| Occupation | Military Officer, Burkina Faso President |
| Parents | Joseph Sankara and  Marguerite Sankara |
| Spouse | Mariam Sankara (née Sereme). Born 26 March 1954 |
| Number of Siblings |  9 (He was the third of 10 children) |
| Kids |  Philippe (born 10 August 1980) and August (born 21 September 1982). |
| | |