Playing the game of football for the Carolina Panthers made Cam Newton very popular. As the team's quarterback, he has bagged several awards and his fans are looking forward to more. His days as a professional athlete began only in 2011 after a first-round pick by the Carolina Panthers. Almost a decade after, Cam is an NFL superstar, playing on NFL's super team, the New England Patriots. But his fame is not the only significant change in his life since 2011. He has also been in a few relationships, with a long term one with a former stripper, Shakia Proctor.
Cam Newton's Relationship with Kia Proctor Began in 2013
During his days at the Carolina Panthers, Cam Newton had a reputation as a beast. On the pitch, his arm brought spectacular performances out of the team, once leading them to the Super Bowl. Off the pitch, he was the subject of desire from many women, a desire he enthusiastically reciprocated.
But in 2013, the unexpected happened. Cam Newton went off the market. He met Kia Proctor during a show in Atlanta, back when she was a hosting model. They had an unlikely connection, despite the disparity in their respective professions.
That connection quickly got deeper and turned into a full-fledged relationship. Cam and Kia went public at the 2013 Kentucky Derby, to the surprise of fans of the quarterback. Any doubt about the solidity of their relationship or the reliability of its longterm potential went away in 2014 when they showed up at the 2014 NFL honors.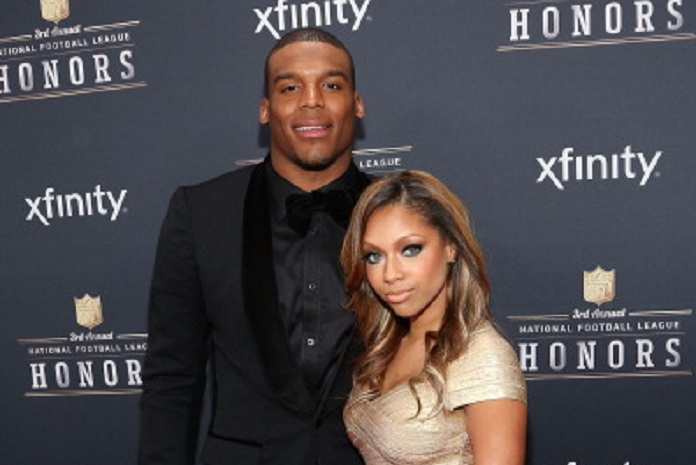 The official confirmation of their relationship became the start of something long and beautiful. One that not only transformed Cam Newton's life but Kia Proctor's too.
Kia Proctor used to be a Stripper Before Meeting Cam Newton
One of the biggest surprises about their relationship, when it made it onto the airwaves, was Kia's profession. Before their fateful meeting at the Atlanta party, Kia was a prominent stripper in Washington, D.C, where she went by the name Hazel.
She gained notoriety working at a Washington D.C strip joint called Stadium Club, as a 'bar dancer.' After years of working there and in other notable strip joints around the country, she transitioned to glamour modeling.
While in the line of duty during a private party in Atlanta, which she relocated to for her new job, she met Cam Newton. This meeting apparently kick-started a new phase of her life.
The Couple Has Five Children
Cam Newton and Kia Proctor never got married. Even though some fans expected and hoped their long-term relationship would lead to marriage, it never materialized. However, the couple shares a family, one that involves several children.
The quarterback and Kia's first child was born on December 24, 2015, two years after they met. He is named Chosen Sebastian Newton, and he heralded the birth of several other children in the Newton household. Their second child, a daughter, Sovereign-Dior Cambella Newton, was born on February 3, 2017.
Cam and Kia gave birth to their third child, a son named Camidas Swain Newton, on July 6, 2018. The couple announced they were expecting their third child in March 2018 before his arrival in the seventh month. Their last shared biological child, Cashmere Saint Newton, was born in October 2019, but she announced his birth in December.
Aside from their four biological children, Cam Newton is also the adopted father of Kia Proctor's first child, Shakira. She was born in 2007 from Proctor's previous relationship with a yet to be identified man. Although she is not his daughter, the New England Patriots quarterback has embraced her, and once posted an emotional message in honor of her birthday about how she has impacted his life.
Kia and Cam Might Be Separated
If the reports from the gossip site, TheBlast, is anything to go by, the love story between Shakia Proctor and Cam Newton might be over. According to the media outlet, the couple stopped had stopped being one for months, and as of January 2020, they are locked in a child custody battle as the reports have it.
The couple separated in June 2019. Their last child, Cashmere Saint Newton, has never lived with his father since his birth in October 2019. The ultimate reason for the couple's separation is unknown, although infidelity on the part of the NFL star has been the working theory. He reportedly welcomed a child with an Instagram model and former Miss Azerbaijan, La Reina Shaw.
One of the reasons for the child custody battle is the proposed relocation of Shakia Proctor. Since their relationship came to an end, the former stripper wants to relocate to her native Maryland while the NFL star wants the children to remain in his home in Atlanta.
Beyond the custody battle, Cam Newton has also sued Kia Proctor for paternity, asking for a court-mandated DNA test to prove the four children are his. Other contentious issues include a request for $15,000 for an accountant to review the player's finances and child support payments above standard procedures. At the moment, it is unknown where the chips will fall.
What We Know About Cam's Affair with La Reina Shaw
From all indications, Cam Newton's affair with La Reina Shaw, the former Queen of the Universe, Miss Azerbaijan, is here to stay, despite its controversial impact on the quarterback's life. Although the Patriots QB has been playing it slow, similar to how his relationship with Kia Proctor began, social media clues suggest they are in a full-fledged relationship.
The exact timeline of their affair remains undetermined, but if the birth of their shared child is an indicator, they have been an item for more than a year. Their son, Caesar, was born a couple of months after the birth of his last child, Cashmere, with Kia.
Cam is also raising La Reina's son, Jaden, from a previous relationship, bringing his total number of children to seven. Raising her son suggested Cam and La Reina Shaw have a serious relationship. Reina has also moved closer to Cam Newton in Atlanta, to an apartment above Cam's cigar bar and restaurant, Fellaship. Will she become Cam's first wife? We will have to wait and see.