With about two decades in the entertainment industry, Cameron Diaz is easily one of the most recognizable faces in Hollywood. She is an accomplished actress, producer, author and model, who has an exhausting list of iconic movie roles to her credit. Known for her enchanting looks, megawatt smile, and witty demeanour, the A-list actress has cemented her Hollywood status and also proven that a woman can be both good looking and funny. Explore more interesting facts about the former fashion model who is now one of Hollywood's most famous actresses.
Early Life
Cameron Diaz was born on August 30, 1972, in San Diego, California. She is the daughter of Billie Joann, an Anglo-German import-export agent and Emilio Luis Diaz, a Cuban-American field gauger at an oil company. She attended Long Beach Polytechnic High School. Growing up, Cameron Diaz was so skinny that her friends nicknamed her 'Skeletor'. Given her physique then, it is, therefore, no surprise that she first began her career as a model before bursting onto the Hollywood scene.
Career Success
Diaz began modelling at age 16 after signing a contract with Elite Model Management and worked with big brands such as Calvin Klein, Levi, Nivea, L.A. Gear, and Coca-Cola. It was at this same age that she left home on a six-year modelling tour with her agency to live and work in various cities. At 17, Diaz was featured on the cover of the teenage magazine 'Seventeen'.
Cameron Diaz was always destined to be a star as her debut acting story is a rare one. Despite having no prior acting experience, Cameron landed a starring role in a big-budget movie which was a hit and instantly catapulted her to fame. She debuted her acting career in 1994 with a role in the comedy The Mask which earned her a Golden Globe nomination. Thereafter, the star actress began honing her acting skills and has not rested on her laurels since then.
Diaz is known for portraying versatile roles. Notably, some of her best-recognized roles and box office hits include My Best Friend's Wedding (1997), There's Something About Mary (1998), Being John Malkovich (1999), Vanilla Sky (2001), Gangs of New York (2002), Charlie's Angels: Full Throttle (2003), The Holiday (2006), What Happens In Vegas (2008), My Sister's Keeper (2009), Bad Teacher (2011), The Counselor (2013), Annie (2014), The Other Woman (2014), and many others. The Californian actress was also the voice of the ogre Princess Fiona in the hit animation franchise Shrek (2001).
Her outstanding performances have earned her several accolades such as an Academy Award and nominations at the Golden Globe awards, BAFTA awards, Critic's Choice awards and SAG awards, among others. People Magazine once named Diaz one of the "50 Most Beautiful People" in the world. In 2009, she was honoured with a Star on the Hollywood Walk of Fame.
Diaz seems to have taken a break from acting in recent years, as she last starred in a movie in 2014.
What Is Her Net Worth?
Being in the spotlight for over two decades, the Charlie's Angel star has amassed a fortune for herself from many high grossing films. Once named the highest-grossing box office actress, Cameron Diaz has achieved great feats and has arguably become one of Hollywood's wealthiest with a net worth of $120 million. In 2010, Forbes named her the second richest female celebrity of the year.
Asides her iconic and starring roles in numerous blockbuster movies. Cameron also earns her money from a plethora of lucrative and luxury brand endorsements. More so, she is an author of a handful of bestseller books.
Though her popularity may have waned in recent years, Diaz has made enough money from her previous endeavours to maintain her millionaire status and live very comfortably for the rest of her life.
Who Is Cameron Diaz's Husband?
Cameron Diaz who's never really been drawn to the concept of marriage has had several high-profile relationships over the years. From 1990 to 1994, she was romantically involved with the video producer, Carlos de la Torre in a live-in-relationship. She has also been linked to having dated singer and actor Justin Timberlake for about four years, actor Vincent D'Onofrio, Yankees baseball star Alex Rodriguez, actor Matt Dillion, and singer Jared Leto.
But in January 2015 and in her forties, the beautiful actress reversed course and surprised many when she raced to the altar with Benji Madden of Good Charlotte fame after a whirlwind seven-month relationship. The couple tied the knot in an intimate, beautiful, and heartfelt ceremony which took place in the living room of their Beverly Hills home.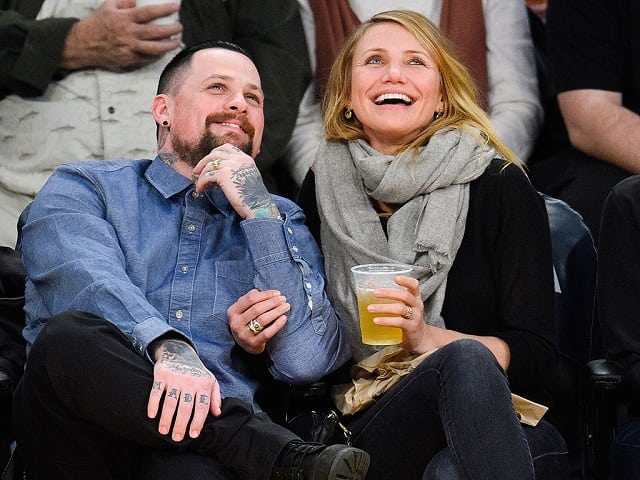 While Cameron and the Good Charlotte guitarist/singer seem like two very different people, they, however, are just weird enough for each other and share the same values as well as a common vibe – the desire for privacy. Diaz and Madden are utterly in love and have even hinted that they would love to start a family in the future. Their union is sure proof that true love always finds its way. Cameron who claims their marriage was one of the highlights of her life seems like she is pretty happy right now.
What We Know About Her Twin Sister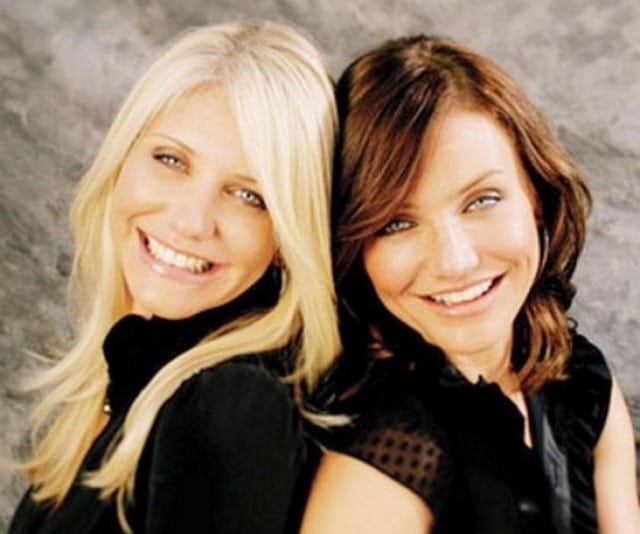 Cameron Diaz has an older sister Chimene Diaz whom she shares a striking resemblance with and is often mistaken to be her twin sister. Though the older Diaz is not as famous as her younger sister, they share a close bond.
Chimene Diaz is married to Robby Armstrong, a country-rock musician, and they live together in Huntington Beach with their four kids.
Height
The former model and actress is not one of the tallest celebrities neither is she the shortest. Cameron stands tall at a height of 5 feet 9 inches, (1.75 m) and weighs 58 kg (128 lbs). Her body measurements are breast: 34 inches (87 cm), waist: 23 inches (58.5 cm) and hips: 35 inches (89 cm).