Camila Cabello is an American singer and songwriter who came to limelight as a member of the girl group, Fifth Harmony. She made a dramatic exit from the group in 2016 and had everyone singing and dancing to her highly successful hit song, "Havana", in 2017. Although she was well known while with Fifth Harmony, her popularity was doubled in 2017 and she has continued to make waves ever since.
Considering her productive music career, rumored relationship with her former group member, Lauren Jauregui and her current relationship with Matthew Hussey, Camila has become a celebrity.
Camila Cabello Bio & Ethnicity
Camila was born as Karla Camila Cabello Estrabao on March 3, 1997, in Cojimar, Eastern Havana, Cuba. She has both Mexican and Cuban roots as her father is from Mexico while her mother is Cuban. As at the time her family relocated to Miami, Florida, she spoke zero English but due to a strong desire to sing, she started practicing by doing karaoke to Britney Spears and Hilary Duff albums in the basement, singing to friends and also singing to her grandmother through the closet door.
Camila kicked off her music career when at 15, she attended the second season of The X Factor audition of 2012. Sadly, she was eliminated during the 'bootcamp' stage of the competition but because she possesses what Simon Cowell calls the X-factor, he could not let her go despite the elimination. Cowell brought Camila Cabello back as part of an all-female pop group Fifth Harmony—which he first conceived as a sister group to One Direction.
The group finished third place in the competition and was signed to Simon Cowell under his Syco Music label. Camila continued with the group until December 2016 when she pulled out.
After her controversial split from the group, the young star was able to express her vibrant individuality as she went on to collaborate on hits with Shawn Mendes, Machine Gun Kelly and more. She also released her debut solo single "Crying in the Club" and later in 2018, she released her self-named debut album "Camila". The album was a huge success as it debuted on number one on the Billboard 200 chart, with its lead single "Havana" making it to the top of the charts in various countries, including the US and UK.
Meet Her Sister and Parents
Camila Cabello is the daughter of Alejandro Cabello and Sinuhe Estrabao. The family alternated between Havana, Cuba and Mexico City before eventually immigrating to the US when Camila was six years old. On getting to the US, things were not rosy in the least sense of it, so her mother who was an upcoming singer had to work in the shoe department of the store 'Marshalls' while her dad washed cars in order to support the family.
Camila has a younger sister named Sofia Isabella Cabello. She was born on April 2, 2007, in Florida after the family moved to the United States. In May 2014, Sofia and her parents made a brief appearance in an episode of the Awesomeness TV show, "Fifth Harmony Takeover", where Camila introduced them to the world. Although Sofia is 11 years younger than Camila they share a very close bond.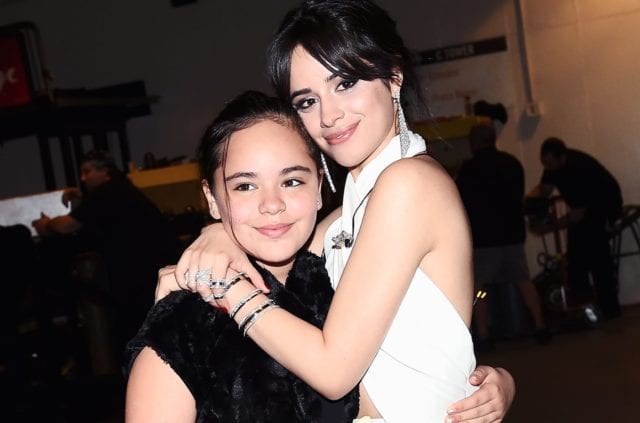 The chemistry between the sisters is evident in the pictures of them which Camila often posts on her social media. In fact, Sofia became an internet sensation as a result of those pictures. Camila fondly refers to her kid sister as the butterfly queen in many of her posts on Instagram and even dedicated her Radio Disney Music Award for the Best Musical Collaboration, which she received for "Bad Things" to her. Up until 2017, the two shared a small lavender-and-pink bedroom with "Mickey Mouse all over it", according to Cabello.
The younger Cabello is sassy and possesses just as much spunk as her older sister. Like her big sister, the little girl loves singing and dancing and appears to be a star in the making. Videos of their renditions of 'High School Musical' songs can prove this. She auditioned for the music reality series, "The X Factor", in 2012 and is very active on social media where her posts have earned her more than 88,000 followers.
Is Camila Gay? 
Within the period Camila was with Fifth Harmony, she was very close to Lauren Jauregui and fans were shipping the two. Eventually, rumors that they were in a relationship started making rounds with fans citing pictures where they looked "cozy" together as proof.
In November 2016, Lauren came out as bisexual, which further convinced people that she and Cabello actually had something between them. However, shortly after coming out, she started dating a friend named Lucy Vives but that still did not make people let go of the "Camren" theory. However, when one fan brought up the rumored romance on Twitter in March 2017, Lauren refuted the speculation saying it never happened. Camila on her part, however, never made any comment about it.
Boyfriend
Camila Cabello is currently dating Shawn Mendes, a Canadian multi-award-winning singer, and songwriter. The initially started off as close friends. Before Shawn Camila was in a serious relationship with a British relationship guru/Television personality, Matthew Hussey, who was ten years older than her. Matthew is also popular for his Cosmopolitan magazine dating column and bestselling books.
The couple met on the set of the American talk show, Today. Even though the date of there meeting was not specified, it is known that the singer performed as part of the morning show's concert series in September 2017 and Matthew Hussey made a regular appearance on the show to give relationship advice. However, their relationship never came to the open until February 2018, when they were spotted holding hands and kissing during a private getaway at Mexico beach.
The former member of Fifth Harmony opened up about her boyfriend in the holiday 2018 issue of Marie Claire. According to her, Matthew is so similar to her and he makes her the happiest she has ever been in her life. Thankfully, the dating coach has received an approval stamp from Camila's family. This is particularly important because the singer is very attached to her family.
Before Matthew, the artist had dated fellow singer, Austin Mahone, and was also rumored to have had a fling with 5 Seconds of Summer guitarist, Michael Clifford.
Height and Body Measurements
The talented singer has a slim build and a beautiful oval face with enormous liquid-dark brown eyes and hair to match her complexion. She stands at 5 feet 2 inches (157.5 cm) and weighs 50 kg (110 pounds). She wears bra size 32B, shoe size 7 (US) and her dress size is 6 (US).
To maintain her 34-25-34 (burst, waist, and hips respectively) figure the Cuban-American singer-songwriter does cardio and gym workouts in addition to also trying to eat right. She, however, revealed in a 2015 interview, that she had never worked out prior to joining her former singing group.