Popular American football coach, Jimbo Fisher gained widespread prominence for leading the Florida State Seminoles to a victory in the 2014 BCS National Championship. After spending a total of eight seasons with the Seminoles, Fisher signed a 10-year contract with a $75 million annual salary with the Texas A&M Aggies.
With this latest deal, Jimbo ranks among the highest-paid college head coaches. Meanwhile, the renowned head coach not long ago called it quits with his wife, Candi Fisher.
After her divorce from ex-husband Jimbo Fisher, Candi Fisher remained with her family in Tallahassee, Florida, until Jimbo went to College Station in December 2017 to coach the Texas A&M football team.
What We Know About Jimbo Fisher's Ex-wife
Candi Fisher is an American school teacher and social worker. She was born as Candace Leigh Coogler in 1969 in Auburn, Alabama, United States. She is white American and the only daughter of Franklin Coogler and his wife, Suzanne Ballard. Her parents who have two other children besides her, however, got divorced when she was still a child. She grew up with her mum and brothers, Dustin Cale Coogler and Franklin Craig Coogler. Unfortunately, Franklin died in a car crash in 2011.
On completing her preparatory education, Candi Fisher studied at Samford University in Birmingham, Alabama. Since after completing her education, Fisher has been engaged in one public activity or the other, especially ones that have to do with social welfare. She has worked as a middle and high school English teacher and has graced the covers of a number of magazines including the Tallahassee Woman.
Candi Fisher's Marital Life and Divorce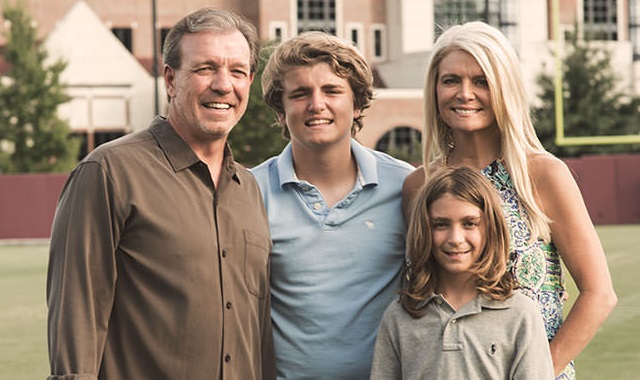 Starting from her early years, Candi Fisher has always been a staunch football fan. This is possibly the reason why she didn't find it difficult to get along with Jimbo whom at the time they met, was playing for Samford University. The duo met in 1987 and subsequently tied the knot in 1993.
With Jimbo, Candi had two sons – Trey Fisher and Ethan Fisher. The couple's first son Trey is pursuing a professional football career. Unfortunately, in 2011, doctors diagnosed Ethan with Fanconi Anemia, a rare blood cell disorder that results in bone marrow failure and increased cancer risks. To raise awareness and funds for research into the uncommon disease, Candi and her husband established the Kidz1stFund Foundation. While their union lasted, however, Candi was very supportive of her husband and his career. She was always present at almost all his games both at home and abroad.
The couple's marriage, however, went soar about 22 years later. The estranged couple announced their amicable separation to the general public via a joint statement released on June 11, 2015. They later concluded their divorce on 10th December of the same year while keeping their reason a secret. Rumors, however, later broke that Candi was engaging in extramarital affairs. According to popular gossip blogger, BobLee, the guys she philandered with were retired footballer Taylor Jacobs and former tennis player, Owen Long. The names reportedly spilled during the estranged couple's divorce proceedings.
Where Is Candi Fisher Now?
Following her separation from now ex-husband, Jimbo Fisher, Candi Fisher stayed back in Tallahassee, Florida, United States where her family resided before Jimbo moved to College Station in December 2017 to coach the Texas A&M team. But despite their separation and divorce, Candi and Jimbo pledged joint parenting for their children as well as the joint running of the Kidz1stFund Foundation. Jimbo also visits Tallahassee to see his sons who primarily stay with their mum. The ex-couple especially takes care of Ethan, accompanying him together to his annual check-up and bone marrow biopsy. Jimbo while speaking at his introductory news conference as A&M coach on December 4, 2017, hinted that Candi will also move to College Station in order for the family to stay close to one another. He has, however, began a relationship with a lady named Courtney Harrison. Candi, on the other hand, remains single.
Among other endeavors, Candi Fisher engages actively in charity. While working as the chairman of Kidz1stFund, she regularly participates in fundraising activities and events for other causes. Candi also made significant contributions as well as wrote the foreword to Shannon O'Neil's novel titled, Killer Shine wherein the latter told the story of a character living with Fanconi Anemia. O'Neil on her own part has pledged to donate a portion of the book's proceeds to the Kids1stFund.