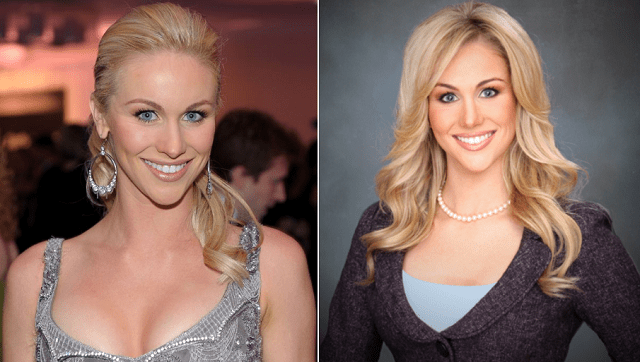 Texas-born Candice Crawford is an American beauty queen-turned journalist. She emerged the winner of the Miss Missouri competition in 2008 and later took part in the Miss USA pageant, finishing among the top ten.
That notwithstanding, Candice is undoubtedly most popular for being the wife of former National Football League (NFL) quarterback, Tony Romo, who retired from professional football in 2016 after playing for the Dallas Cowboys all through his active years. Upon his retirement, he still remained in the American football industry, working as a sports analyst for CBS Sports' NFL telecasts.
Candice Crawford – Bio & Age
Born in Lubbock, Texas, on December 16, 1986, Candice Crawford is the younger sister of the famous actor, Chace Crawford.
Candice grew up in Dallas and was a student of Trinity Christian Academy, a conservative non-denominational Christian school located in Addison, Texas. She graduated from the school in 2005 but while there, she contested in different beauty pageants, one of which was the Miss Texas Teen USA, which she took part in from 2003 until she graduated.
Moving forward, the beauty queen continued her education at the University of Missouri where she spent four years studying broadcast journalism. A year before her graduation, in 2009, Candice Crawford participated in the Miss Missouri contest and won; this gave her an automatic ticket to take part in the Miss USA pageant. Even though she did not win, she finished in the top ten.
While in the university, Candice started working as a sports reporter and anchor at a local station known as KOMU-TV. While there, she also did her internship with the Dallas Cowboys for two years, reporting for the team on their CBS segment The Blitz.
After then, she moved over to another local TV network, CW33, where she covered high school sports competitions, festivals and events; she also had her own segment, Up All Night. On her segment, Candice Crawford dished out advice to night-lifers on the best spots to party around Dallas-Fort Worth.
She also co-hosted the network's show, The RC Project and the weekend sports show, Special Edition, which covers the Dallas Cowboys. In a bid to have enough time to plan her upcoming wedding and build her new home, Candice left CW33 in 2011.
In 2016, Candice was one of the judges for the Dallas Cowboys cheerleaders auditions and was featured on the show Dallas Cowboys Cheerleaders: Making the Team, which aired on CMT.
Candice Crawford is now an entrepreneur; she co-owns the company 'Hawk + Sloane' with Hollie Siglin, a longtime friend from middle school. The company, which deals on essential oil spray, is targeted at parents and its name is a combination of the first names of the co-owners' first children, both sons. They ladies decided on the name when they found out that they both had the same expected date of delivery for their boys.
Relationship With Her Husband – Tony Romo
Candice Crawford met her future husband, Tony Romo, in 2009 while she was working in the Dallas-Ft. Worth area as a sports broadcaster. He asked her out and they eventually started dating.
Tony proposed to her on the day she turned 24, precisely on December 16, 2010, with an 8-carat yellow diamond ring and she said yes. Their wedding followed on May 28, 2011, with a Dallas Cowboys-themed reception attended by several members of the team, both former and present.
The couple has three sons – Hawkins, Rivers, and Jones who were born in 2012, 2014 and 2017 respectively. According to Tony, although he believes Candice might want to stop at three kids, he would still like to try for a girl. But ultimately, he adds, it really not his body so the decision is Candice's to make.
See Also: Deborah Dubois – Everything To Know About Barry Seal's Wife
Family – Parents, Siblings
Candice is the daughter of Dana and Chris Crawford. Her dad was a dermatologist while her mom dropped her high school teaching job to become a homemaker.
Her only sibling, Chace, is well known for his role as Nate Archibald in CW network's teen drama television series, Gossip Girl. He is also known for appearing in the movies The Covenant and What to Expect When You're Expecting.
Before Chace went into acting, he had wanted to pursue a career in broadcast journalism and marketing and had enrolled in Pepperdine University but after spending a few semesters there, he dropped out to become an actor.