Carol Kane is an American actress and comedienne who came into the limelight in the mid-1970s through the 80s. Perhaps her most popular roles were in the movies Hester Street, Annie Hall and The Princess Bride. Hester Street gained her an Oscar nomination. She's also popular for her role as Simka Dahblitz-Gravas in the TV series Taxi which ran between 1980 and 1983; and for which she won two Emmy Awards. So far, she over a fifty-year career have seen her appear in over 150 films and TV series. Including the popular Series Law & Order: Special Victims Unit (2009-2013).
Also, Kane was the lead cast member on the Netflix original series Unbreakable Kimmy Schmidt, which ran from 2015 to 2019. 2019 also saw her appear as Mallory O'Brien in the film, The Dead Don't Die.
Carol Kane's Biography
Carol Kane was born—Carolyn Laurie Kane—in Cleveland, Ohio, United States, on June 18, 1952, to parents Michael Myron Kane and Elaine Joy. Her mother was a teacher, Jazz singer, dancer, and pianist while her father, Michael, worked as an architect. From her ancestry, Kane is Jewish and has grandparents who hailed originally from Russia but migrated to the US in the early 1900s. Like few children in her time, Kane suffered the trauma of a broken home when her parents called it quits in 1964. She was only twelve at the time.
She and her older sister, Anina, then moved to New York with their mum. While in New York City, she attended the Cherry Lawn School, a boarding school facility in Darien, Connecticut, where she graduated in 1965. Following high school, she proceeded to HB's studio to study theatre. Carol Kane then went to New York City's Professional Children's School, where she had her theatre debut in a 1966 production; The Prime of Miss Jean Brodie. It was a remarkable start for the fourteen-year-old. In the over fifty years that followed that, Kane would go on to build an incredible carer record in Hollywood; appearing in no less than 150 films and TV series.
Carol Kane's Career
Although it all began with the 1971 film, Carnal Knowledge, Carol Kane attributes her rise to stardom to her appearance in the Television series Taxi. Kane played the role of Simka Dahblitz-Gravas, wife of the main character, Latka Gravas—played by Andy Kaufman.
When the series ended in 1983, Kane's incredible performance had won her two Emmy Awards. The following year, she appeared as Amanda in the third season of Cheers. Among her several TV appearances are All Is Forgiven (1986), American Dreamer (1990-1991), Seinfeld (1994), Ellen (1996), the sitcom Pearl (1996–97), Rap Master Ronnie: A Report Card (1988), Sesame Street (1989-1994), Beggars and Choosers (1999-2000), The Year Without Santa Clause (2006), Two and a Half Men (2009), Ugly Betty (2010). She also appeared as Gertrude Kapelput in Gotham (2014).
From 2015 to 2019, Kane appeared as Lillian Kaushtupper, in Netflix's original series Unbreakable Kimmy Schmidt. And she would star as Mindy Markowitz in the upcoming series, The Hunt.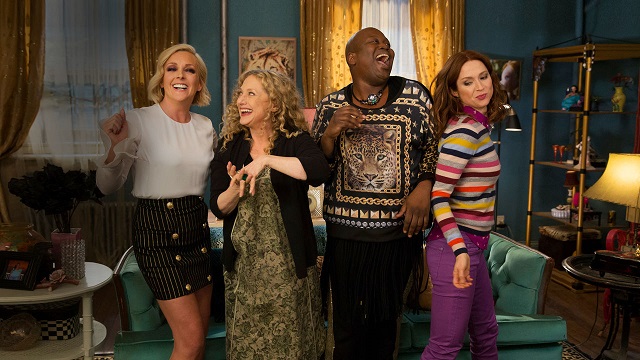 She also starred in the 1973 movie, The Last Detail before landing the big role, Giti, in Hester Street (1975), for which she received an Oscar nomination. More recently, Carol Kane has appeared in other films such as, My First Mister (2001), Cosmopolitan (2003), The Civilization of Maxwell Bright (2005), The Pacifier (2005), voiced the sheep character in Kung Fu Panda: Secrets of the Furious Five (2008), My Girlfriend's Boyfriend (2010), The Bounty Hunter (2010) in which she starred with Jennifer Aniston, Sleepwalk with Me (2012) and Ava's Possession (2015).
She also appeared in the 2018 films The Sisters Brothers and Ghost Light. In 2019, she starred as Mallory O'Brien in the movie The Dead Don't Die. So far, Carol Kane has appeared in over 150 movies, TV series, and Theatre.
Is She Married or In a Relationship? Here Are Facts To Know
1. Net Worth
As of 2019, sources reveal Carol Kane's net worth to be over $5 million. Much of which has come from his acting career. Although we're not sure how much she earns annually.
2. Is She Married?
Well, to state the fact, Carol Kane has never been married. Neither is she known to have been romantically involved with any man, save Woody Harrelson, who she dated back in 1986. In 2015, the media went agogo with speculations that Kane was married, after a ring was spotted on her ring finger. As of this writing, she has neither affirmed nor rebuffed the claims.
3. Height and Body Measurement
She stands 5 feet 2 inches (1.57 meters) tall and weighs around 52 kg. She has blonde hair and blue eyes. Sadly, there are no verified details about her bra, shoe and dress sizes; as well as her body measurements.
See also: Grace Fulton – Bio, Age, Height, Net Worth, If Married Husband
4. She Speaks French
Carol Kane spent some part of her early years in Paris. And so, she picked up a large chunk of the language. She speaks French fluently.