Formerly news and conversation TV show host, Casey DeSantis is now wife of governor Ron Desantis and First Lady of the US state of Florida. While working with the NBC, Desantis alongside former Jacksonville Jaguars mascot Curtis Dvorak co-hosted the talk show First Coast Living. She also hosted the weekly entrepreneur-centered program, The American Dream.
Desantis' dedication to her career has even won her the prestigious Emmy for her primetime special Real Life CSI. But more importantly to her, she is a wife, and mother of two young children. This article will tell you more about her background, career, and other interesting facts there is to know about her. Ready?
Casey DeSantis' Bio/Wiki, Age
Jill Casey DeSantis was born in Florida, Troy, Ohio, on June 26, 1980. Although we have no info on her childhood, early education, parent and siblings, we know that she attended the College of Charleston where she graduated with a Bachelor of Science degree in Economics and minored in the French language. While in college, Desantis played equestrian sports and was a 3-time National Champion and runner-up Division 1 NCAA Champion. She was also a member of the Omicron Delta Epsilon honor society for economics as well as Pi Delta Phi honor society for French. Still not done schooling, Desantis proceeded to Stanford University, enrolling for its Innovation and Entrepreneurship Graduate Program.
Casey Desantis' TV career has been quite extensive. From CNN, ABC 25 and NBC 12, and the PGA Tour, one won't be wrong to say she's seen it all. Before joining Florida television, Casey DeSantis worked on the PGA Tour as a broadcaster. Her career has seen her host Golf Channel programs such as On The Tee. She has also worked as a local newscaster and anchor for WJXT and has taken several roles including general assignment reporter, morning anchor, and police reporter. Back in 2014, Casey DeSantis co-produced and co-created for The Chat from Ponte Vedra Beach, Florida. The Chat was an hour-long program involving panel discussions on local issues. It was more of a talk show simulcast on both NBC and ABC.
DeSantis also hosted the daily NBC magazine-styled talk show, First Coast Living; and the weekly entrepreneur-centric program, The American Dream. She has also written and produced documentary films such as Champion, The JT Townsend Story; a docu-film about the late high school football player J.T. Townsend.
Since January of 2019, Casey Desantis, now wife of the 46th governor of Florida; works as the first lady of the state. Before then, she was instrumental in her husband's campaign. As part of her duties as the first lady, Desantis established the First Lady's Medal for Courage Commitment and Service. And now chairs the Florida Children and Youth Cabinet.
Other Facts About Ron Desantis' Wife
1. Casey DeSantis' Salary and Net Worth
As far as specifics go, there have been no published figures of Ellison Barber's Salary. However, we gathered that her net worth is estimated at $400,000. This is bound to grow, seeing her added responsibility as the first lady.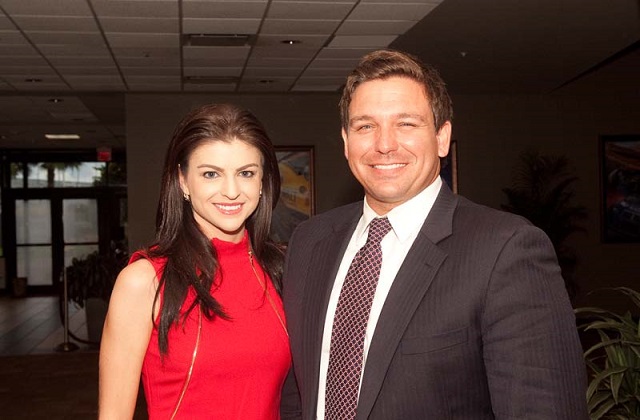 2. Ron Desantis' Wife
Casey has been married to Ron Desantis since 2011. The couple met in Jacksonville, Florida when Ron was working as a Naval officer in the city's Mayport. Together, they have a daughter they christened Madison and a son, Mason Joseph Desantis (b. March 26, 2018). Casey DeSantis lives with her husband and two kids in the Florida Governor's Mansion in Tallahassee, Florida.
3. Social Media Presence
Desantis hasn't been quite active on social media. Seems she's just not the type. Most of the social media "thingy" have been her husband, Ron Desantis. He has about 165K followers on his Facebook account, about 150K followers on his Twitter account and about 30K followers on Instagram.
See also: Who is Nicole Byer? Here are 5 Facts You Need To Know About The Comedian
4. Height and Body Measurements
Casey Desantis has a slim build. She stands tall at 5 feet 6 inches (1.67 meters) and weighs 121 lbs (55kg). She has dark brown hair and beautiful greyish-blue eyes. Casey wears a bra size 33B, a shoe size of 6 (US) and body measurement of 34-27-25 inches; for her bust, waist and heaps.
5. Favorites
Casey Desantis considers Johnny Depp and Jennifer Aniston to be her favorite actors. She cherishes the colors purple and blue and relishes Italian food. She loves to read, shop and travel. Her choicest locations for vacation remains Miami.