Formerly news and conversation TV show host, Casey DeSantis is now wife of Governor Ron Desantis and First Lady of the US state of Florida. While working with the NBC, Desantis alongside former Jacksonville Jaguars mascot Curtis Dvorak co-hosted the talk show First Coast Living. She also hosted the weekly entrepreneur-centred program, The American Dream.
Desantis' dedication to her career has won her the prestigious Emmy for her primetime special, Real Life CSI. But it is her marriage to Naval officer turned Governor, Ron DeSantis, that has made her a national personality as the First Lady of Florida.
Casey and Ron DeSantis Met on the Golf Course
Although she was born and raised in Troy, Ohio, her career as a journalist took her to Jacksonville, Florida. While she was there, a random visit to the golf course at the University of North Florida sparked a chain of reactions that altered her life.
While at the driving range off Kernan practicing her swing, she kept her eye on a bucket of golf balls she hoped to use later. To do so, Casey kept looking over her shoulder and appeared to be locking eyes with Ron, who stood behind her and thought she was looking at him.
Despite misreading the situation, it led to a friendly conversation between her and Ron, who at the time, was a Naval officer working at the Naval Station Mayport. That meeting led to several dates and eventually a relationship, culminating in a wedding in September 2010.
Casey and Ron DeSantis got married in Florida, after the Governor received his honourable discharge from active duty in February 2010. Since they got married, the couple has been formidable supporters of each other, raising a family and becoming notable national politicians.
The Couple Have Three Children
Unintentionality may have started their relationship, but the Florida First Citizen and First Lady have been intentional in building their family. They gave birth to their first child, Madison, in 2016 while their son, Mason, was born in March 2018. He was born shortly after Ron announced his intention to run for Governor of Florida.
Less than two years after his victory at the polls in November 2018, Casey DeSantis and Ron welcomed their third child in March 2020. The couple continued their M motif and named her, Mamie. She was the first child to be born in the Florida Governor's Mansion in 50 years.
Ron and I are beyond blessed to welcome our new baby girl, Mamie to the world. At 7 lbs 4 oz she was the smallest of the bunch, but she is already holding her own. Madison and Mason are so excited for their new baby sister! pic.twitter.com/R4kgx9a8Ii

— Casey DeSantis (@FLCaseyDeSantis) March 30, 2020
Despite the responsibilities that come with their position, especially for Ron, the couple manages to have a close-knit family life. In an interview, Ron maintained that they always aimed to return for family dinner, despite all the travel they do as the First Couple. Aside from dinner, when the schedule allows, the family spend their time exploring Tallahassee and have established a favourite hangout sport in Lafayette Park.
Casey DeSantis Began Her Career at WJXT- Channel 4
She was born in Florida, Troy, Ohio, on June 26, 1980, as Jill Casey Black. After completing her basic education, she attended the College of Charleston where she graduated with a Bachelor of Science degree in Economics and minored in the French language.
While in college, Desantis played equestrian sports and was a 3-time National Champion and runner-up Division 1 NCAA Champion. She was also a member of the Omicron Delta Epsilon honour society for economics as well as Pi Delta Phi honour society for French. Not done schooling, Casey Desantis proceeded to Stanford University, where she enrolled for its Innovation and Entrepreneurship Graduate Program.
Casey Desantis' TV career has been quite extensive. From ABC 25 and NBC 12, and the PGA Tour, one won't be wrong to say the Florida first lady has quite the experience under her belt. Casey started her professional journey as a local newscaster and anchor for WJXT – Channel 4.
At the station, she worked as a weekday morning anchor, police beat reporter, and associate producer. She was also a weekend evening anchor and general assignment reporter. While there, she hosted special reports like Protecting Your Identity and primetime specials like Stranger Danger and Real Life CSI. Her work on the latter earned her an Emmy nomination.
After she left WJXT – Channel 4, she joined Golf Channel. She worked on the programs, On The Tee and PGA Tour Today. She was a host and a producer, for the former, a live show, and the latter, a daily recap of tournament play.
Back in 2014, Casey DeSantis co-produced and co-created for The Chat from Ponte Vedra Beach, Florida. The Chat was an hour-long program involving panel discussions on local issues. It was more of a talk show simulcast on both NBC and ABC.
She was a Talk Show Host Before Ron Became Governor
Casey DeSantis' career grew further before she became Florida's first lady. She joined the daily magazine-style talk show, First Coast Living on NBC 12. She also hosted the weekly entrepreneur-focused program, The American Dream. In 2014, after impressing in her role as host, began working as a creator-moderator for the hour-long round table panel discussion talk show, The Chat. The show was simulcast on NBC 12 and ABC 25.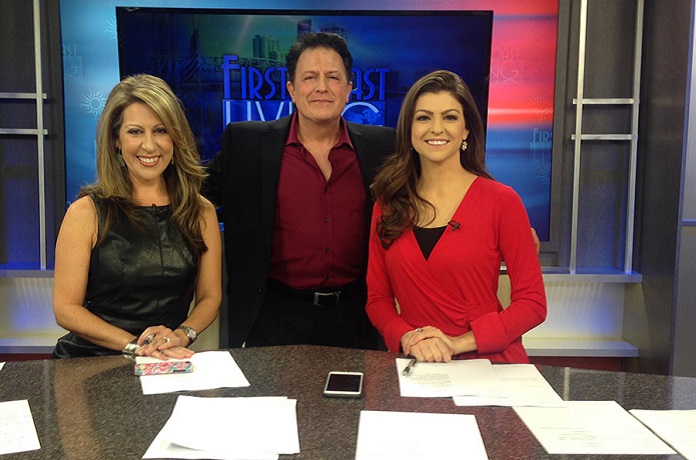 She has also written and produced documentary films such as Champion, The JT Townsend Story; a docu-film about the late high school football player J.T. Townsend. While she was a TV host, her husband announced his intention to run for Governor of Florida. He had previously been a member of the US House of Representatives, representing Florida's 6th district.
As the wife of a gubernatorial candidate, Casey DeSantis was instrumental in gaining public support for her husband's run. One of her ads, cut during the Republican primary, furnished Ron's image as a wonderful father and husband. Following the couple's victory, in the primary and the general election, she has remained a pillar of support behind her husband, promoting his policies and ideas.
Casey DeSantis is Also a Mental and Children's Health Advocate
As First Lady, Casey has continued to be a professional woman with a defined purpose. Now with a bigger platform than her TV shows, she has focused her attention on mental health and the wellbeing of children. She became the Chair of the Children & Youth Cabinet in April 2019 after an appointment by her husband.
In her role, Casey intends to increase the visibility of available resources and programs to keep children and youths on the straight path. As chair, she is also shedding light and reducing the impact of the opioid epidemic on children.
As a mental health advocate, she has highlighted the importance of providing treatment rather than punishment to those suffering from mental health issues. She started the Hope for Healing Campaign to bring state agencies, nonprofit organizations, and business leaders together to create the best solutions on the subject.
Other works and focus of the first lady include establishing the First Lady's Medal for Courage, Commitment, and Service. She has also hosted listening sessions on Venezuela, Hurricane Relief and has participated in a Recovery Redfish Release. The latter focuses on the impacts of red tide, a condition that affects Floridan waters.
Due to her work in her husband's administration, Casey DeSantis is widely considered the most active First Lady in Florida history.