YouTuber, vlogger, filmmaker, and creator extraordinaire; these are just a few hats that Casey Neistat wears and the story of how he got here is incredible. A native of Connecticut, Neistat started out by making refreshingly-authentic short films and videos that featured content that was based on everyday life and called attention to serious issues.
He subsequently became popular, thanks to a 2003 short film criticizing Apple's iPod battery policy. Since then, Neistat has expanded his horizon to the internet, creating a YouTube channel in 2010. His videos and vlogs have drawn at least two billion views and he is now an icon on the platform. He has gone on to collaborate with companies such as Nike, Samsung, and CNN, and has received accolades for his work.
Weaving His Way Through Odd Jobs and Trailer Parks
Casey Owen Neistat was born on the 25th of March 1981 in Gales Ferry, a village in Connecticut. As a child, he had an independent, artistic spirit that the four walls of a school could not contain. It was therefore not surprising when he dropped out of high school at the age of 17 in order to make his own way in life. It however wasn't an easy journey. The teenage Casey worked a series of odd jobs to survive and had to reside in a trailer park.
This sad reality lasted for three years before he moved to New York. In the Big Apple, Neistat continued his side jobs whilst using his camera to shoot various short films. The quality of his work eventually grabbed the attention of American contemporary artist, Tom Sachs, and he was commissioned to shoot a series of videos focused on Sach's artwork.
Neistat's Emergence as a Bonafide Filmmaker
Neistat joined hands with his brother, Van, to do the Sachs project and the resultant effort came out in 2001. Buoyed by this success, the young man continued wielding his camera and eventually shot to fame in 2003 as a result of a short film titled iPod's Dirty Secret. The 3-minute film criticized Apple's no replacement policy with regard to iPod batteries. The policy was harsh and didn't take into consideration the fact that the battery could die due to no fault of the owner.
Neistat's video roused the attention of the public and the news was picked up by major outlets such as BBC, CBS, Fox News, Rolling Stone, and Washington Post (which described the video as wonderfully renegade). Following the release of the video, Apple announced a review of its battery policy but maintained that the change of heart had nothing to do with Neistat's video.
Since that big break, Casey Neistat has continued to make his mark in the film industry. He has a TV series, Neistat Brothers, to his name. He is also the producer of the indie film titled Daddy Longlegs. This is a 2009 comedy-drama about a divorced man who is forced to take custody of his sons for two weeks. He initially allows them free reign but this soon comes back to bite him. Daddy Longlegs was a critical success and received some awards including the Independent Spirit Award for the best feature film.
Expanding his Horizons to YouTube
Aware of the limitless opportunities offered by social media, Casey Neistat decided to expand his career. He created his YouTube channel in 2010 and started uploading short videos as well as vlogs. Neistat's eponymous YouTube channel now has 12.1 million subscribers and his over 1000 videos have been viewed not less than 2.8 billion times.
Some of the most notable ones are – Emergency Brake (the video criticized the confusing guidelines with regard to when a train's emergency brake should be pulled), Bike Lanes (which highlighted the hazards bikers face when using designated bike lanes) and Snowboarding with the NYPD, a video of Neistat being towed through the deserted streets of New York following a terrible blizzard. It got 6.5 million views in the first 24 hours alone).
Asides the massive views, Neistat's videos have fetched him several accolades, they include YouTuber of the Year at the 2010 Shorty Awards, New Media Star at the 2010 GQ Men of the Year Awards, Entertainer of the Year and Best First-Person Series at the 2016 Streamy Awards.
Beme and Project 368
Neistat has also been involved in other ventures such as Beme, a video sharing app which he co-designed with Matt Hackett. The app allowed users to share live video experiences with followers and was launched in 2016. Beme was initially so successful that cable news leaders, CNN, immediately swooped down on it. They shelled out $25 million to purchase it and turned it into a daily news show. The show ran for about a year and a half before CNN announced that they were shutting it down.
Following the disappointing end to Beme, the restless Neistat found another outlet for his creative instincts by establishing Project 368 – described as a creative space for creative minds to gather and collaborate. The space is located in Broadway and provides free amenities for all categories of creative persons be it local or foreign. 368 launched in April 2018.
Fruitful Partnership With Brother, Van
Casey is one of four children born to Jewish parents, Amy and Barry Neistat. Others are Van Neistat, Dean Neistat, and Jordan Neistat. The YouTuber is quite close to his family members particularly Van who is his creative partner. It was he and Van that joined hands to fire out the Tom Sachs video that kick-started his career.
Both brothers continue collaborating to date and their adventures have been captured in a HBO series titled Neistat Brothers. The series chronicled the brothers' adventures as they bring their unique approach to filmmaking and entertainment. Neistat Brothers debuted in 2010 and saw the duo embark on adventures such as climbing Mount Kilimanjaro and Going to the Super Bowl. The series received mixed reviews from critics but the brothers still walked away with a $2 million paycheck.
See Also:  Who is Caitlin Stasey? Age, Boyfriend, Height, Is She Lesbian or Gay?
The Unlikely Love Story He Shares With His Wife
Casey Neistat is married to his long time love, Candice Pool. Pool is originally from South Africa and is a jewelry designer. She owns two jewelry lines namely Billy! and Finn. The couple's love story is worthy of a Hollywood movie. They first got married in 2005 after eloping to Houston, Texas. Their marriage ran into troubled waters a month later and was dissolved shortly thereafter.
Following this sad end, the couple moved on with their separate lives but was quite miserable without the other. Pool later took the bull by the horn and made a video about them which she played for Casey. This was in 2008 and they patched things up and started a relationship once more.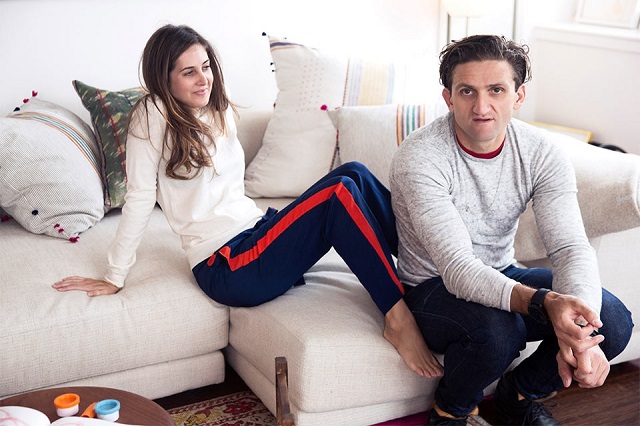 The couple got engaged on the 18th of February 2013 in the Dutch city of Amsterdam. They tied the knot (once again) in December 2013 in the South African city of Cape Town. The couple now has two daughters, Francine and Georgie, and have debuted a joint podcast known as Couple's Therapy. In it, they discuss their marriage, friendship as well as life in the spotlight.
Before his relationship with Pool, Neistat dated a lady named Robin Harris between 1998 and 2001. The relationship resulted in the birth of his first child, son – Owen. Owen was born when Neistat was just 17 and father and son endured some tough times together. Those hard times are now over and Owen can be spotted in some of his dad's adventures.