Cate Blanchett has had one of the most stellar acting careers with a continuous reel of credits and awards to her name. The Australian actress has since become an international star with so many people fascinated by her life beyond the big screen. Below we give fans a glimpse into some areas of her life that will make you love the talented actress even more.
Cate Blanchett's Bio & Age
Cate Blanchett was born in the Melbourne suburb of Ivanhoe on the 14th of May 1969. Her mother is an Australian named June Gamble and her father, Robert DeWitt Blanchett. Cate Blanchett was their second child and from them, she got rich roots including English, some Scottish and a remote French ancestry.
While growing up, Cate Blanchett was an open child who could still sometimes be pretty shy. She would usually don what was considered boyish clothing and as a teenager, she had goth and punk phases even going as far as shaving her head once. She moved fromIvanhoe East Primary School for her primary education to Ivanhoe Girls' Grammar School for high school. Some of her college years were spent in Methodist Ladies' College. It was in college that she began to explore performing arts she also worked at a nursing home in Victoria.
Cate Blanchett then went to the University of Melbourne to study economics and fine arts but did not stay there for long. She dropped out only after one year to travel overseas to Egypt. While in Egypt, she took up one minor role in the Egyptian boxing movie, Kaboria because she was in need of money. Playing a part in the movie must have sparked the passion in her because when she returned to Australia, she moved to Sydney and went into the National Institute of Dramatic Art (NIDA). She graduated with a degree in Fine Arts in 1992 and her acting career began.
Cate Blanchett has never looked back career-wise. To date, she has gathered three Golden Globe Awards, three BAFTA Awards, two Academy Awards, three Screen Actors Guild Awards and six AACTA Awards. She also has some pretty special records to her name like being the only female actor to receive an Academy Award nomination for the same role in two films with Queen Elizabeth I. She is also the first Australian actor to win two Oscar awards.
She has had quite a run on stage being a four-time Helpmann Award winner for Best Female Actor in a Play. Cate debuted on Broadway in 2017 with The Present which then won her a Drama Desk Award and a Tony Award. With all her achievements in her career, she has been given the Centenary Medal for Service to Australian Society by the Australian government. She also got presented a Doctor of Letters from the University of New South Wales, Macquarie University and the University of Sydney. All those were a testament to her immense contribution to the arts and the community.
See Also: Jada Pinkett Smith Bio, Age, Relationship With Tupac Shakur, Net Worth, Mom
Who Is Her Husband (Andrew Upton) and Do They Have Children?
Cate Blanchett is married to a fellow lover of the arts in the person of playwright and screenwriter Andrew Upton. They have been married a long time in celebrity terms after they met in 1996 on a TV show set. They were married on the 29th of December 1997. The two have had a great partnership since then. In 2008, they both became co-CEOs and artistic directors of the Sydney Theatre Company and left in 2013.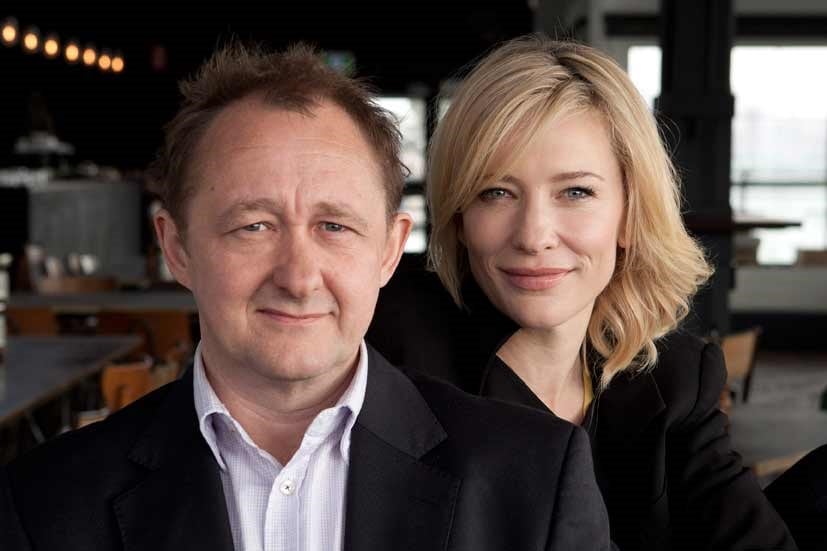 Together, Upton and Blanchett have four children; three sons and a daughter whom they adopted. Her first child and son is Dashiell John whose birth was on December 3, 2001, he was followed by Roman Robert three years later when he was born on April 23, 2004, and lastly Ignatius Martin born on April 13, 2008. They adopted Edith Vivian Patricia Upton in February 2015. Cate Blanchett revealed that they had had a desire to adopt since she gave birth to their first son. The family lived in the main family home in Brighton, England for ten years before they moved back to Australia in 2006.
What Is Her Height?
Cate Blanchett has a slim build with her height of 5 feet 8½ inches or about 176 cm and a weight of 59 kg or 130 pounds. The actress has spoken about the pressures put on women in Hollywood as regards to how they look and said that she no longer cares about her appearance as she did ten years ago. Be that as it may, Cate Blanchett still looks pretty good and a lot of people still consider her a screen goddess.