Catherine Zeta-Jones is an award-winning Hollywood actress of Welsh origin. She is popular for movies such as Chicago, Intolerable Cruelty, Ocean's Twelve and Mask of Zorro. She is married to fellow actor, Michael Douglas with whom she has two children. Zeta-Jones was one of the most sought-after leading ladies in Hollywood but her roles have since reduced. Find out more about her here including her husband, daughter and what she is up to these days.
Catherine Zeta-Jones Bio (Age)
Catherine Zeta-Jones was born on the 25th of September 1969 in Swansea, Wales. She is the second of three children born to David Jones, a sweet factory owner and Patricia, a seamstress. She has an elder brother named David and a younger brother named Lyndon. Zeta-Jones is named after her grandmothers, Zeta-Jones and Catherine Fair. As a child, she dreamt of being in movies and musicals and her parents sent her for various lessons in order to realize her ambitions.
She commenced her acting career with her church's theater group and by the age of 9, she secured a place in a professional theatrical production of the musical, Annie. Catherine Zeta-Jones dropped out of school at 15 and moved to London to pursue her acting career. In London, she attended a performing arts school while auditioning for roles. Her hard work paid off two years later when she was selected as a second understudy for a West End production of the musical 42nd Street.
By a combination of luck, both the lead act and the first understudy were unable to fulfill their obligations and Zeta-Jones was asked to play the lead role. She gave a convincing performance and was asked to keep the job for the next two years.
At the end of musical in 1990, she landed a role in her first movie, 1001 Nights. Even though the film was not a hit, it was a personal success for Zeta-Jones as she used it to get other roles, most notably, The Darling Buds of May. The comedy series ran from 1991 to 1993 and made her famous all throughout England. In 1995-96, Zeta-Jones decided to move to the U.S. in order to further her acting career. Since crossing the pond, Catherine Zeta-Jones has featured in dozens of movies and they include Traffic, Chicago, Intolerable Cruelty and Red 2. Others are Ocean's Twelve, Mask of Zorro, Entrapment and High Fidelity.
Catherine Zeta-Jones has won several awards for her work. She won an Oscar, a Screen Actors Guild award and Bafta award for Best Supporting Actress for her role in the 2002 movie, Chicago. Additionally, she received a CBE from the Queen in 2010 for her film and charity work.
Husband
Catherine Zeta-Jones is married to popular actor and producer, Michael Douglas. They are one of Hollywood's golden couples. They share the same birthday, 25th September but Douglas is 25 years older than the actress. The couple met in August 1998 at the Deauville Film Festival in France. They dated for two years and tied the knot on the 18th of November, 2000.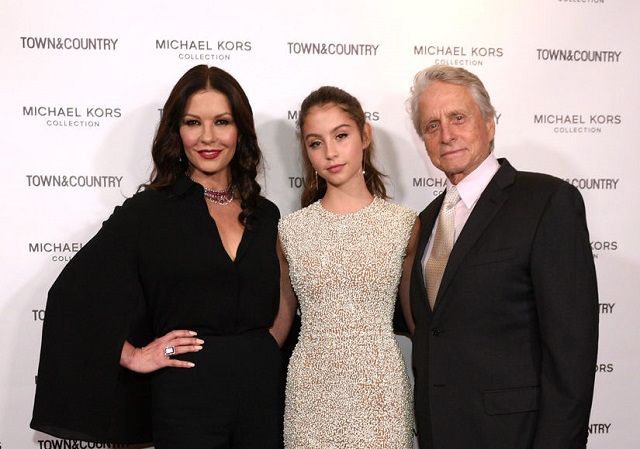 The lavish ceremony took place at the Plaza Hotel in New York and cost £1.5 million. The couple has two children together, a son, Dylan Michael (born August 2000) and a daughter, Carys Zeta (born April 2003). Their marriage has been the subject of much media speculation due to the fact that they are both high profile individuals. In 2010, Douglas was diagnosed with tongue cancer. The ensuing stress triggered depression and bipolar II disorder in Zeta-Jones. They both had to undergo treatment and due to the whole stress, they separated in 2013. They have since reconciled and are stronger than ever.
Daughter
Carys Zeta Douglas is like a mini version of her mom. In fact, one will be forgiven for assuming that they are twins. The beautiful young lady loves fashion, acting, singing and playing the piano. She has already appeared in two theatrical productions in her school and has accompanied her celebrity mom to various fashion shows. Even though she intends to follow her parents into showbiz, she is presently focused on school and hopes to attend an Ivy League university in the nearest future.
Where is She Now?
Zeta-Jones' is still active in Hollywood, even though her acting career has slowed down. She attends red carpet events and also graces late night talk shows. She also maintains an active social media presence. She has continued acting, albeit on a smaller scale. She starred in the 2017 TV movie, Cocaine Godmother, where she plays the role of a drug lord. She is also set to star in an online comedy series titled Queen America. In it, she will play the lead role of a former pageant coach who finds herself saddled with an amateur contestant.
See Also:  Cameron Diaz Age, Height, Married, Husband, Twin Sister, Net Worth
Height
Catherine Zeta-Jones is 5 feet 7 inches tall and weighs 137 lb or 62 kg. Her eye color is light brown while her hair color is dark brown. In 2003, Esquire named her the most beautiful woman on the planet while in 2011, a poll by QVC named her the most beautiful British woman.
Her beauty has sometimes proved to be a hindrance. Movie producers back home in the UK assumed that she was all looks and no talent and therefore restricted her to arm-candy roles. This prompted her to move to Hollywood so that she could get more serious roles.