Catherine Zeta-Jones is an award-winning Hollywood actress of Welsh origin. The veritable entertainer is popular for movies such as Chicago, Intolerable Cruelty, Ocean's Twelve, and Mask of Zorro. She is married to a fellow actor, Michael Douglas with whom she has two children. Zeta-Jones was one of the most sought-after leading ladies in Hollywood but her roles have since reduced perhaps due to age. However, she is still relevant in the scene of things, and information about her life, marriage, profession, and recent gigs is still a matter of public interest.
The Ace Actress Came To Public Notice By A Combination Of Luck
Born on the 25th of September 1969 in Swansea, Wales, Catherine Zeta-Jones is the second of three children born to David Jones – a sweet factory owner and Patricia – a seamstress. As a growing child, she dreamt of being in movies and musicals, and this dream of hers was fully supported by her parents who sent her for various lessons in order to realize her ambitions.
Catherine commenced her acting career with her church's theater group and by the age of 9, she secured a place in a professional theatrical production of the musical, Annie. Catherine Zeta-Jones dropped out of school at 15 and moved to London to pursue her acting career. In London, she decided to hone her skills by attending a performing arts school while auditioning for roles. Her hard work paid off two years later when she was selected as a second understudy for a West End production of the musical 42nd Street. She was just 17 years old at that time.
Fate and providence have a way of prevailing in people's lives and it would be right to say that hers was a case in study. By a combination of luck, both the lead act and the first understudy were unable to fulfill their obligations and Zeta-Jones was asked to play the lead role of Peggy Sawyer – a chorus girl who went on to become a star. She did justice to this rare opportunity, giving a convincing performance which made the people in charge offer her the opportunity to keep the job for the next couple of years.
She Became A Household Name On The Set Of The Darling Buds of May
At the end of the musical in 1990, she landed a role in her first movie, 1001 Nights. Even though the film was not a hit, it was a personal success for Zeta-Jones as it became a stepping stone which she used to get other roles, most notably, The Darling Buds of May. The comedy series which ran from 1991 to 1993 was adapted from H. E. Bates' novel of the same name. The upcoming star breathed life into the character of the oldest daughter of a 1950s British family living in the countryside, and the series which became the highest-rated TV show nationwide at the time made her famous throughout England.
After experiencing a career-high in The Darling Buds of May, Catherine Zeta-Jones was featured in quite a good number of films where she was typecast as the token pretty girl in British films, the 5 feet 7 inches actress came to the realization that her beauty has sometimes proved to be a hindrance. Movie producers in the UK assumed that she was all looks and no talent and therefore restricted her to arm-candy roles. This made Catherine take the decision to move to Hollywood in a bid to get more serious roles.
Hollywood Success with The Mask of Zorro
In 1995-96, she finally made the move to the U.S. in order to further her acting career. On Steven Spielberg's recommendations, Catherine Zeta-Jones came into contact with Martin Campbell – the director of The Mask of Zorro who decided to cast her as the leading lady instead of Izabella Scorupco his initial choice. For this production, the Wales native got to share the screen with movie legends like Antonio Banderas and Anthony Hopkins.
The movie became a commercial success, earning over US$250 million worldwide, what's more, it was positively received by critics and made her a nominee for the MTV Movie Award for Best Breakthrough Performance. The Mask of Zorro would not be her only success in Hollywood as she went on to star in dozens of successful movies, they include Traffic, Chicago, Intolerable Cruelty, and Red 2. Others are Ocean's Twelve, Entrapment, High Fidelity, and many more.
Catherine Zeta-Jones has won several awards for her work. She won an Oscar, a Screen Actors Guild Award, and BAFTA award for Best Supporting Actress for her role in the 2002 movie, Chicago. Additionally, she received a CBE from the Queen in 2010 for her film and charity work.
Her Union With Michael Douglas Was Fraught With A Lot of Troubles
Catherine Zeta-Jones is married to the popular actor and producer, Michael Douglas. They are one of Hollywood's golden couples sharing the same birthday, 25th September; however, Douglas is 25 years older than the actress. The couple met in August 1998 at the Deauville Film Festival in France. They dated for two years and tied the knot on the 18th of November, 2000.
The lavish ceremony took place at the Plaza Hotel in New York and cost £1.5 million. The couple has two children together, a son, Dylan Michael (born August 2000) and a daughter, Carys Zeta (born April 2003). Their marriage has been the subject of much media speculation due to the fact that they are both high profile individuals.
In 2010, Douglas was diagnosed with tongue cancer. The ensuing stress triggered depression and bipolar II disorder in Zeta-Jones. They both had to undergo treatment and due to the whole stress, the celebrity couple separated in 2013. However, the duo consciously omitted to take legal action towards separation or divorce showing that they had plans of patching things up. The celeb couple has since reconciled and has been together since 2014, according to Douglas, they are stronger than ever. On her own part, Catherine said that with Douglas by her side, Everything Just Falls Into Place.
Catherine Zeta-Jones' Daughter Seems to Be Towing The Same Line As Her Parents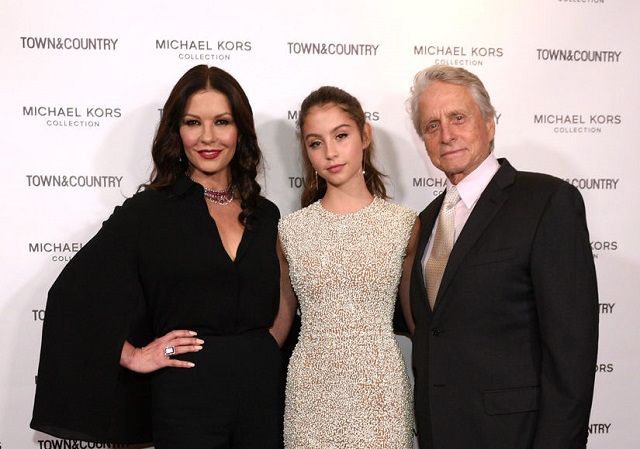 They say an apple cannot fall far from the tree, this rings true for Carys Zeta Douglas who is like a mini version of her mom. The beautiful young lady loves fashion, acting, singing, and playing the piano.
See Also:  Cameron Diaz Age, Height, Married, Husband, Twin Sister, Net Worth
Carys seems to be following in her parent's path and has already appeared in two theatrical productions in her school, besides, the young lady appears to be at home with the limelight accompanying her celebrity mom to various fashion shows. Even though Catherine Zeta-Jones' daughter intends to follow her parents into showbiz, she is presently focused on school and hopes to attend an Ivy League university in the nearest future.
Where is Catherine Zeta-Jones Now?
Zeta-Jones is still active in Hollywood, even though her acting career has slowed down. She attends red carpet events and also graces late-night talk shows. The famous entertainer also maintains an active social media presence.
She is still relevant in the acting scene, albeit on a smaller scale. Catherine Zeta-Jones starred in the 2017 TV movie, Cocaine Godmother, where she plays the role of a drug lord. She next starred in an online comedy series titled Queen America. In it, she played the lead role of a former pageant coach Vicki Ellis who finds herself saddled with an amateur contestant.
She owns @casaZetaJones – a collection of bold, handmade shoes with @Butterflytwits that she has shared with fans on Instagram.